I spent my childhood in Jogjakarta, so for over 11 years (1994-2005), I grew up with foods relatively close to my neighbourhood. And when people asked me "What to eat in Jogja? where do I go for culinary trip in Jogja? Where's the yummiest gudeg in town?" - The answers will vary, subject to what everyone had their first impression on. But here's my personal recommendation(s) and I'll be glad if you found it helpful :)
Rujak Es Krim (Ice Cream Rojak) Pak Nardi
I'll start with something unique and "Jogja banget". Some of you might haven't tasted it before, and the idea of combining rojak with ice cream might seem odd, but to me this is one of the best street-food dessert in Jogja. Shredded cucumber, papaya, yam-bean, mango, and pineapple - mixed together with sambal rojak & palm sugar, added coconut milk based ice cream on top (we call it Es Puter), just... perfect. It's sweet, spicy, a bit salty, yet every element of the dish complements each other and it's very refreshing!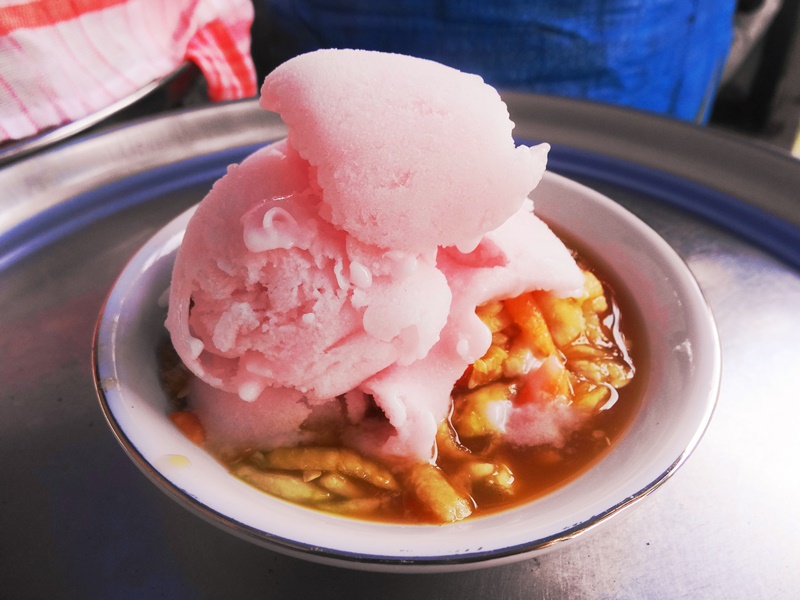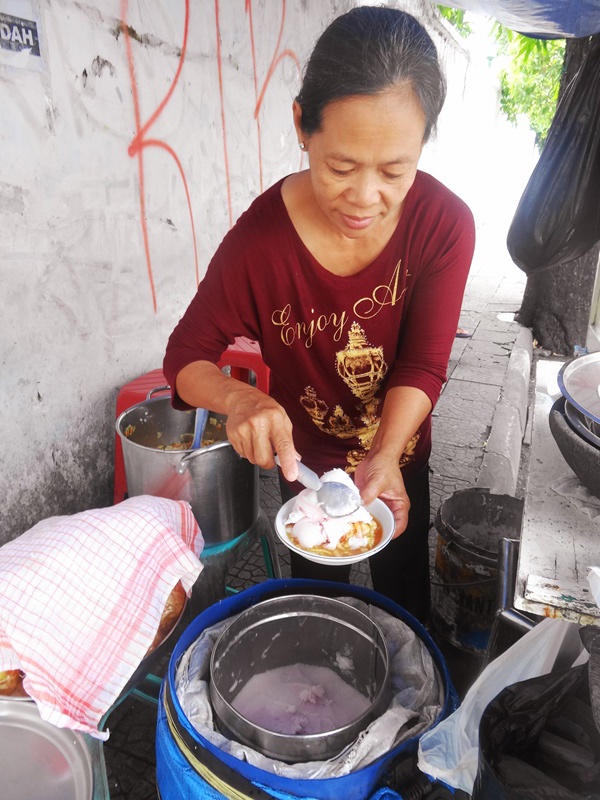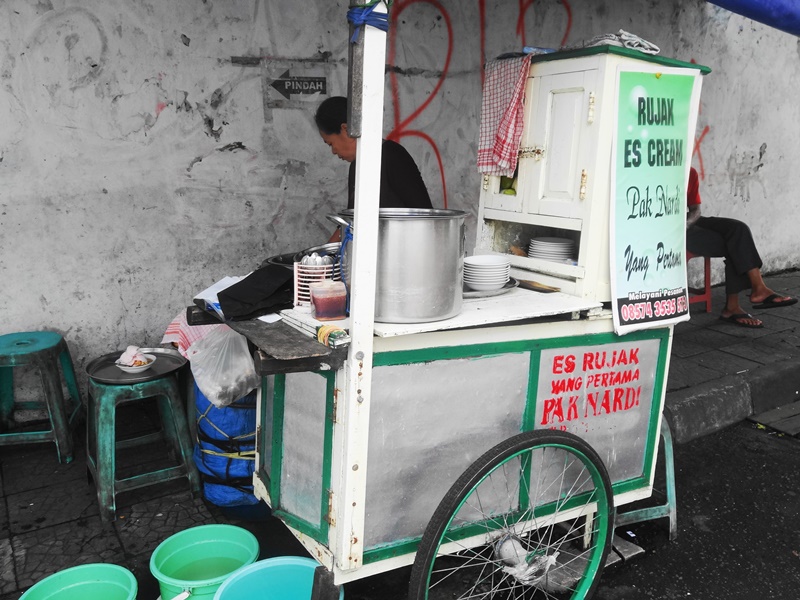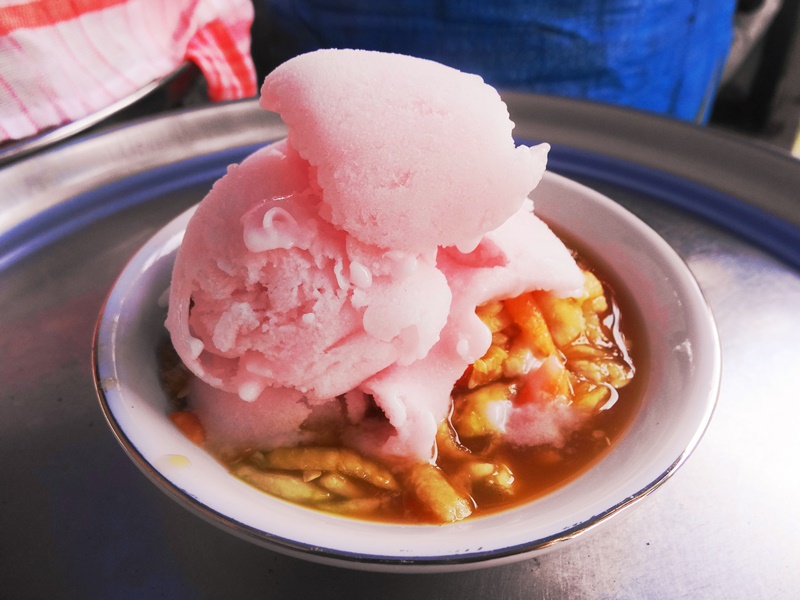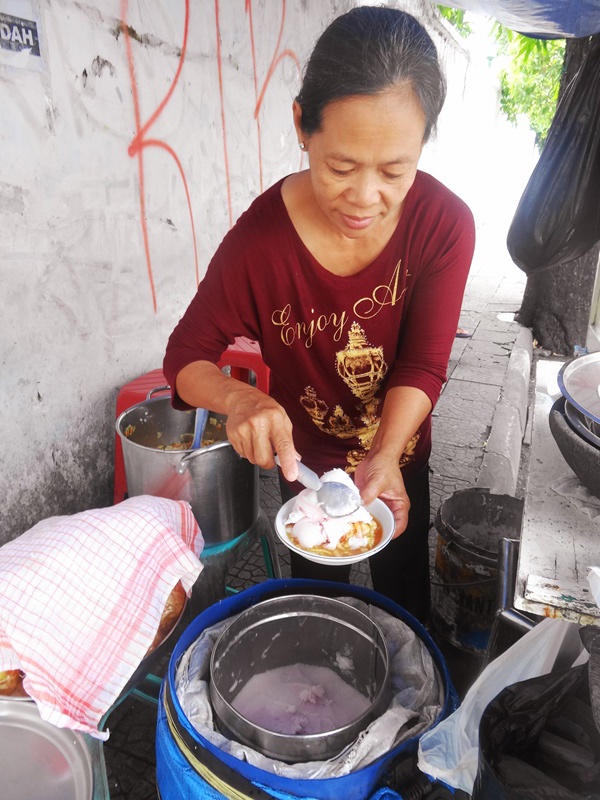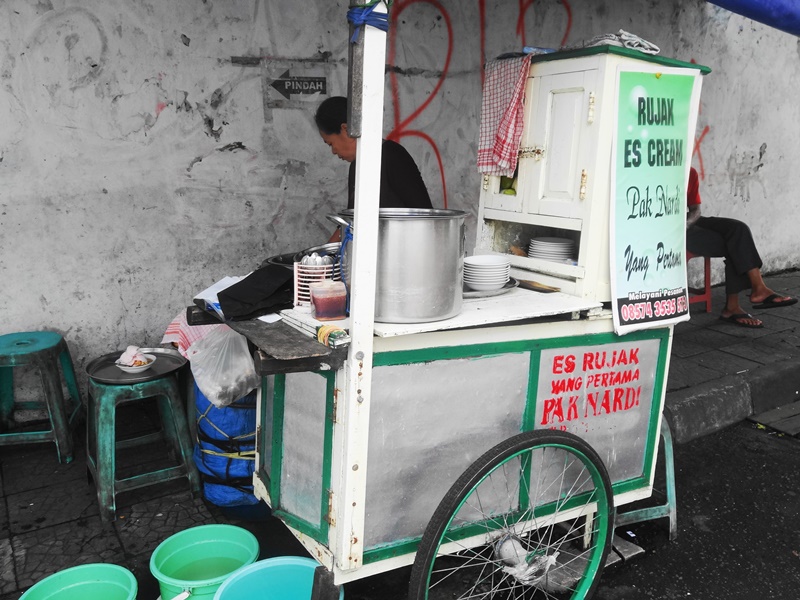 Head over to Pakualaman area, you will find lots of it. But I'd recommend Rujak Es Krim Pak Nardi (above pic) in the west side of Pakualaman (turn left-right-left-right as soon as you enter the area from front gate), who claims to be the first to introduce this unique dish since 1980s. They sell it for IDR 4.000,- a portion, slightly more expensive than their "imposters" which sell it for IDR 3.000,-. But note that with different price comes different recipe. Rujak Es Krim Pak Nardi is the one with pinkish ice cream & has a more creamy texture; while the "imposters" have broken-white saturated color that melts super quickly, with overly sweet rujak mixture. BLARGH. Take this one for example: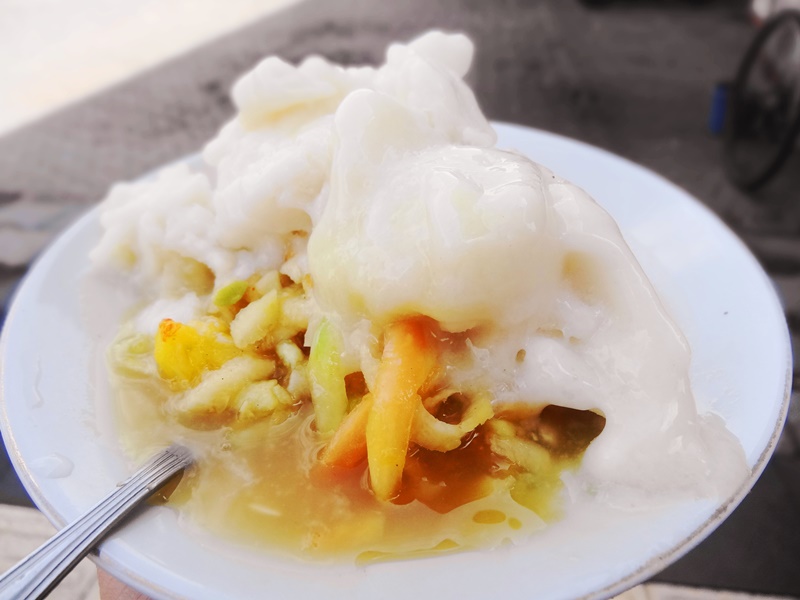 Doesn't look as good as the pink one, no? So please choose yours wisely.
------SOTO-------
Soto Pak Sabar
Jl. Gedong Kuning Selatan, Rejowinangun, Jogjakarta. 4sq location.
What most the locals have for breakfast is simple: either soto, or gudeg. No we don't go for 'bubur ayam' (chicken porridge) unlike most Jakartans :p We prefer the clear soup aromatic broth, with chicken or beef in it, alongside with gulp of rice, cabbage, bean sprouts, celery, fried shallots - and many type of side dishes to pick from: fried tempeh, liver & gizzard satay, kerupuk, etc. And my top pick for beef soto is definitely this one. Simplicity at its best!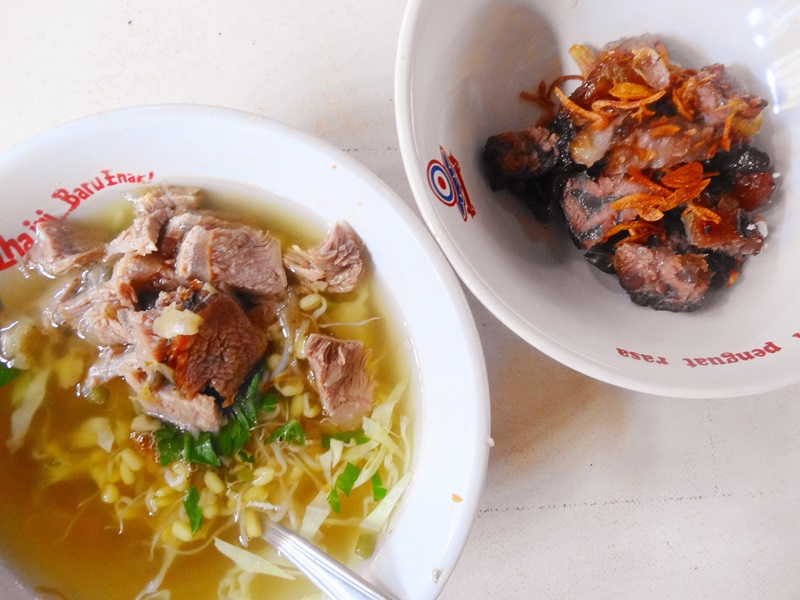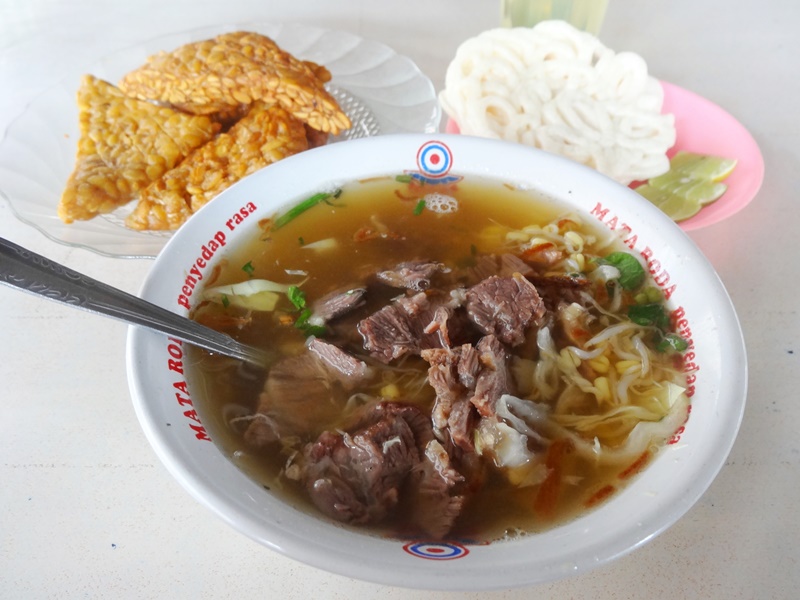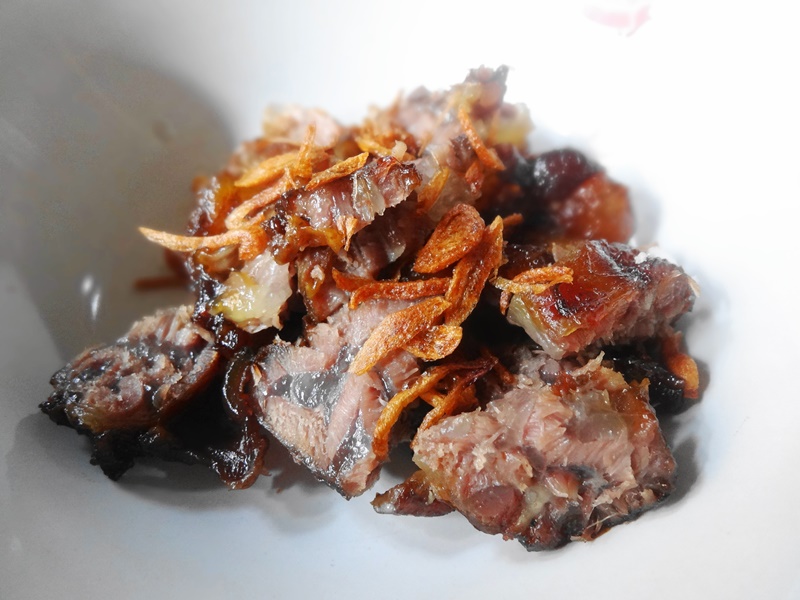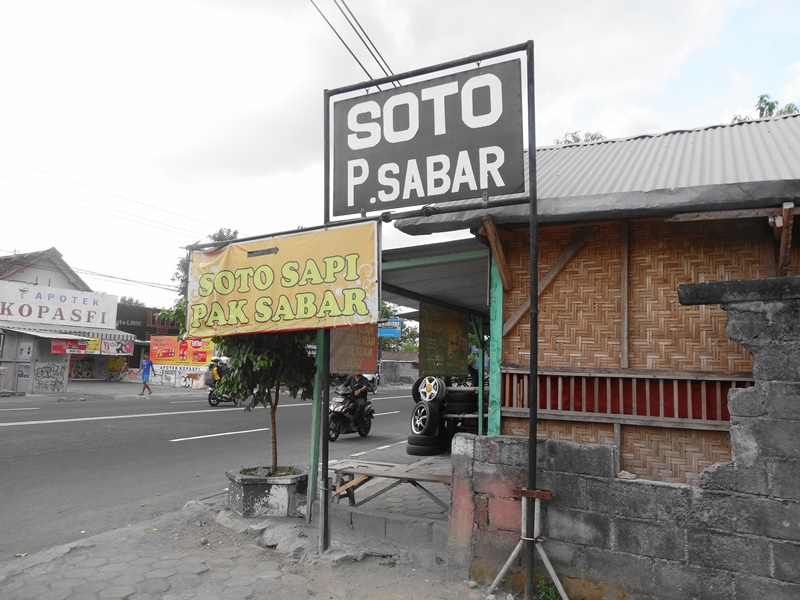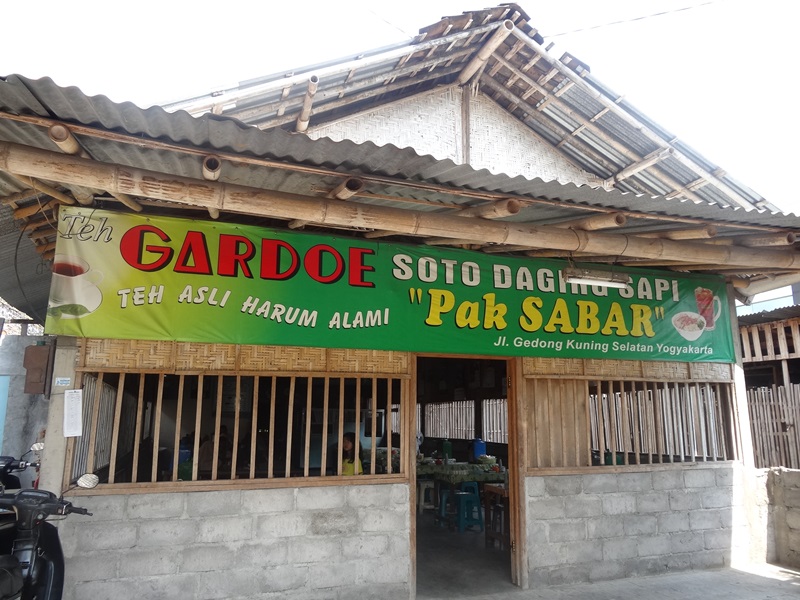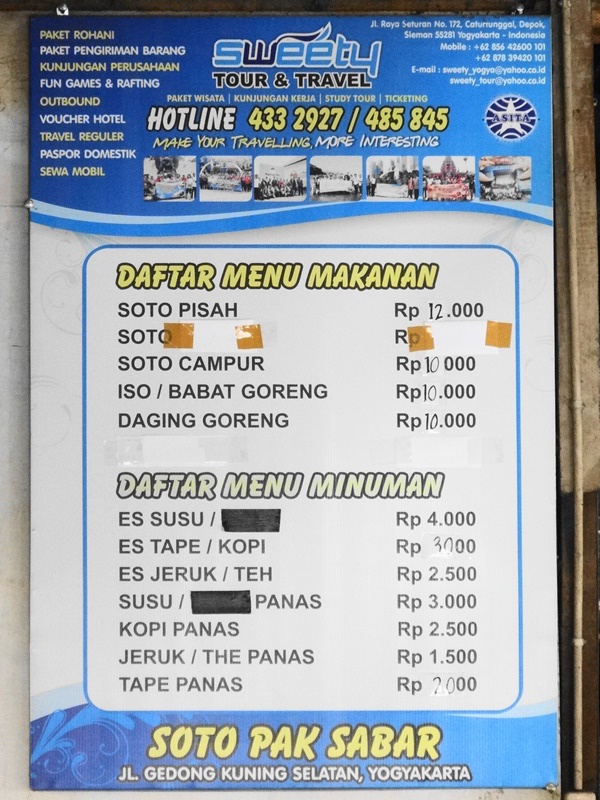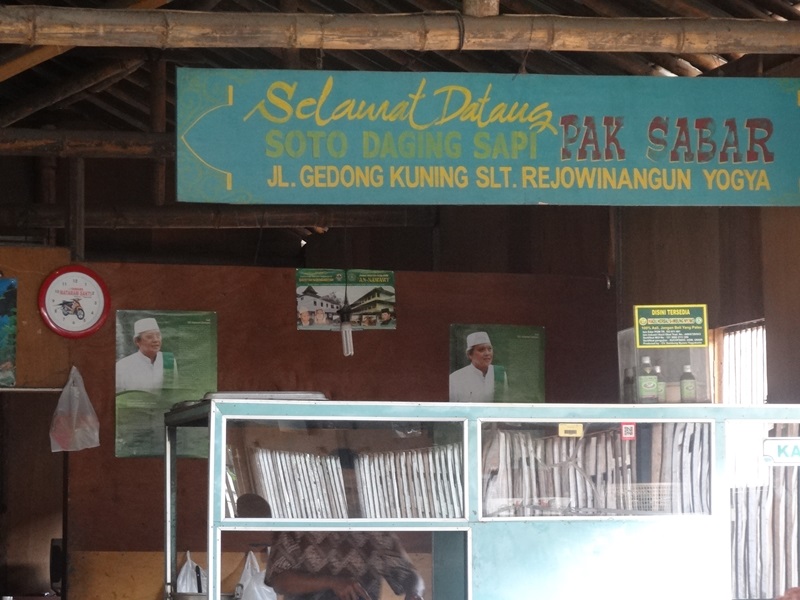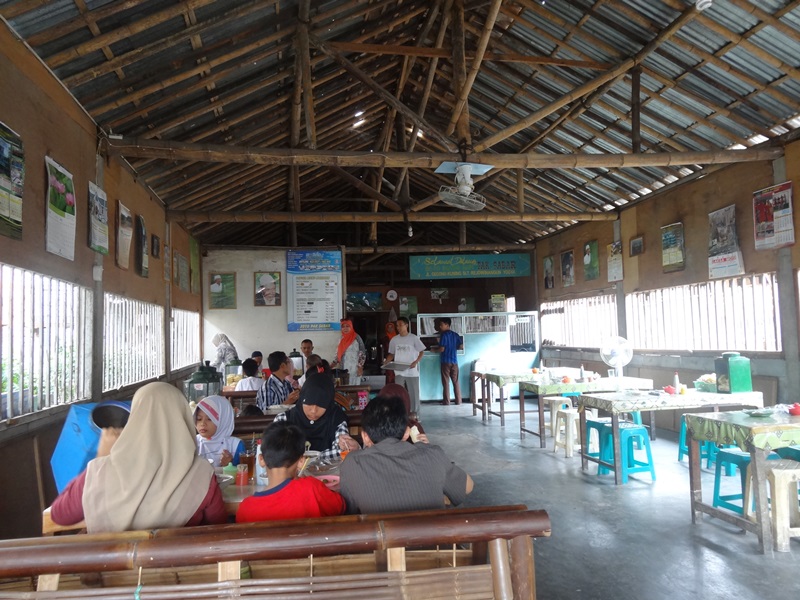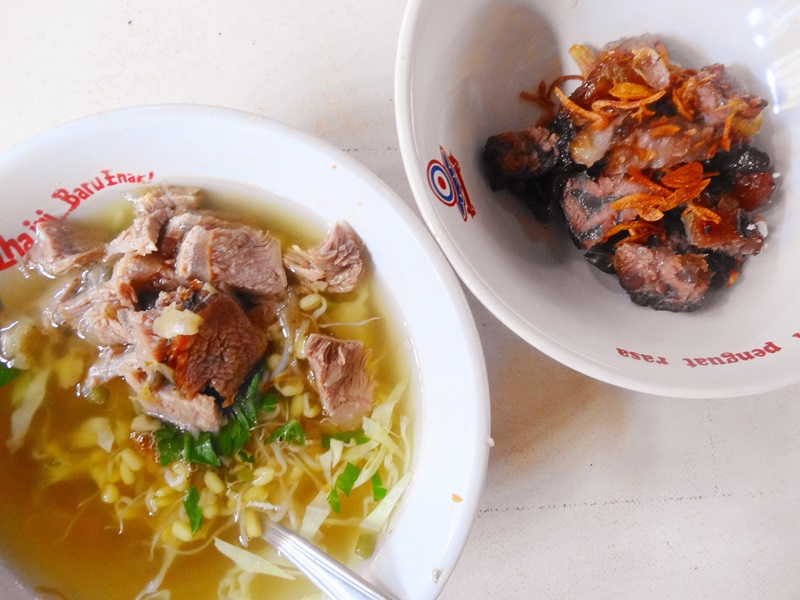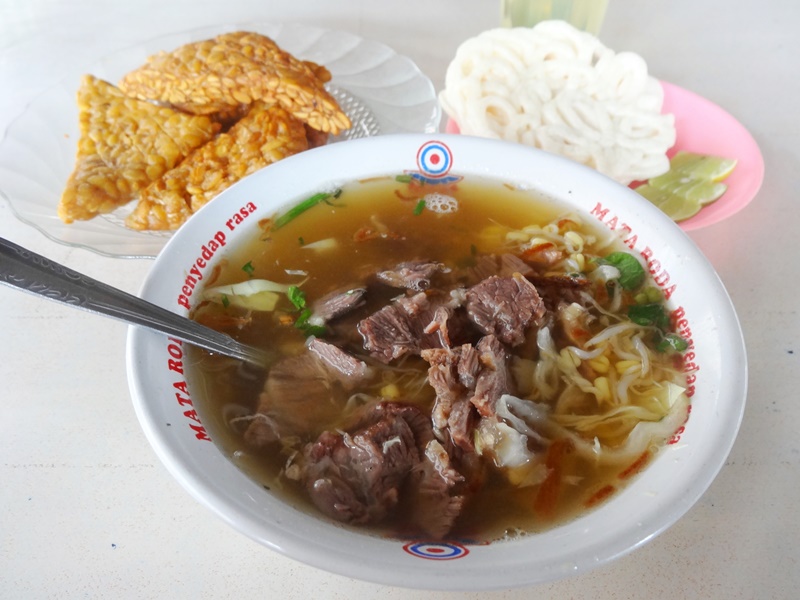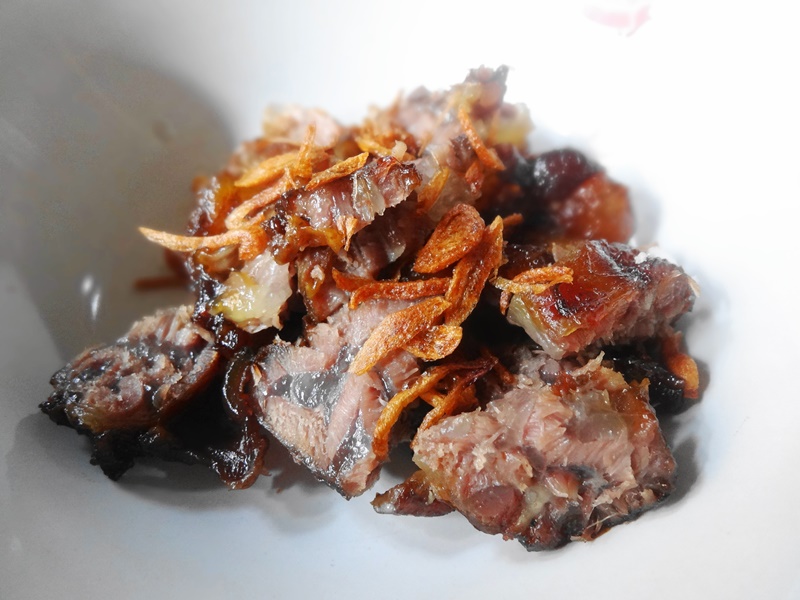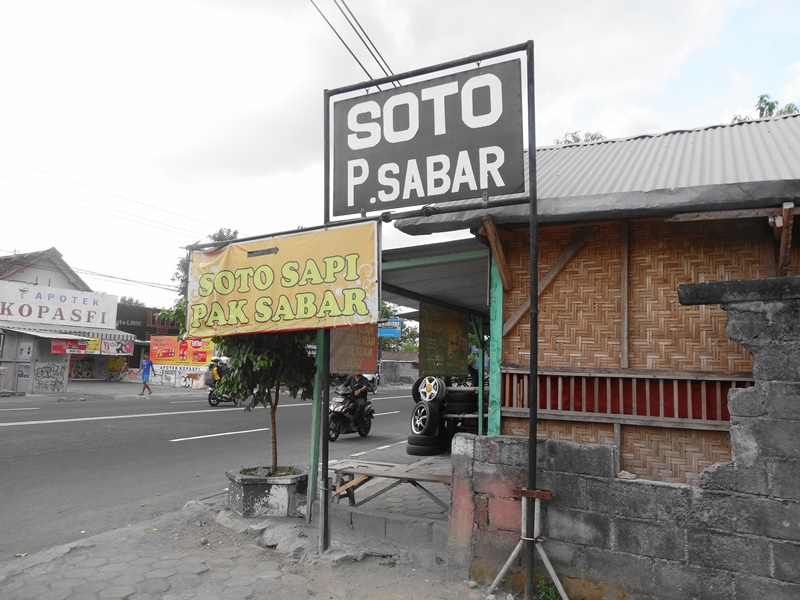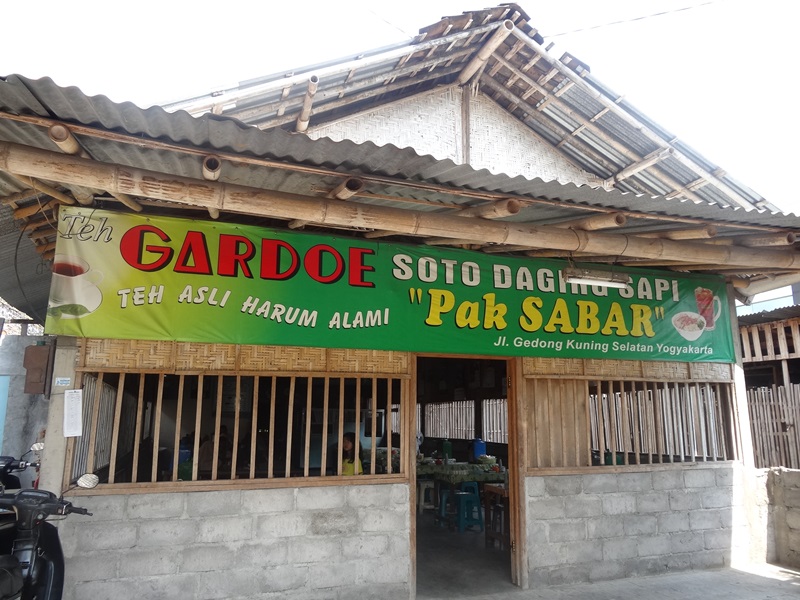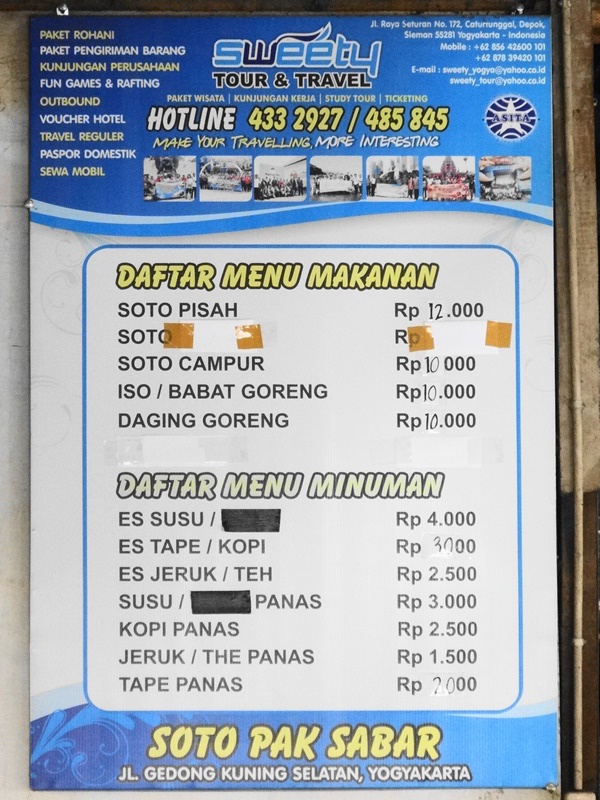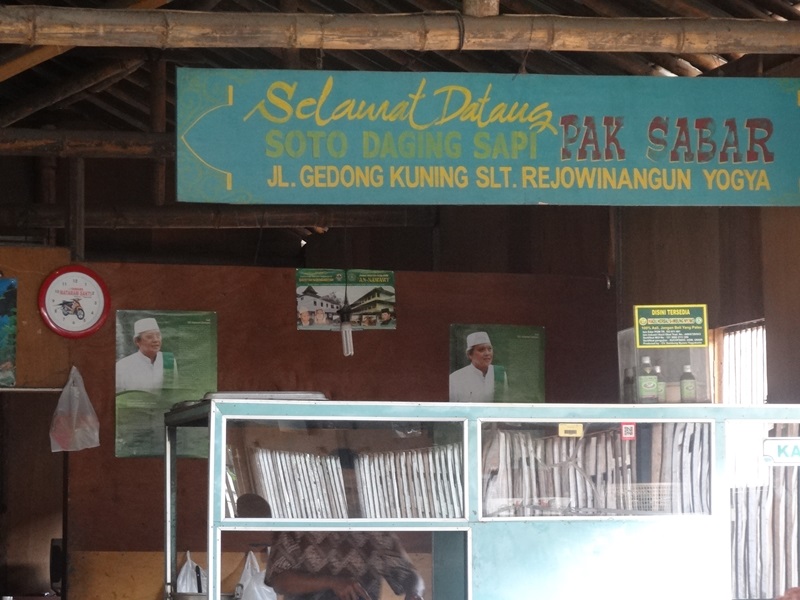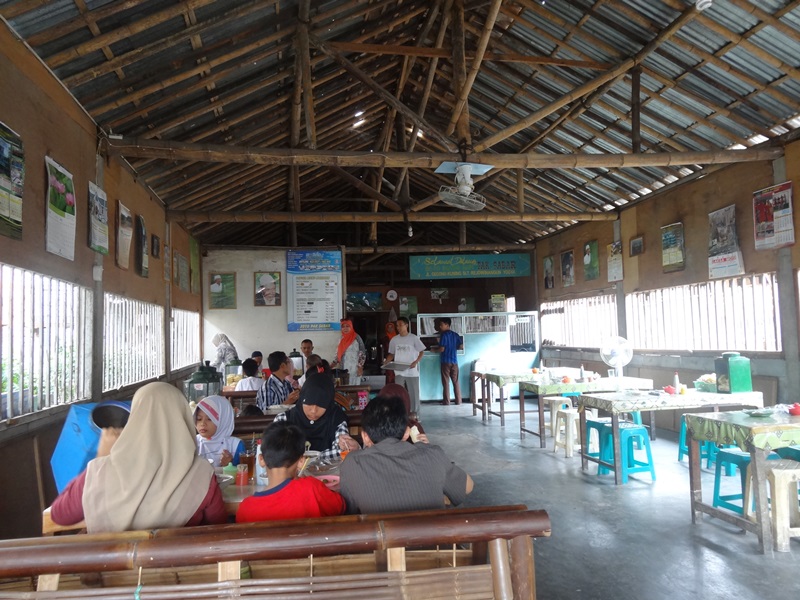 Other soto legends:
Soto Daging Sapi Lamongan Cak Ngun & Cak Sodik (beef)
Depan Terminal Lama Umbulharjo, Jogjakarta. 4sq location.
Soto Kadipiro - (chicken)
Jl. Wates 33 Jogja | Ph: 0274 618722. Next to Yamaha showroom.
Soto Miroso (chicken) - also reviewed by ioflife | Jenzcorner
Jl. Laksda Adisucipto no 168A | Ph: 0274 485946
Soto Pak Soleh - Al Barokah (beef)
Jl. Wiratama no. 84 Tegalrejo | Ph: (0274) 560584, 622680. 4sq location.
Soto Sulung Stasiun Tugu | good review by yogyes.
Parkiran Selatan Stasiun Tugu, Yogyakarta, Indonesia
------BAKMI JAWA-------
Bakmi Jowo Pak Rebo
Jl. Brigjend Katamso Yogyakarta | Ph: 0818895957 / 0274 9334388. 4sq location.
There are too many options if you're craving for traditional Javanese noodle in Jogja. But this is the place that I'd always go to, every time I went back home. I've been a loyal customer since 90s, since they were a small noodle cart with 6 seats available for dine-in on the roadside. Now they've grown bigger & move to a more spacious place, and now Pak Rebo's son is taking charge. The taste? remains the same over >20yrs :)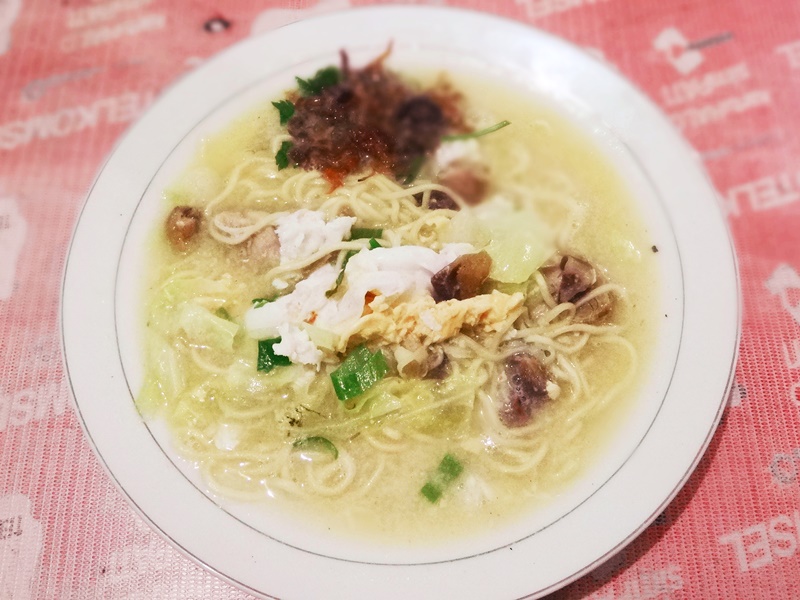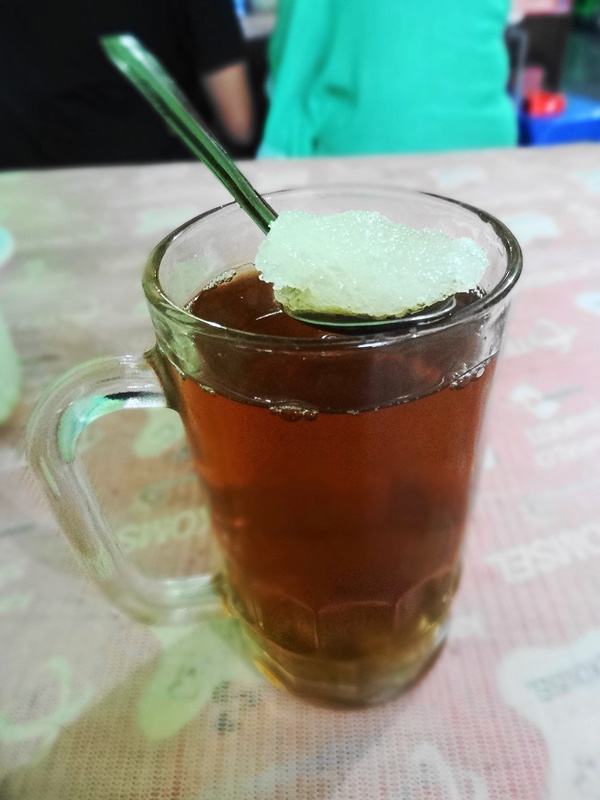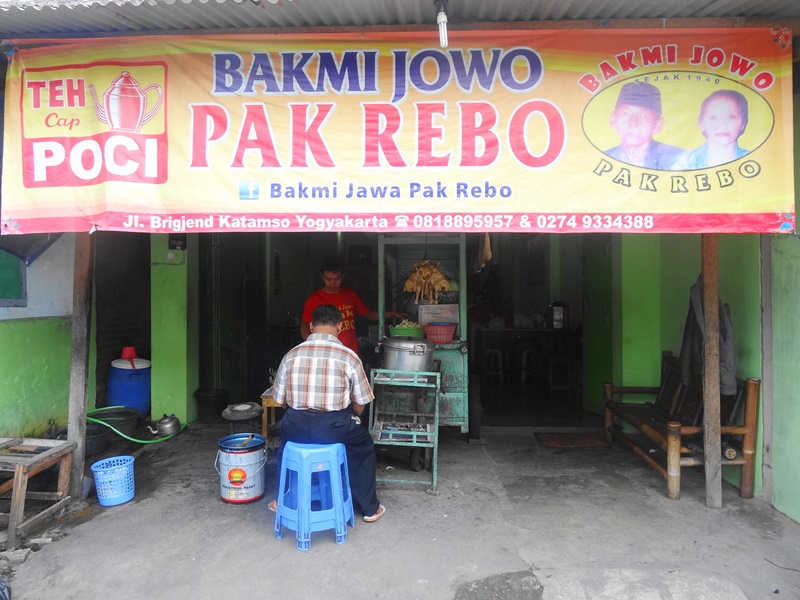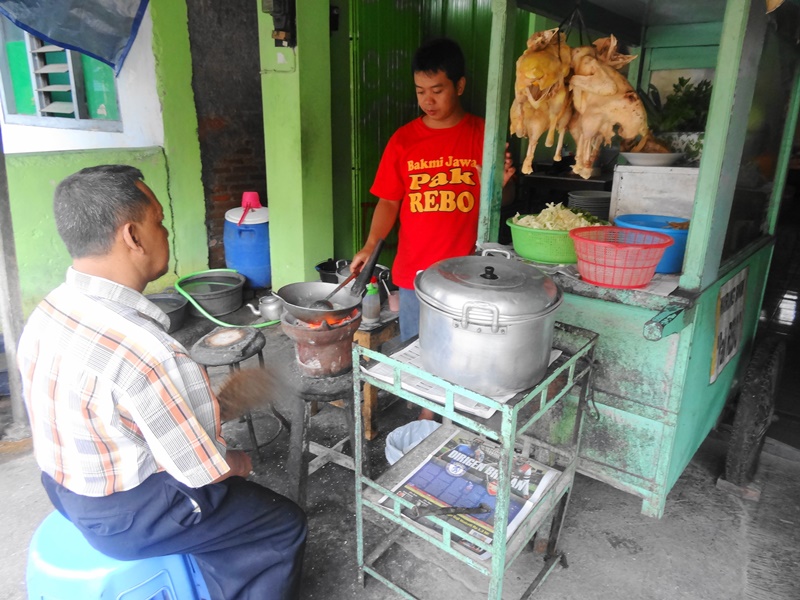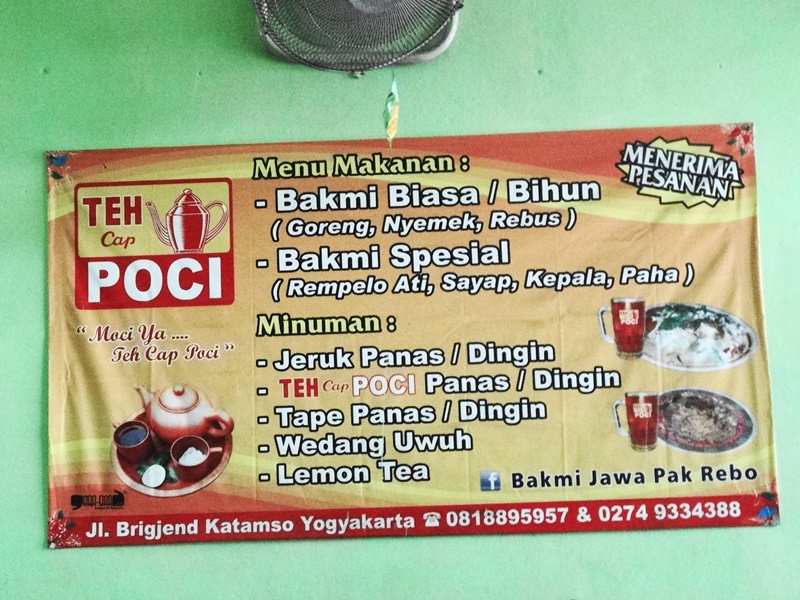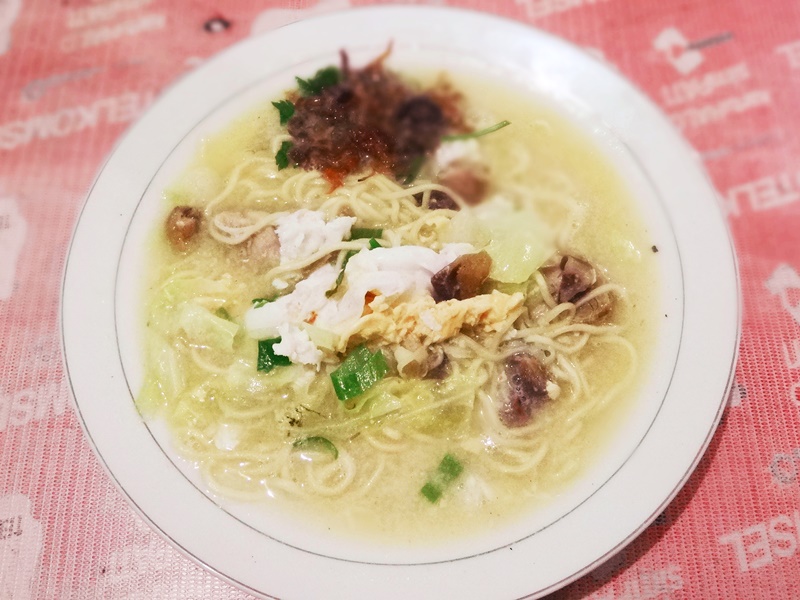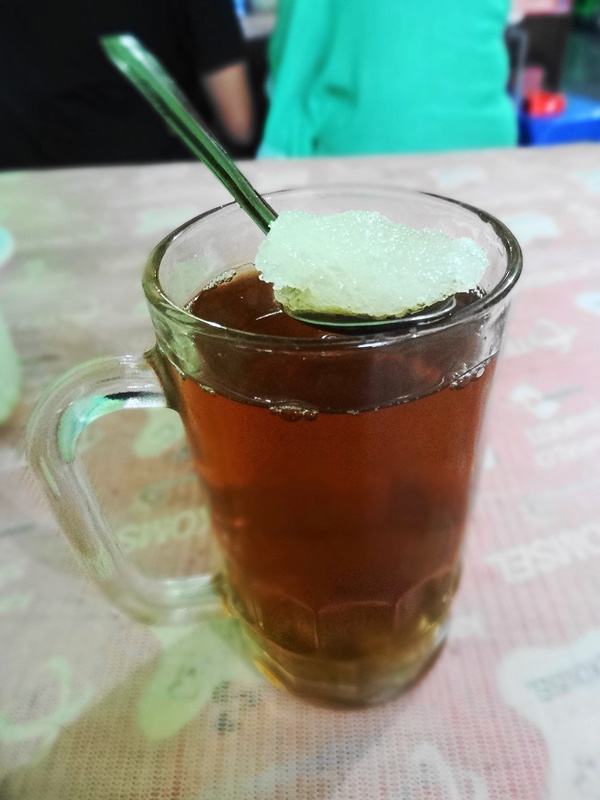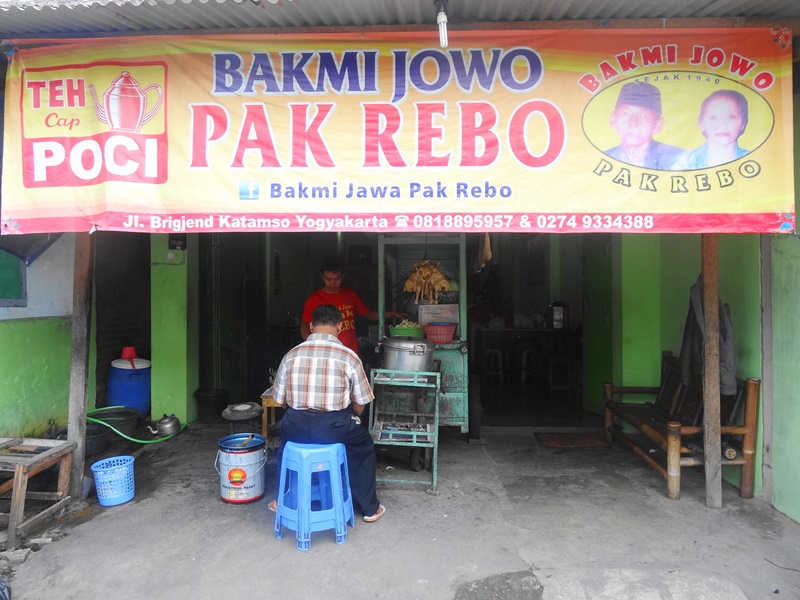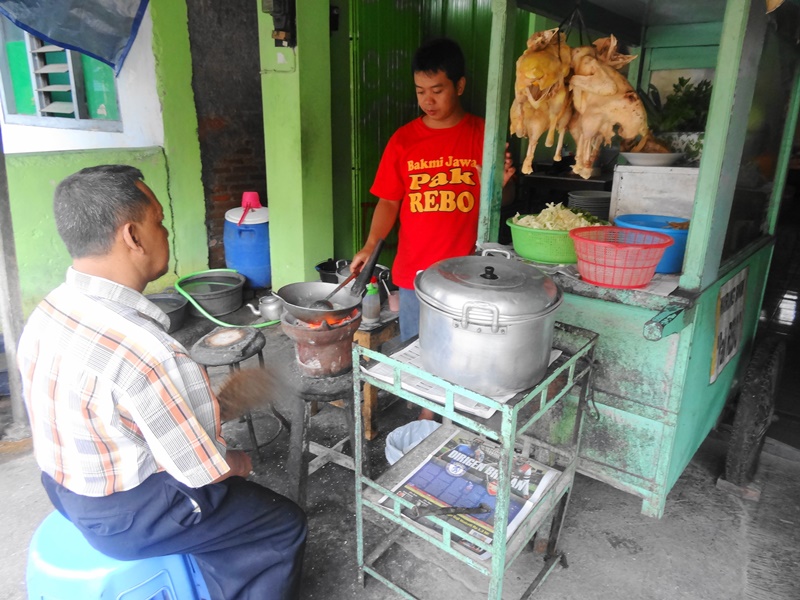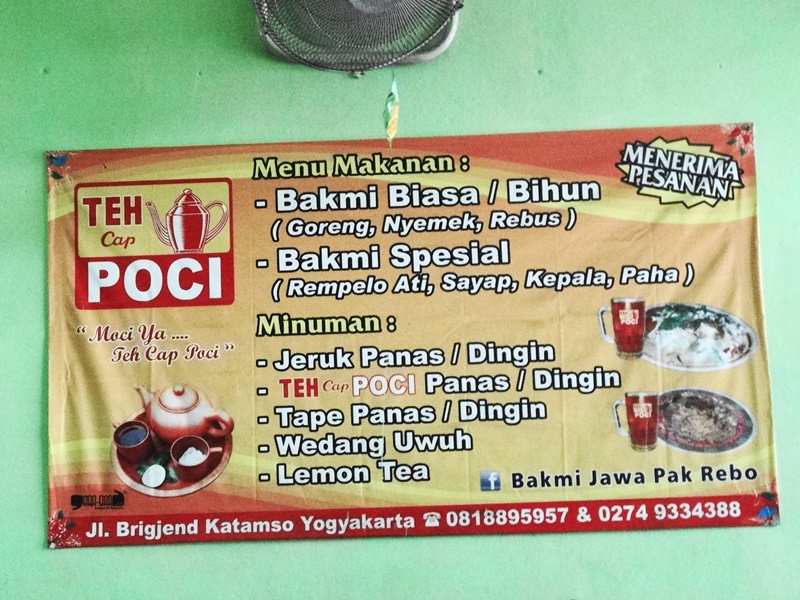 But you could also try other popular places:
Bakmi Pak Pele Alun-Alun Utara
North Alun Alun, in front of SD Keputran Keraton. 4sq location.
Bakmi Kadin (Mbah Hj. Karto / Pak Rochadi) - reviewed by jenzcorner.
Jl. Bintaran Kulon No. 3 & 6 (next to Wartel Kadin) | Ph. 373396 / 0878 38596400.
4sq location.
Bakmi Mbah Mo Bantul - reviewed by ioflife (LEGEND!)
Desa Code, Bantul. Directions: from Jogja, drive along Jl. Parangtritis. Turn right at KM 12, traffic light desa Manding (shoe home industry), follow along the road until cross-intersection, you'll see the Mbah Mo sign board. Ph: 0274 418676 / 7486979.
4sq location.
------GUDEG-------
Gudeg Pawon (savory)
Jl. Janturan Nomor 36-38 Warungboto, Umbulharjo, Yogyakarta
There are two types of gudeg: authentic/dry gudeg (gudeg kering) and savory gudeg (gudeg basah). I personally like savory gudeg much more than the authentic/dry one, because it's not too sweet. Gudeg Pawon is one of the great example of savory gudeg. The name "pawon" itself means home kitchen, which is literally where this place is located. What's also unique is that it opens 10.30PM at night, and usually at 1AM it's already sold out. People would queue around 10pm afterwards, just to have a midnight 'snack' in this humble place.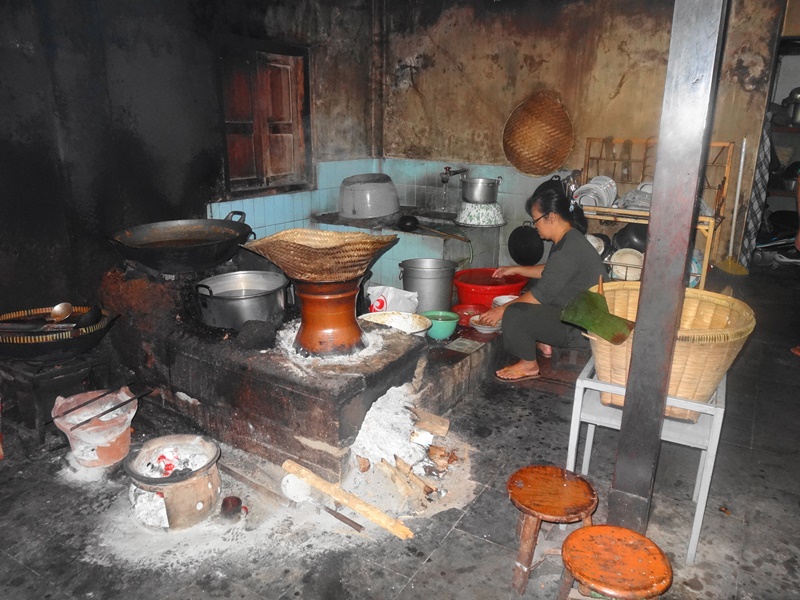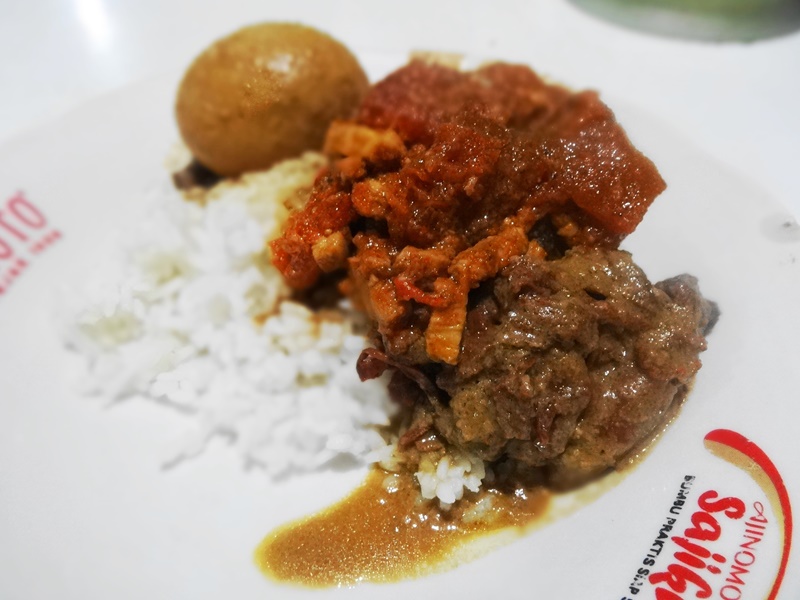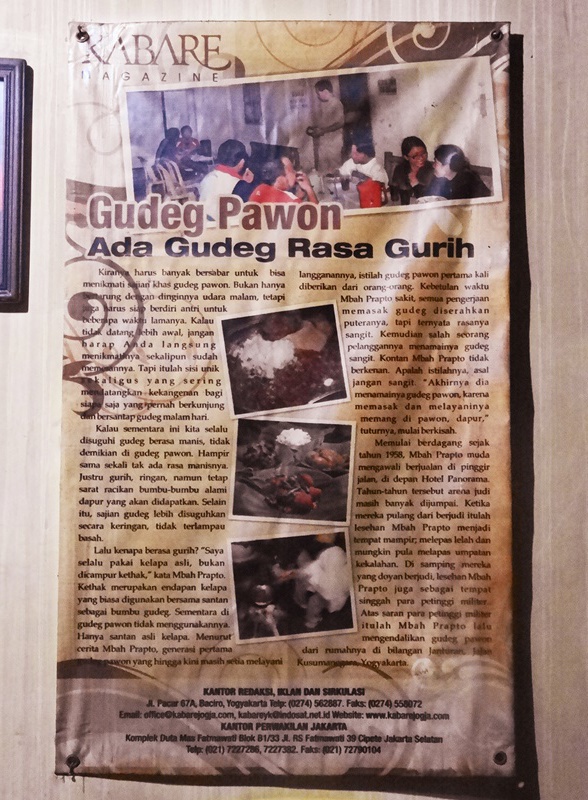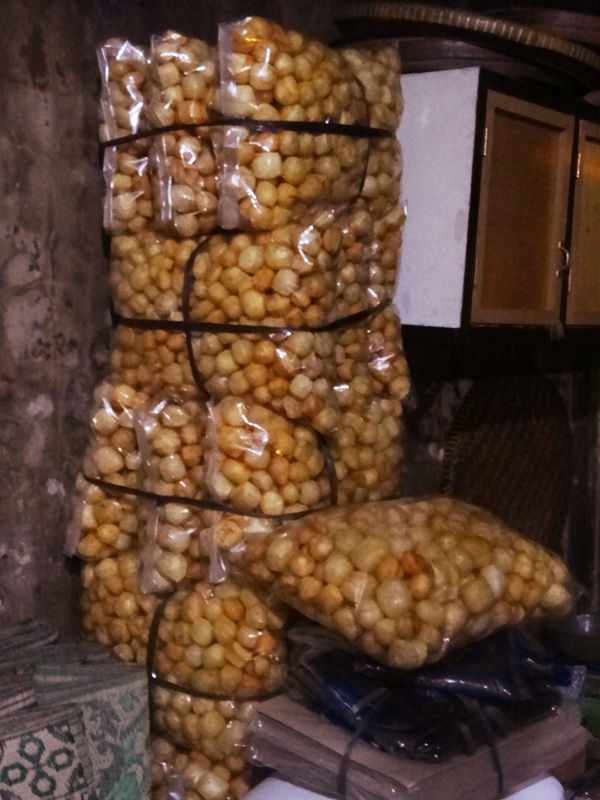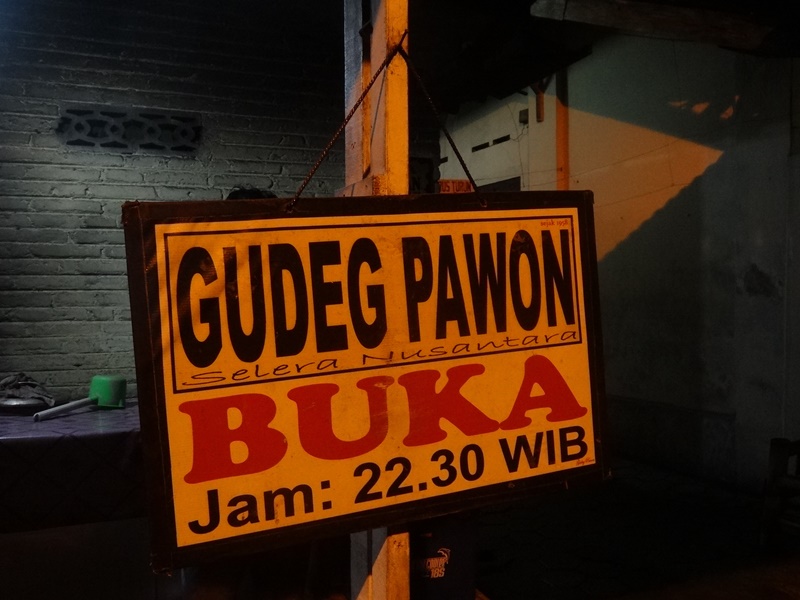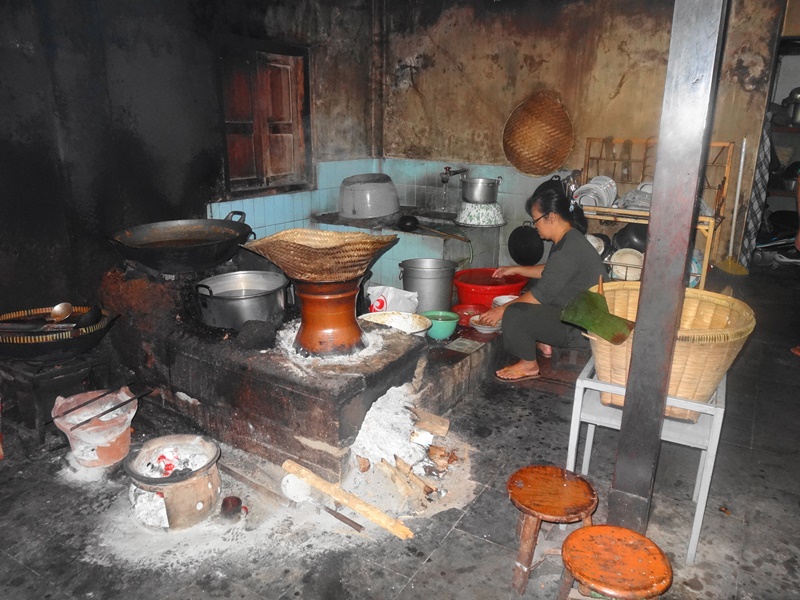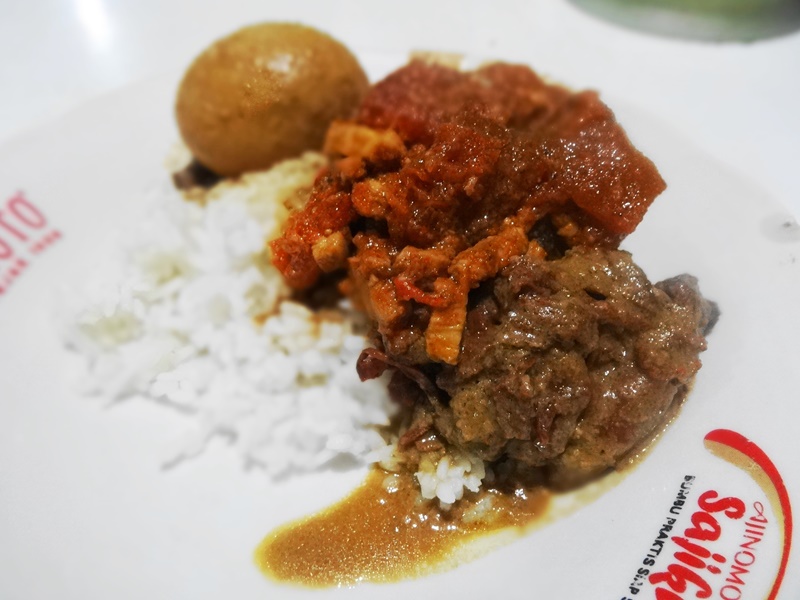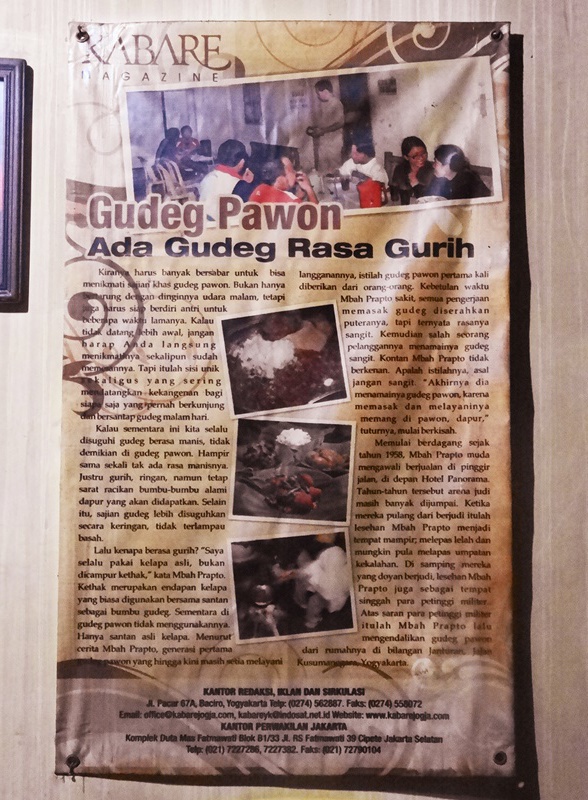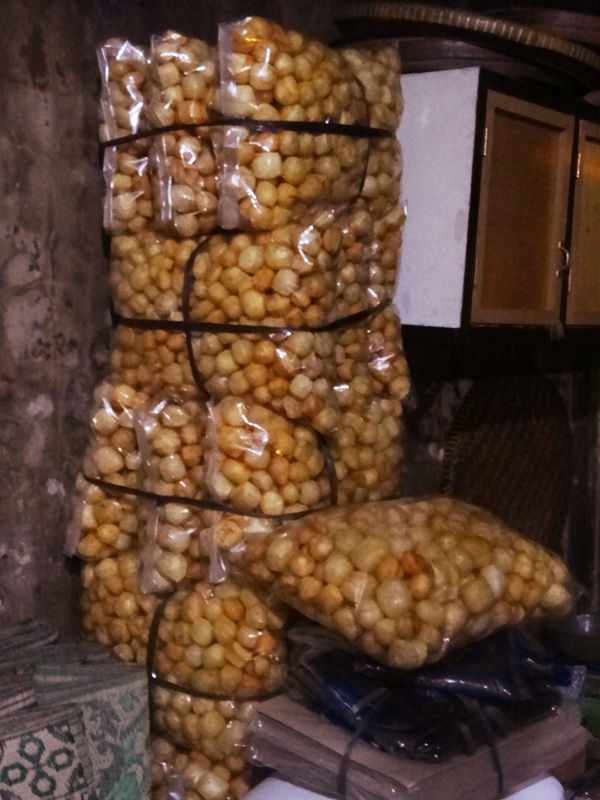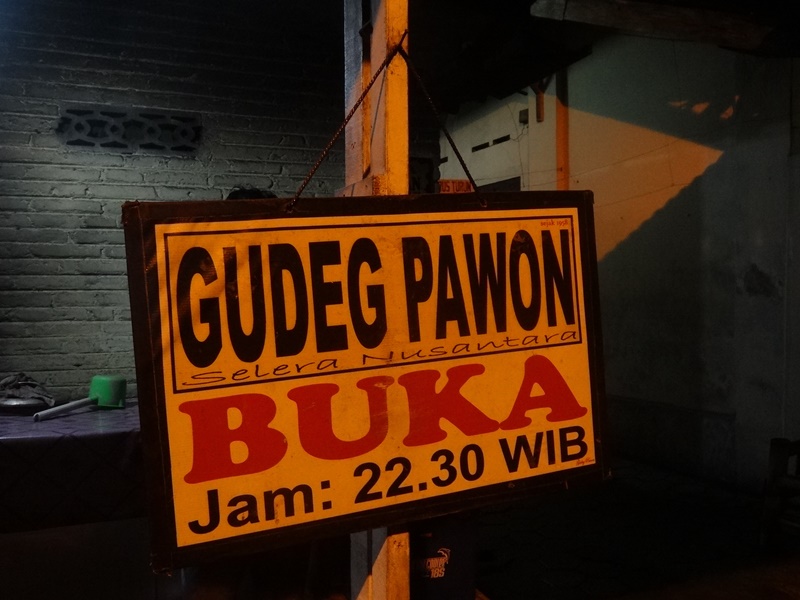 Gudeg Bu Slamet Batikan (savory)
Jl. Batikan No.82, Yogyakarta 55161 | Ph (0274) 374712. Opens 6pm-01.30am.
4sq location.
This one is also my favorite! What makes it different is they added blanched cassava leaves to the gudeg itself, making the dish more savory with lots of coconut-milk gravy. And also, the sambal krecek (braised spicy cow skin) is the winner! Highly recommended. I'll post pic some other time.
Gudeg Bu Pujo/Gudeg Bioskop Permata (savory)
Jl. Gajah Mada (near Permata cinema), Jogjakarta | Opens 21.30pm-02.00am | 4sq location.
Gudeg Mbarek Bu Hj. Amad (authentic)
Utara Gedung Pusat UGM (utara selokan Mataram); Jl. Kaliurang Km.4,5 Karangasem CT II/05 Yogyakarta | Ph: 0274 520049
Gudeg Yu Djum (authentic) - reviewed by jenzcorner
Jl. Kaliurang Km.4,5 Karangasem Mbarek CT III/22 Yogyakarta 55281 | Ph. 0274 515968
In summary, the most famous area to find gudeg is in Wijilan (south) and Mbarek (north) area. Wijilan is located not far from Keraton Yogyakarta, first initiated by Bu Slamet who started to sell gudeg in 1946, and now there are >17 gudeg options there. They usually open at 5.30am to 8pm except for Gudeg Bu Tarto (Jl. Wijilan no.15) that opens 24hrs. Mbarek, on the other hand, is an area located at northern part of UGM (Gadjah Mada University), at Jl. Kaliurang Km.4,5 (Selokan Mataram) to be exact.
Nanamia Pizzeria

Jl Mozes Gatotkaca B11-16, Gejayan, Yogyakarta (near Sanata Dharma University) | Ph: (0274) 556494 | Opening hours 12.00 – 23.00 | 4sq location.

Well.. staying in Jogja doesn't mean you can't enjoy international food as good as other local foods, right? At some point, you might just had enough of gudeg/soto/noodle, and were just craving for some cheese supply :p In that case, Nanamia Pizzeria is the perfect alternative for Italian cuisine. I only went here twice, and ordered nearly the same:
Aglio e Olio
. I'd say: it's the BEST aglio e olio in Jogja! At IDR 25.000 they sure are generous enough with the portion, and i love love love black olives :) The pizza here is also great, has that thin Italian crust, and quite generous topping. Worth a visit.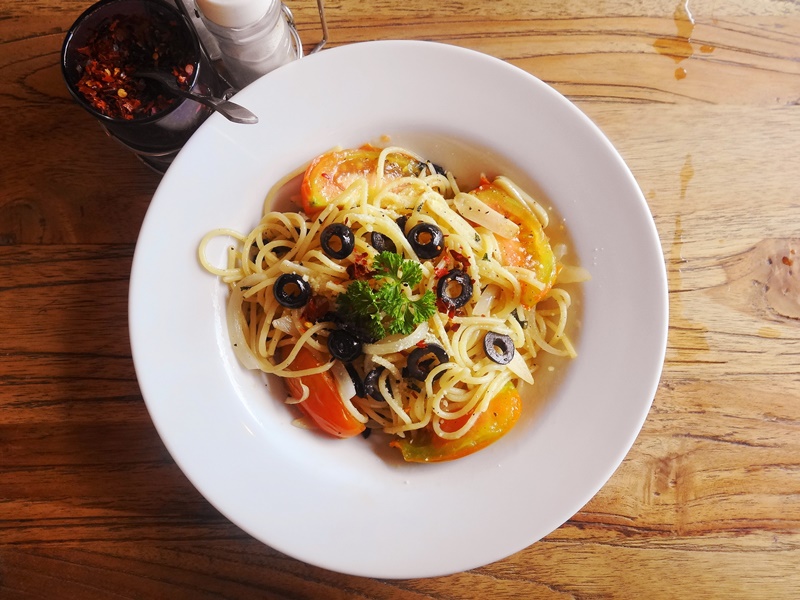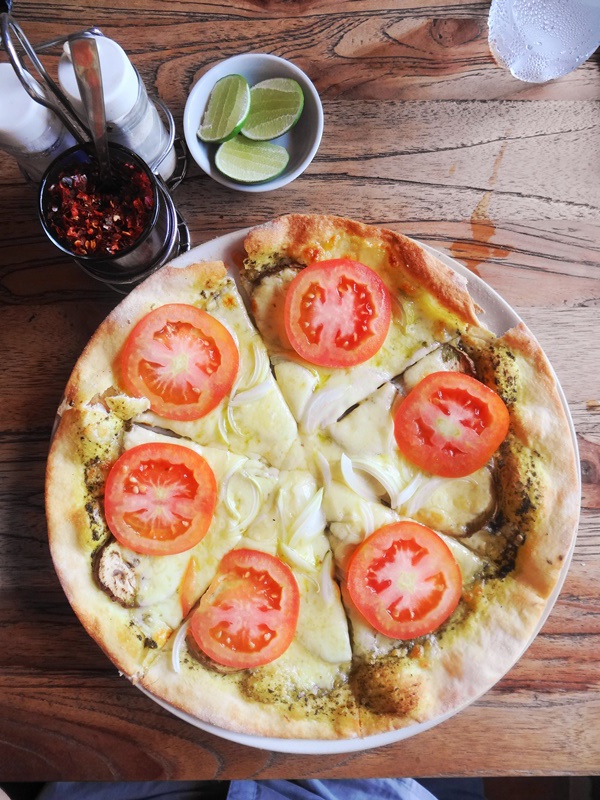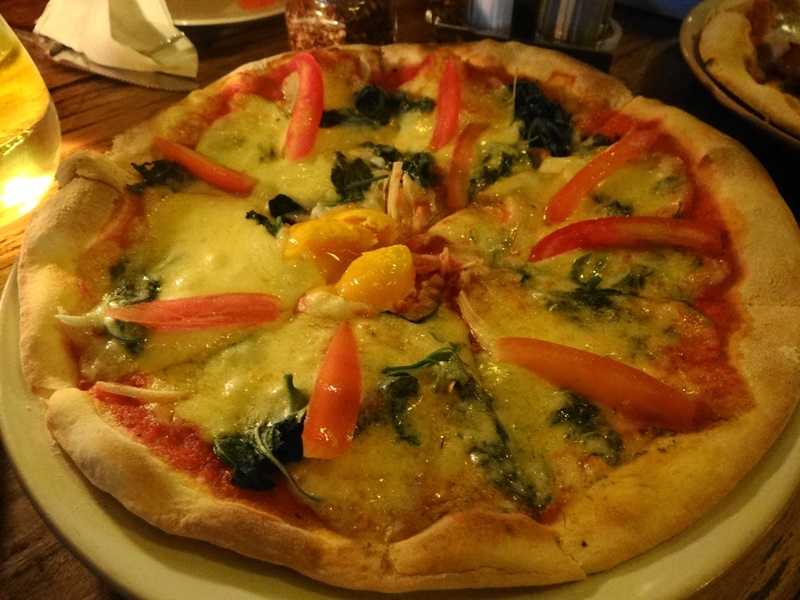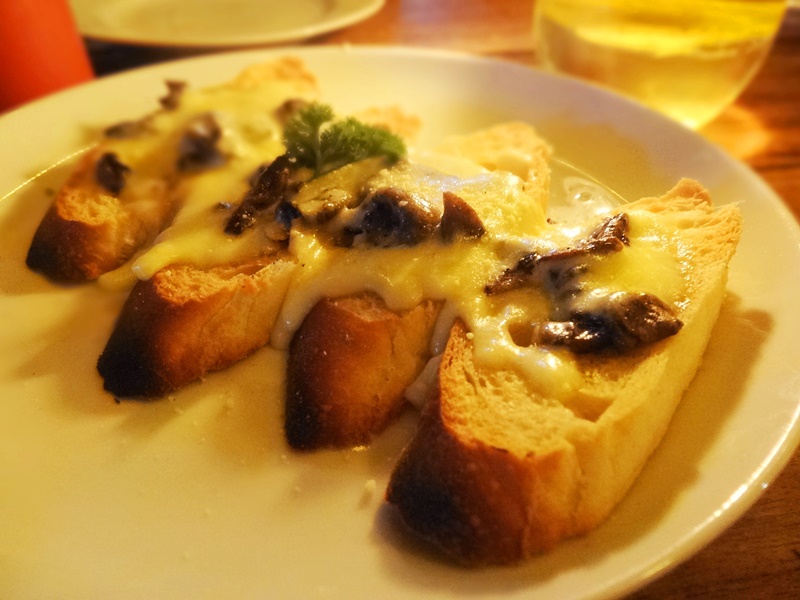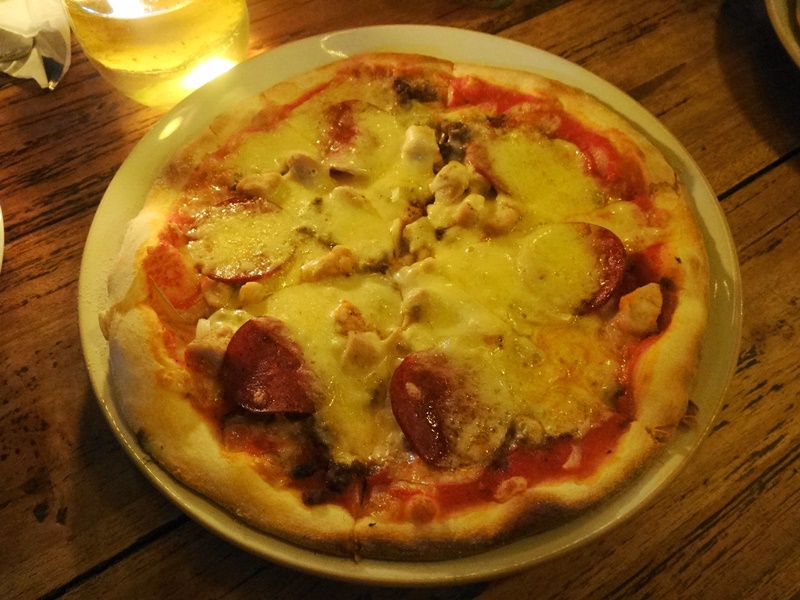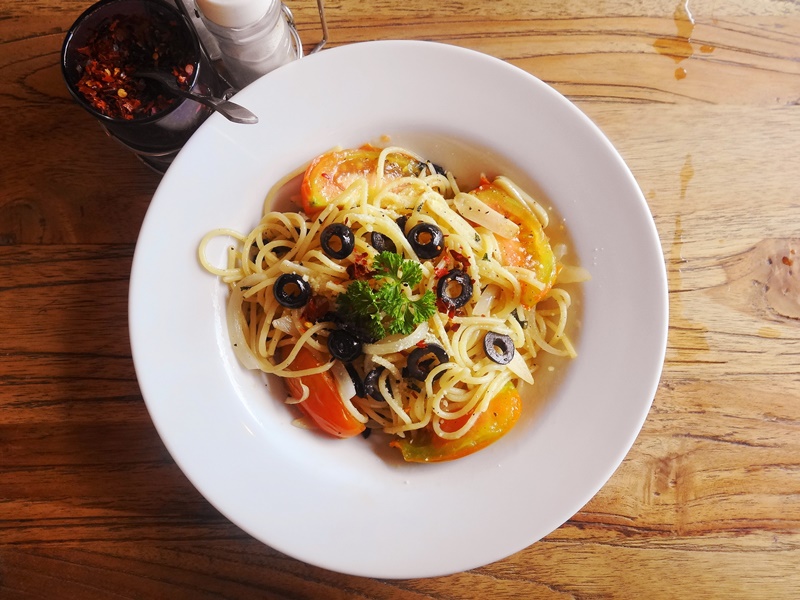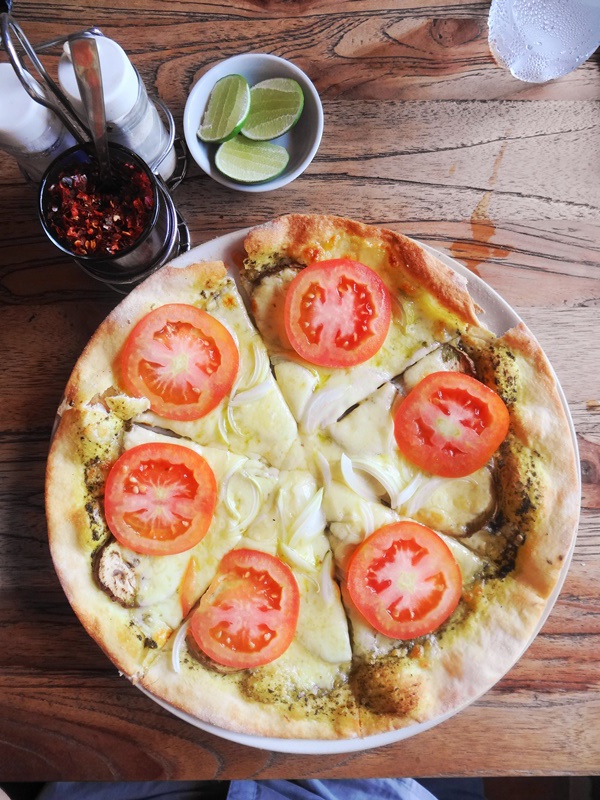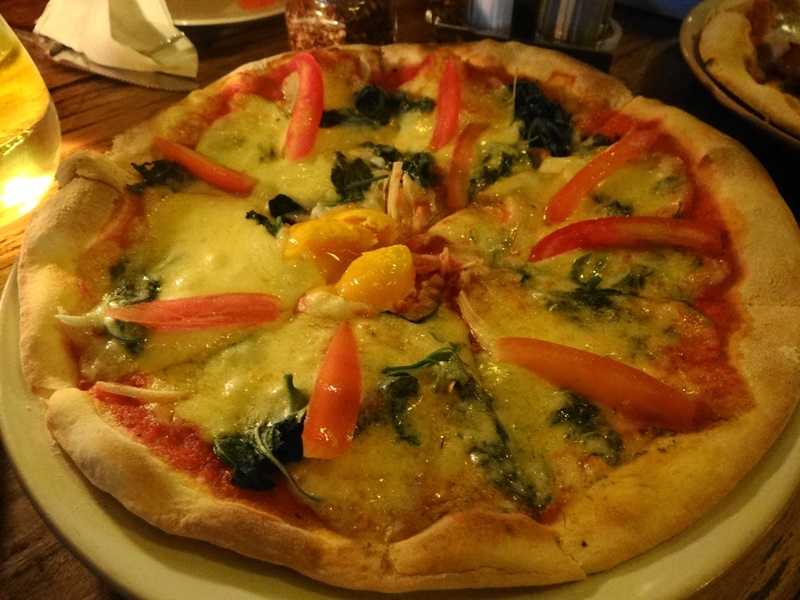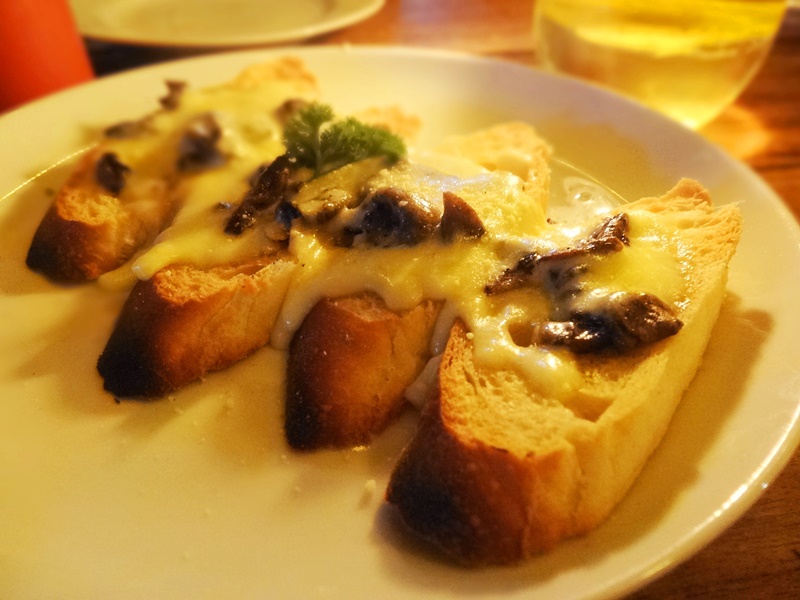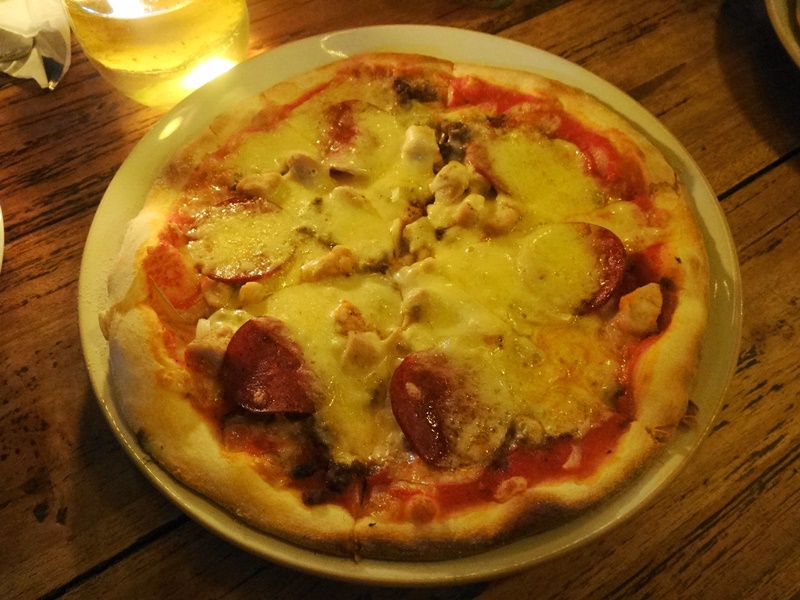 Pasta Gio - Pasta & Roast Chicken
Jalan Ngelempong Lor Blok 1 No. 4 (Ngaglik), Sleman | +6281802740181
Another alternative if you like pasta. BUT ONLY THE CREAMY ONES. Seriously, I ordered Spaghetti Marinara with Dory Fish and when it came I was surprised as hell. Even their so-called marinara had like 1:3 ratio of tomatoes vs cream :| Weird. But don't look for Italian authenticity here, because their creamy pasta sauce is actually pretty tasty.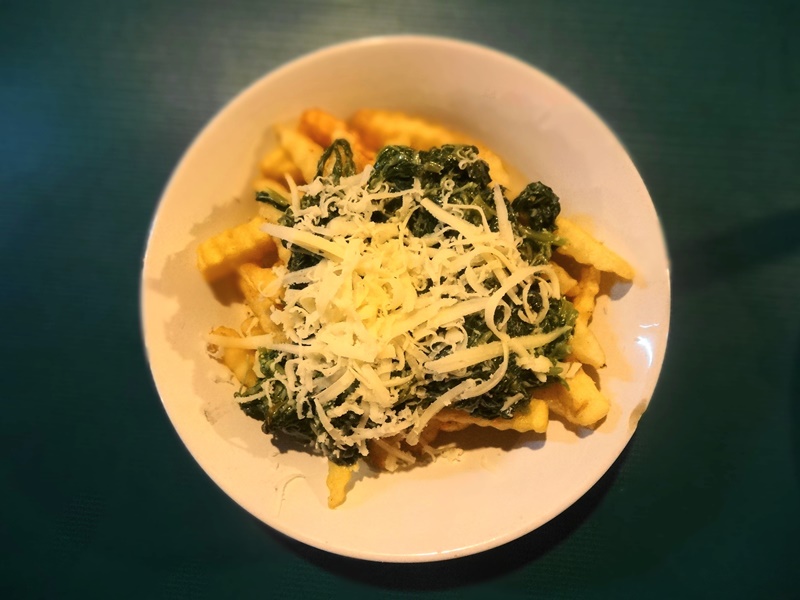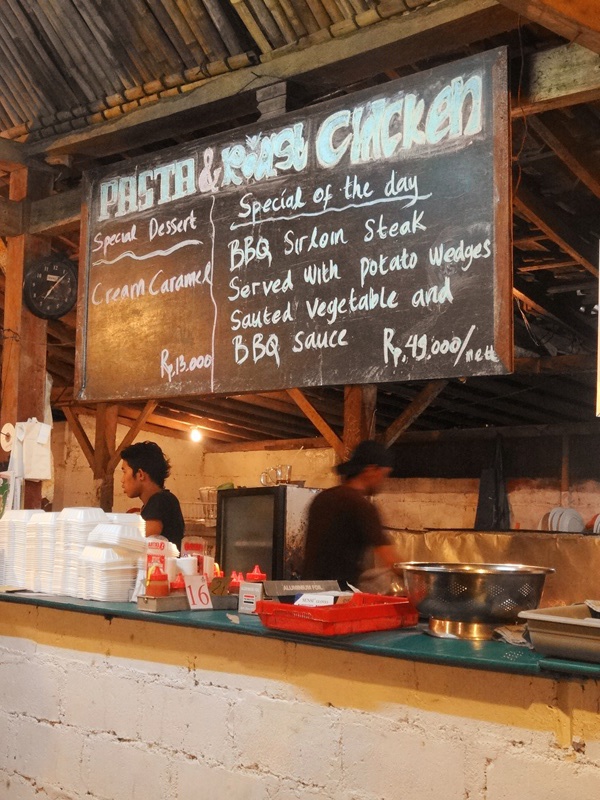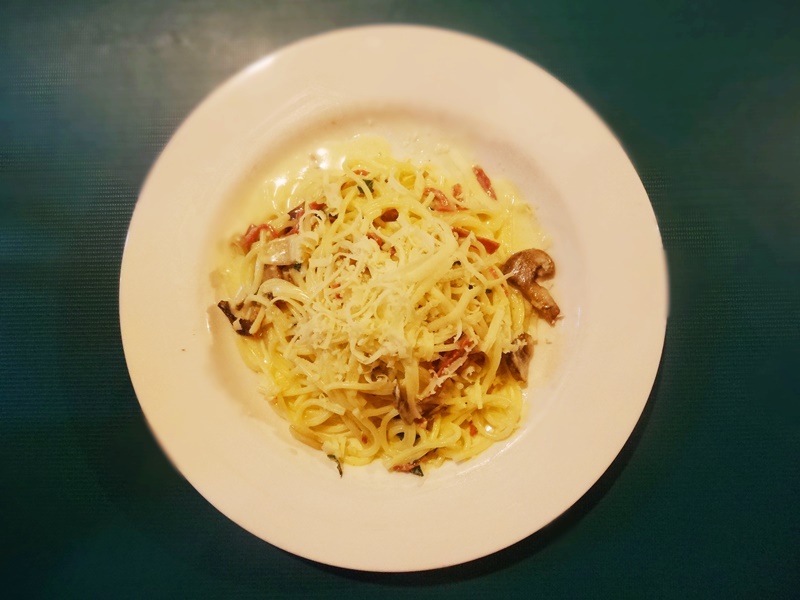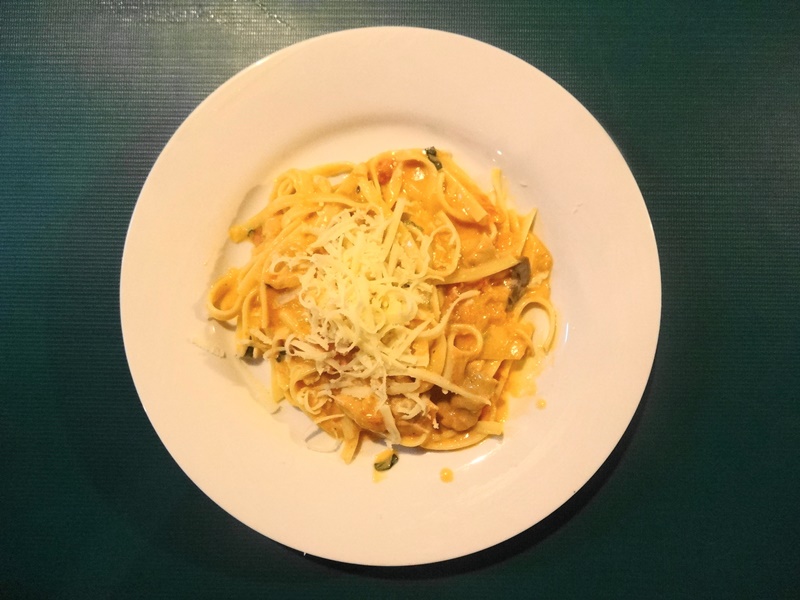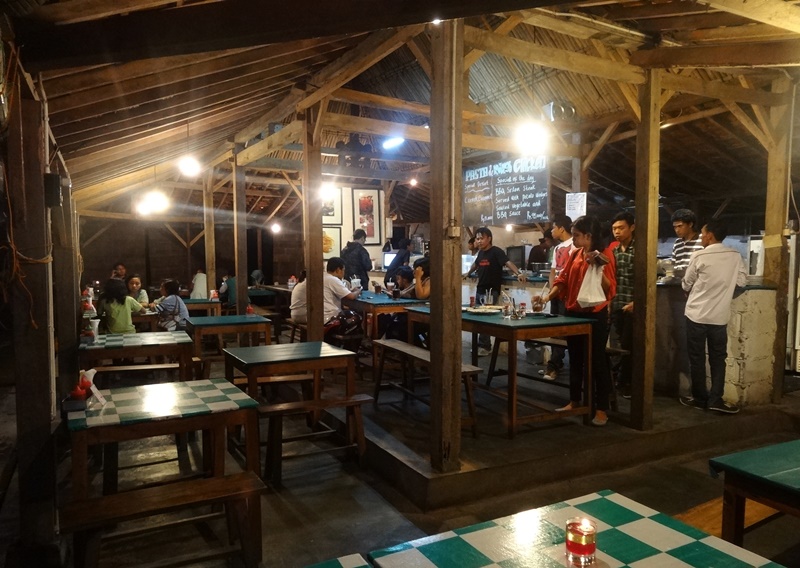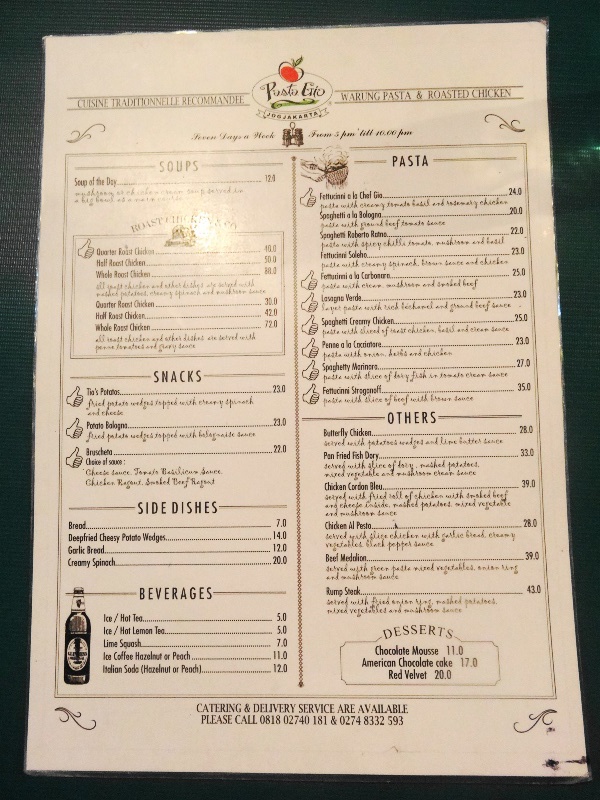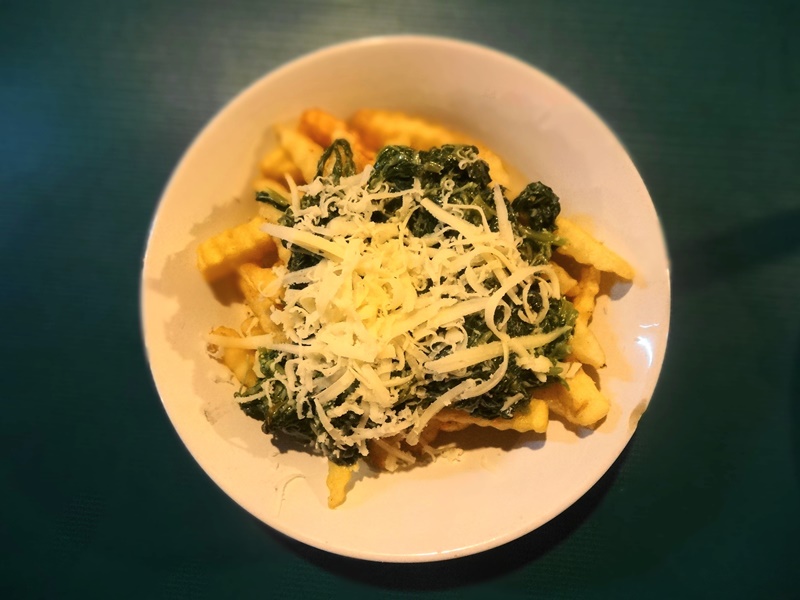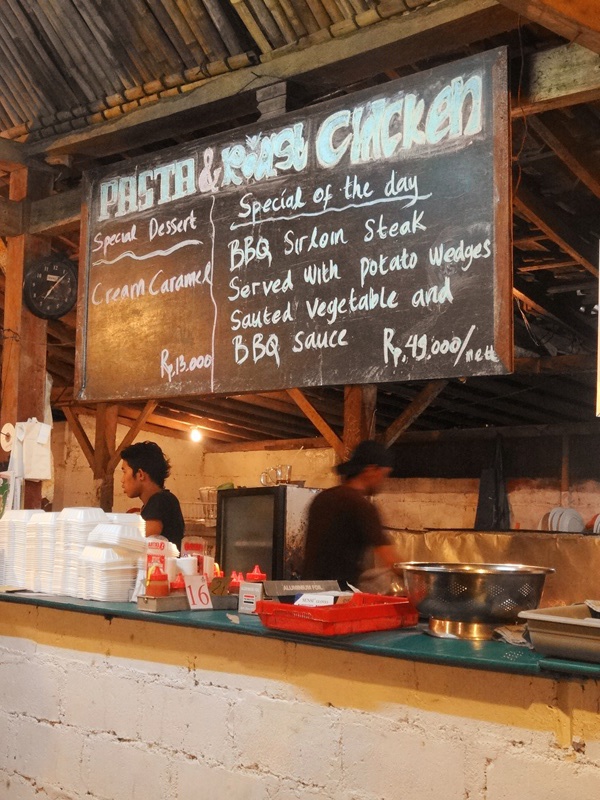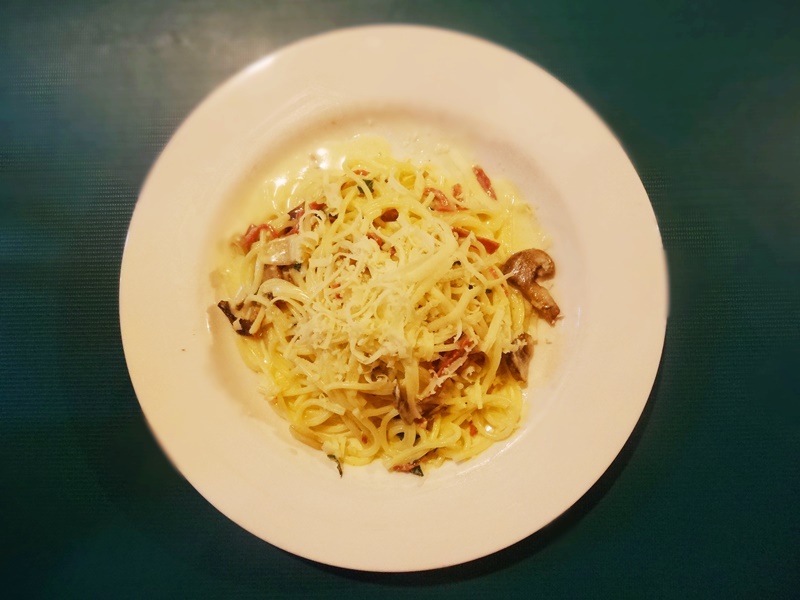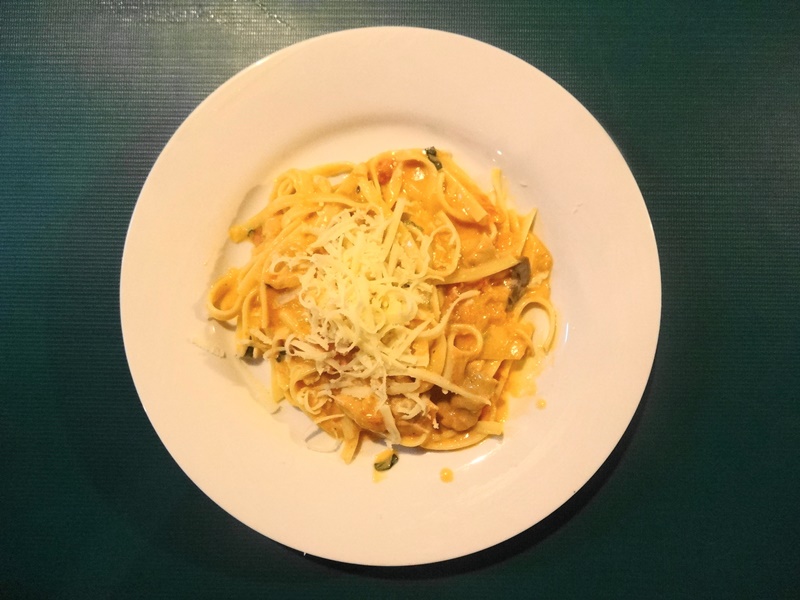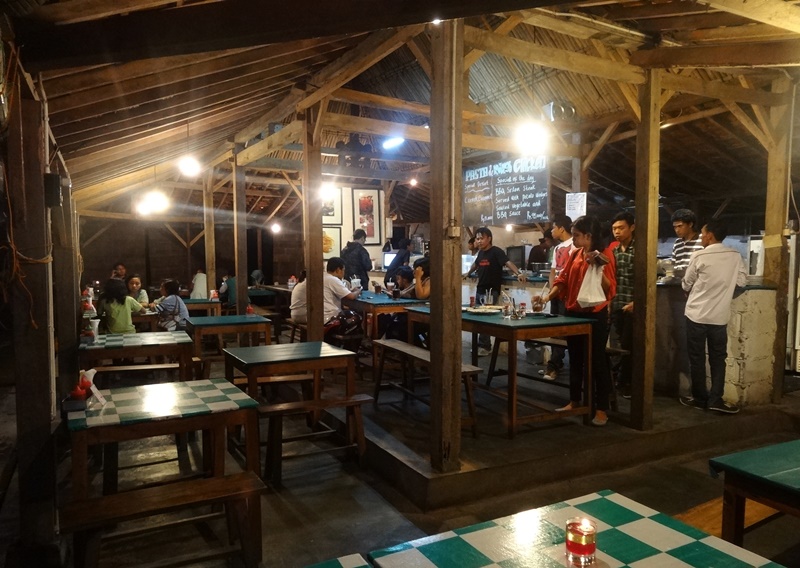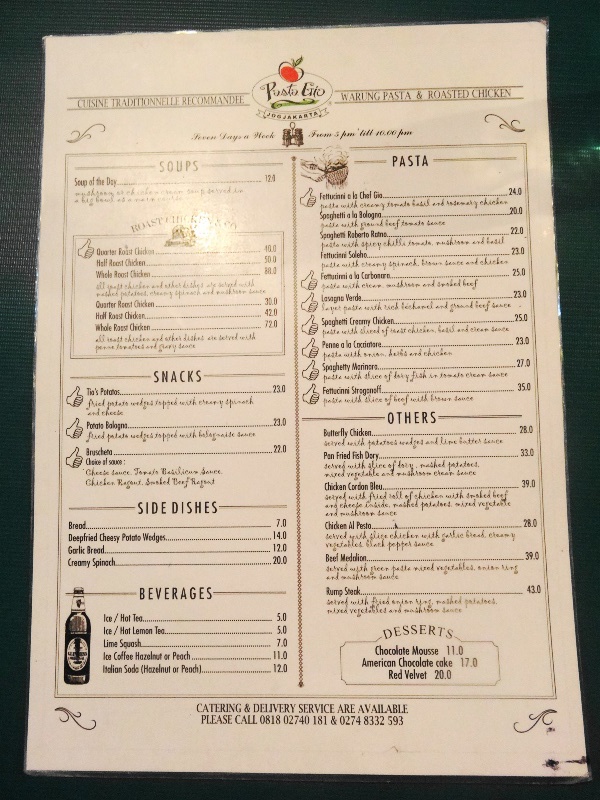 All their pasta menu are cream-based, the only thing that isn't: Aglio Olio (but that wasn't written on the menu either - I had to ask). Even their appetizer has cream in it: Fried Chips with Creamy Spinach & Cheese. Blargh, cream everywhere. Probably next time I'll try their roast chicken instead.
------OTHER-------
Es Kelapa Muda Timoho
Jl. Timoho, Jogjakarta. 4sq location.
The BEST drink in a hot sunny day in Jogja. Trust me. And it's 2013 and they still manage to tag IDR 2.000 for a glass! Unbelievably cheap, unbelievably satisying, although some might find it a little bit too sweet. Still, recommended.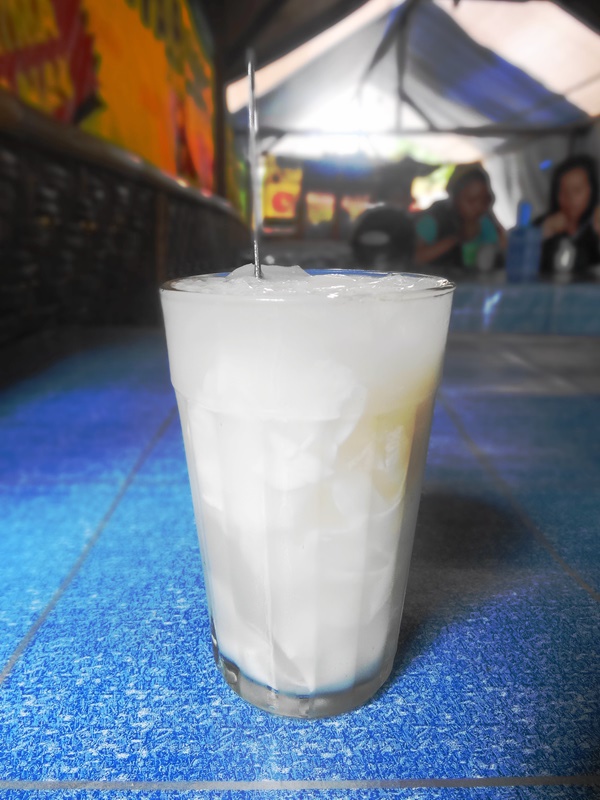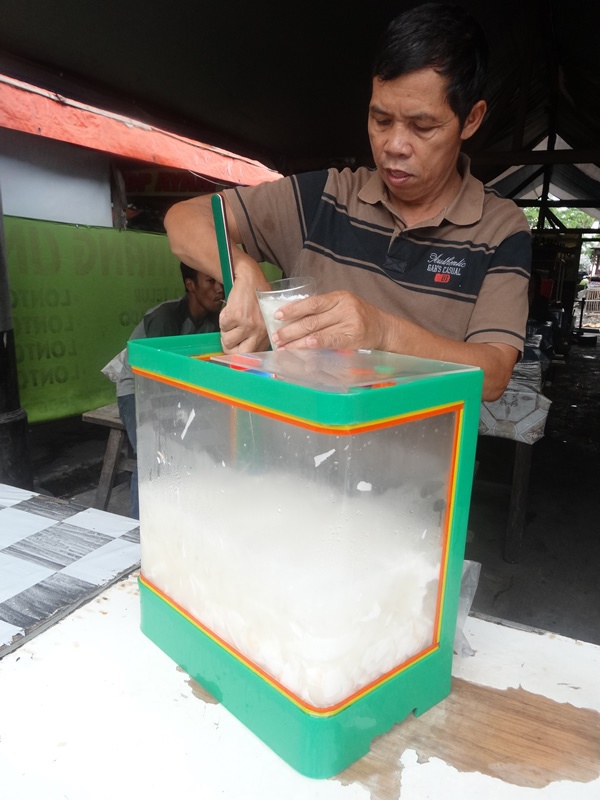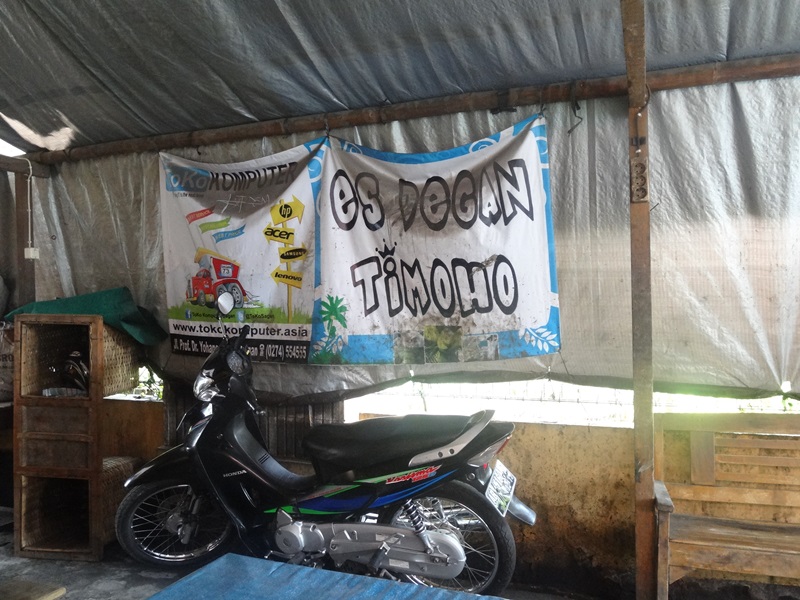 Mie Ayam Pangsit Pak Marto
Jl. Timoho (Balirejo) Jogjakarta. 4sq location.
Walk around 20m from the previous Es Kelapa Muda, then you'll see this humble chicken noodle eatery. It just tastes different than any other chicken noodle street-food I've had in Jogja, and in my opinion it won against the super-popular "Mie Ayam Mas Yudi" in Sagan. These two, they actually make a good pair of lunch companion. I recall having both of these as my favorite lunch menu post-school era. Hehe, good times :)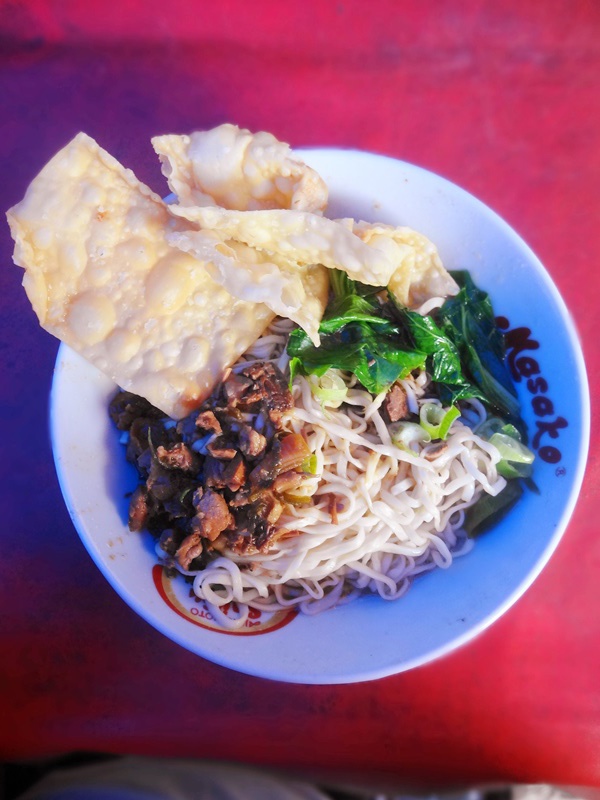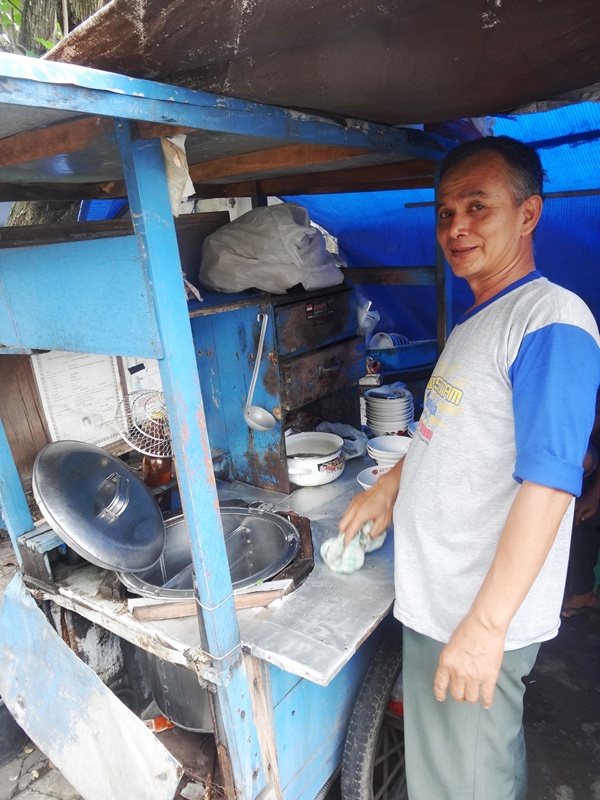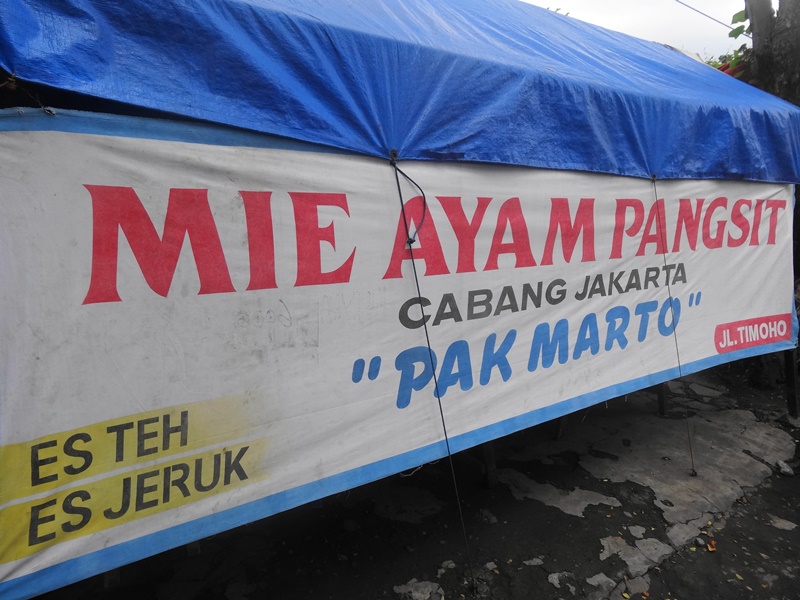 Iga Sapi Bali (Balinese Beef Ribs)
Jl.Umbul Permai, Mudal, Sariharjo, Ngaglik Sleman | Ph 0274-7858-938
Jl. Cibulan Raya No. 17 A, Kebayoran Baru, Jakarta Selatan, 12170
Twitter: @igasapibali
One of my favorite place to go for ribs in Jogja. Much better than the similar ribs eatery in Gejayan. And few years back, turns out they opened another branch in Jakarta, near Senopati area (yay, near office! :) You should try their signature Balinese beef ribs, very tender and has that aromatic Bali spices; along with "Ayam Kecombrang": super spicy shredded chicken + sambal matah + torch ginger (kecombrang) stir-fried. They also have an unique drink called "Es Daluman", grass-jelly drink with palm sugar & coconut-milk from roasted coconut - has that hint of dark sweet caramel aroma. Recommended!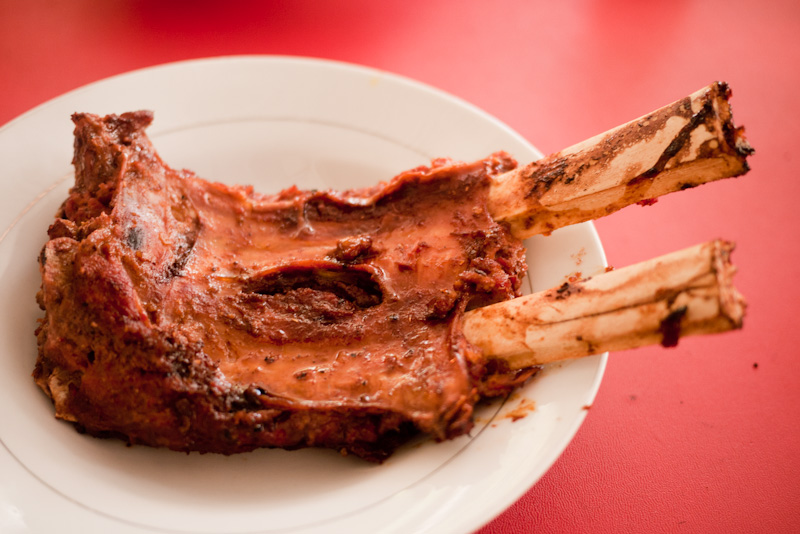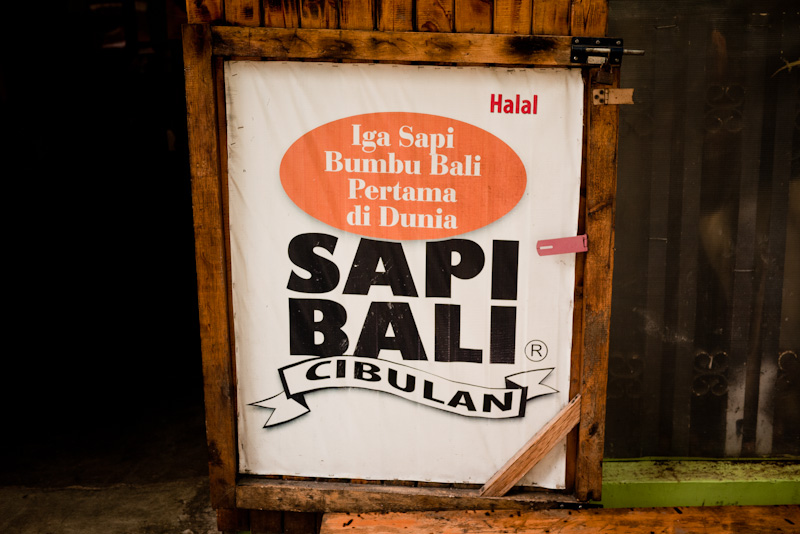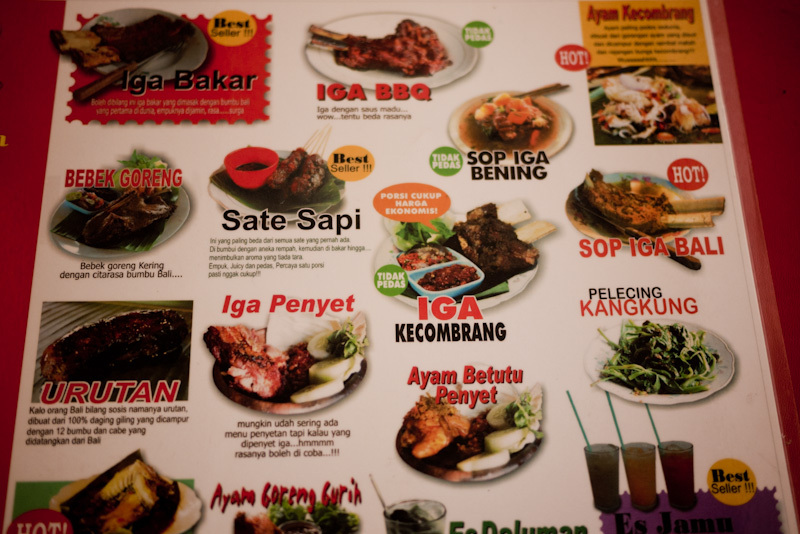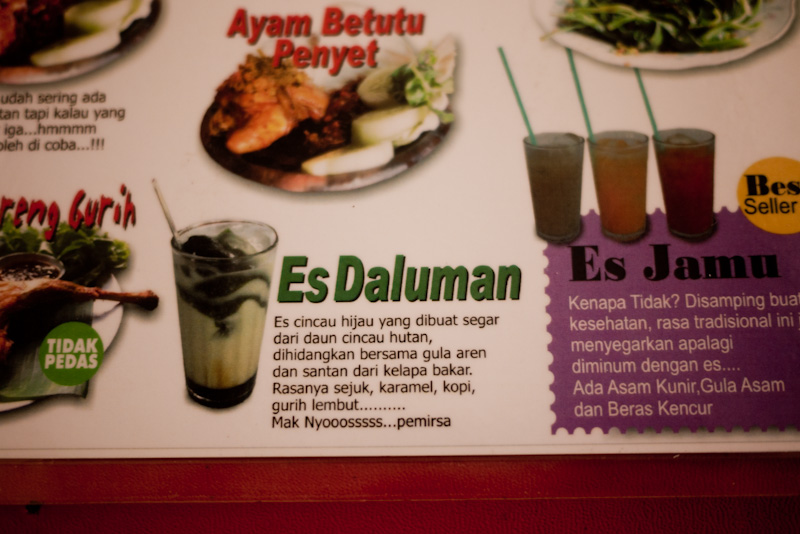 Burung Dara Goreng SBTB - also reviewed by Jenzcorner
Lesehan Malioboro at night | Jl.A.Yani No.76 Malioboro – Yogyakarta
If you ever visited Malioboro and still wondering what to eat along the famous street, look no more. Head over to the west side of the Terang Bulan batik shop (which explains "SBTB" - Sebelah Barat Terang Bulan) at night, and try their fried pigeon. It might be the highlight of your culinary trip to Jogja. It was so good that I think the price rises rapidly, so make sure you ask first before ordering. Lucky for me, last month I was able to eat this again while Dapuraya had its special food festival.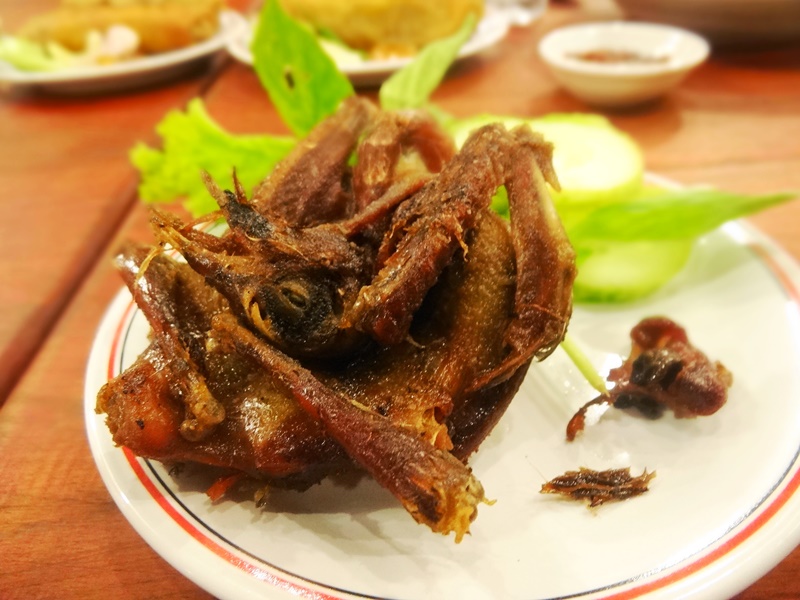 Sop Ayam Pak Min Klaten (Ragil)
Jl. Raya Gedongkuning, Jogjakarta
What could be better in a rainy day than a bowl of chicken soup? This legendary franchise is now all over Jogja, with the nearest branch to my house is located at Rejowinangun area. They use only free-range chicken, but I still insist that they're using a lot of MSG in their broth :p So, yeah... just another option for breakfast.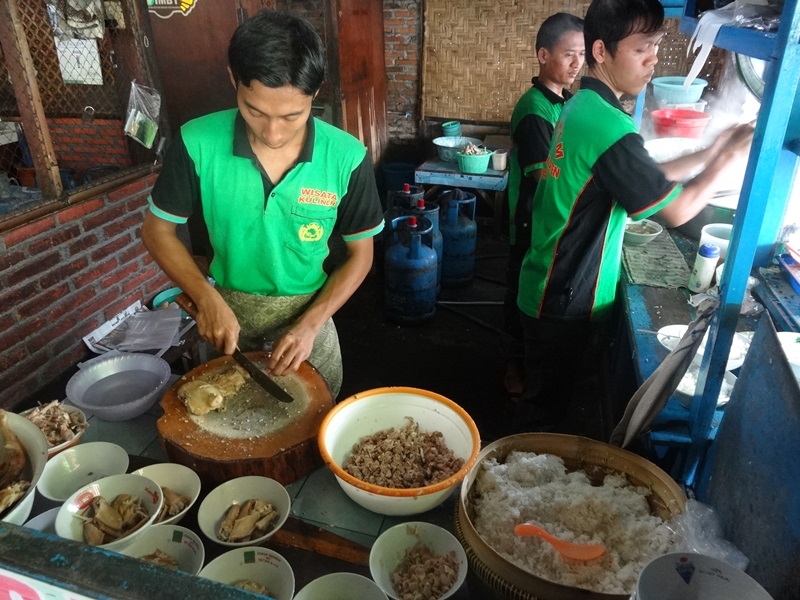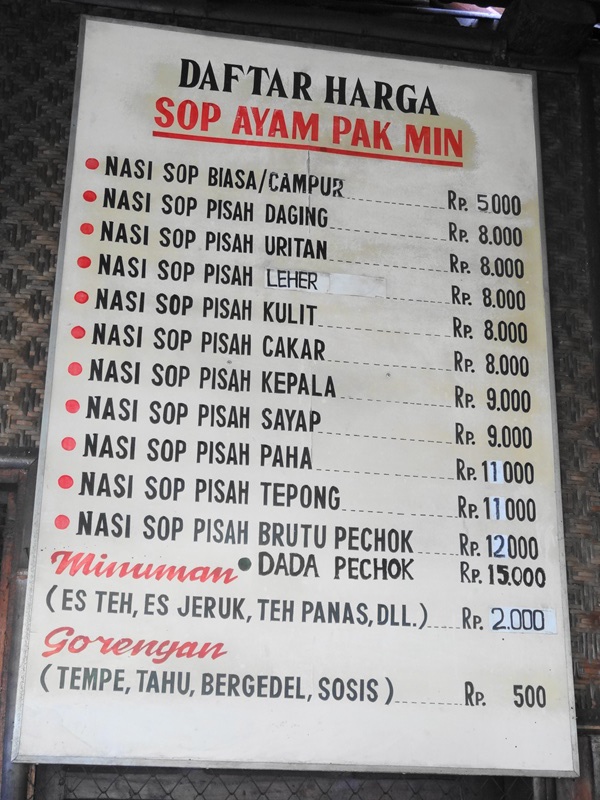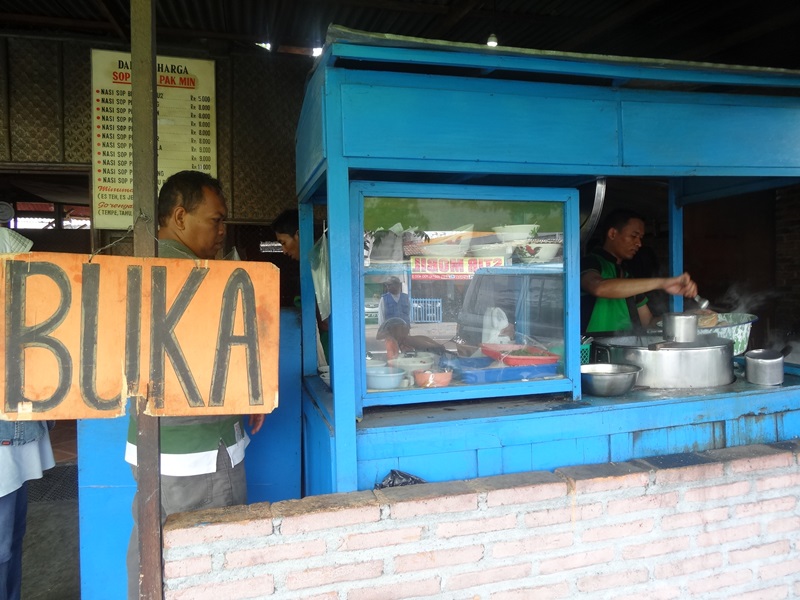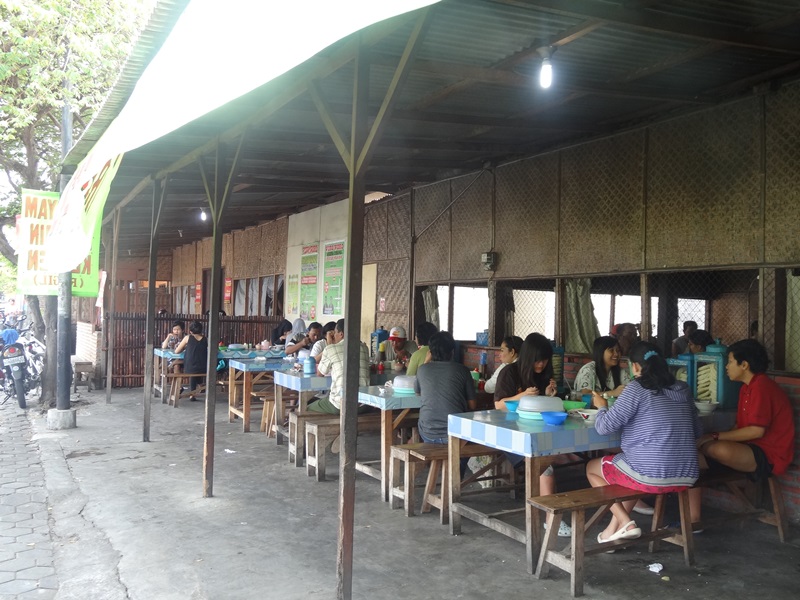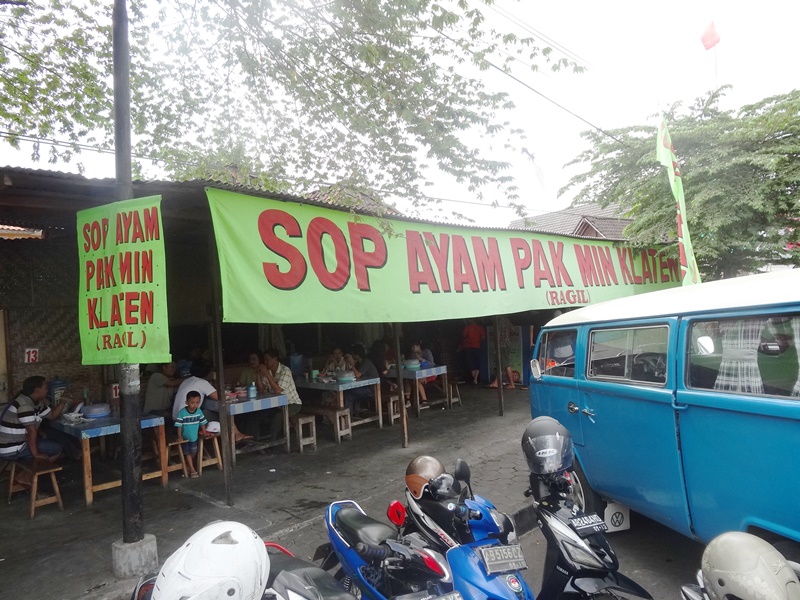 Siomay & Batagor Mang Mudi
Jl. Prof. Yohanes, Sagan. North Galleria mall. 4sq location.
Jl. Ring Road Utara, Yogyakarta - (0274) 558-011
It's my top pick for snacking siomay in Jogja :) This wins over Siomay Cantel easily, hands down. They have 3 types of siomay itself: regular Siomay (IDR 1.300,- a piece) made of spanish mackerel; Siopan (Siomay Panjang IDR 2.200,- a piece) made of shrimp; and Siogen (Siomay Gendut IDR 2.500,- a piece) made of squid and has quail egg as a filling, which makes them slightly bigger than the rest. You can also choose to have them deep fried! The only thing that would make sense only in Jogja :)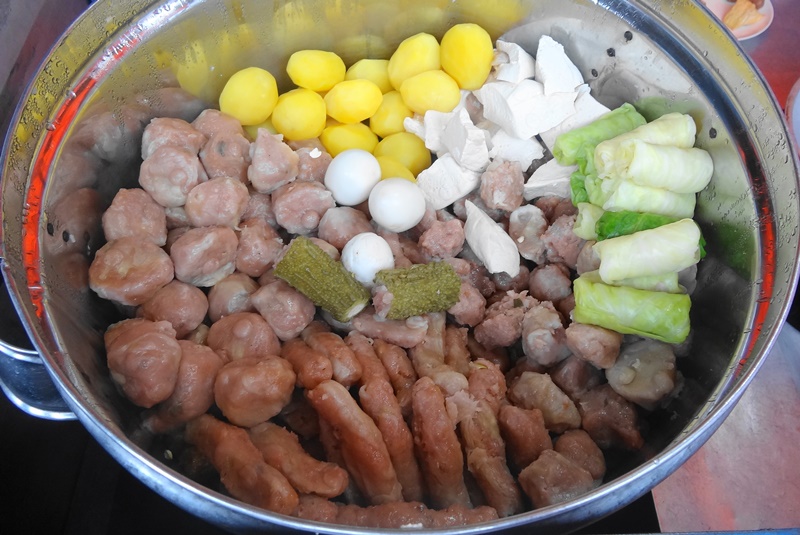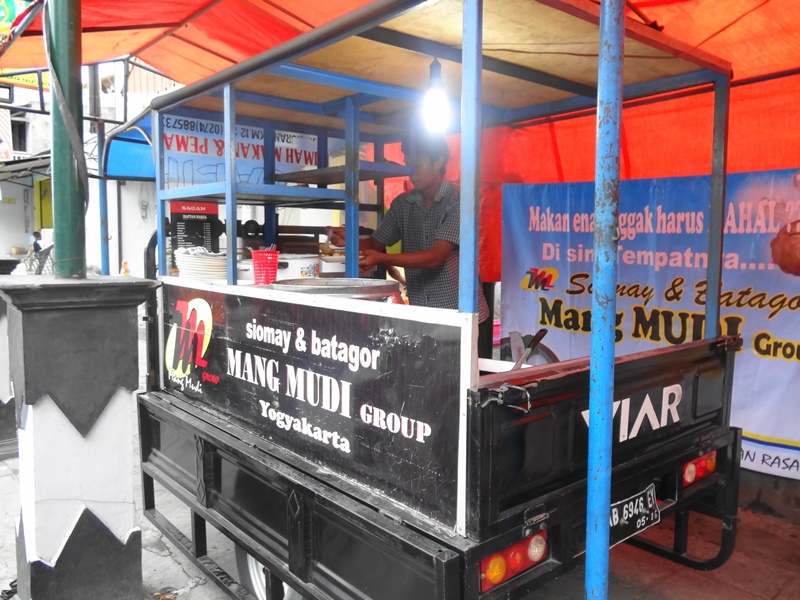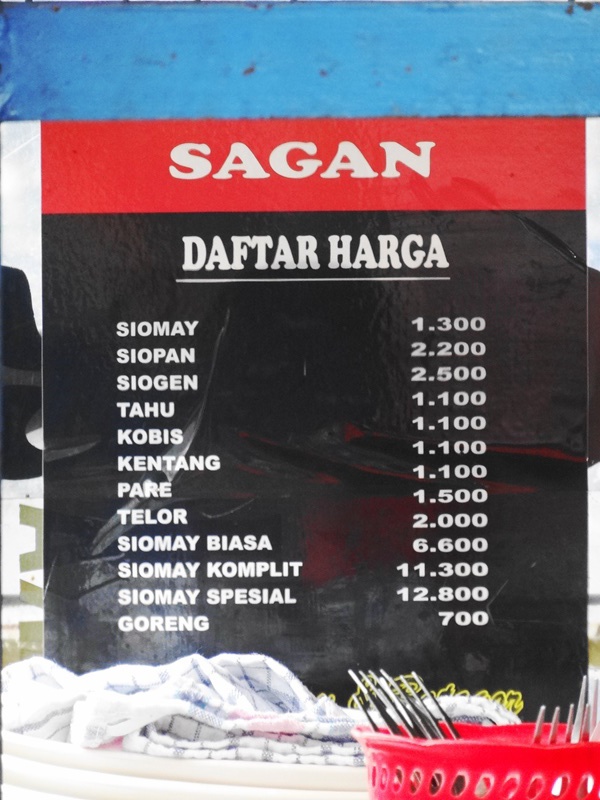 Siomay & Jus Cantel
Jl. Cantel, Jogja. 4sq location.
I used to love hanging around this place after school, after riding motorcycle on a hot day. Then have a sip of their thick creamy mango juice, heavenly. Yes, this place is quite famous for its juice & fried siomay.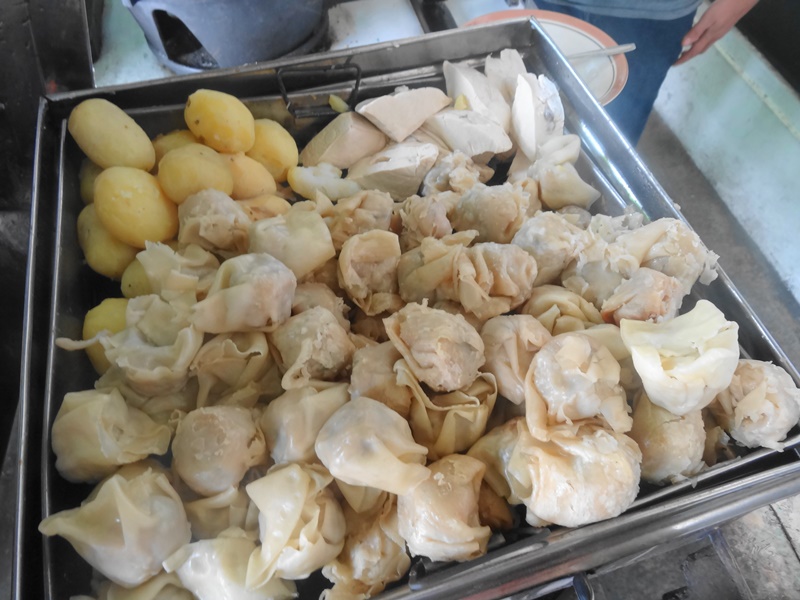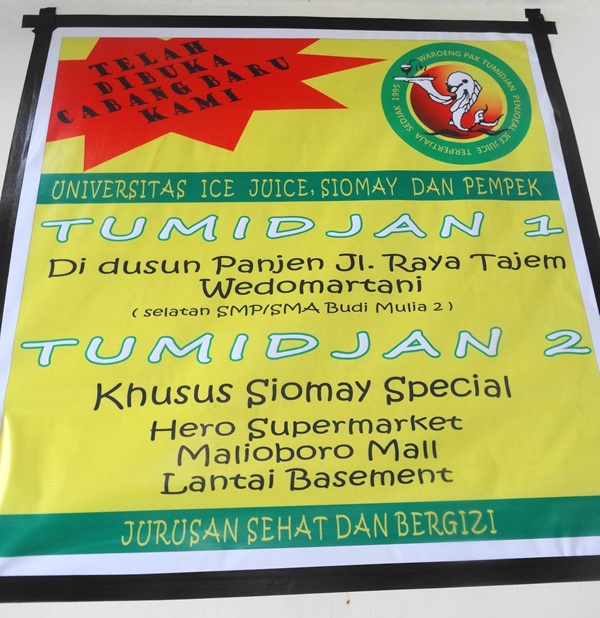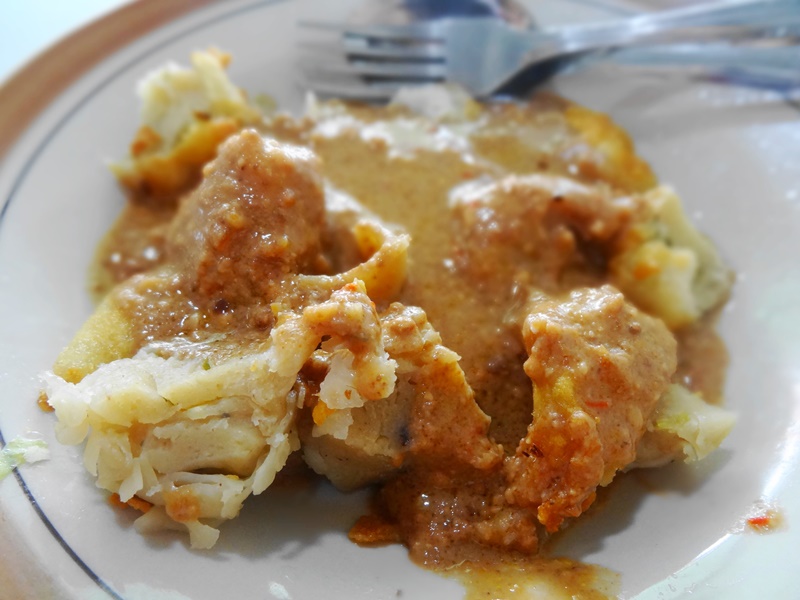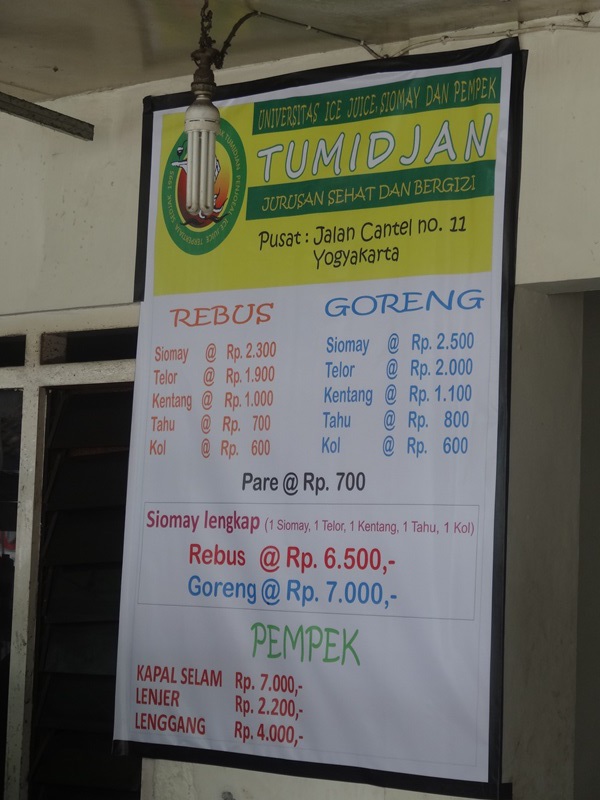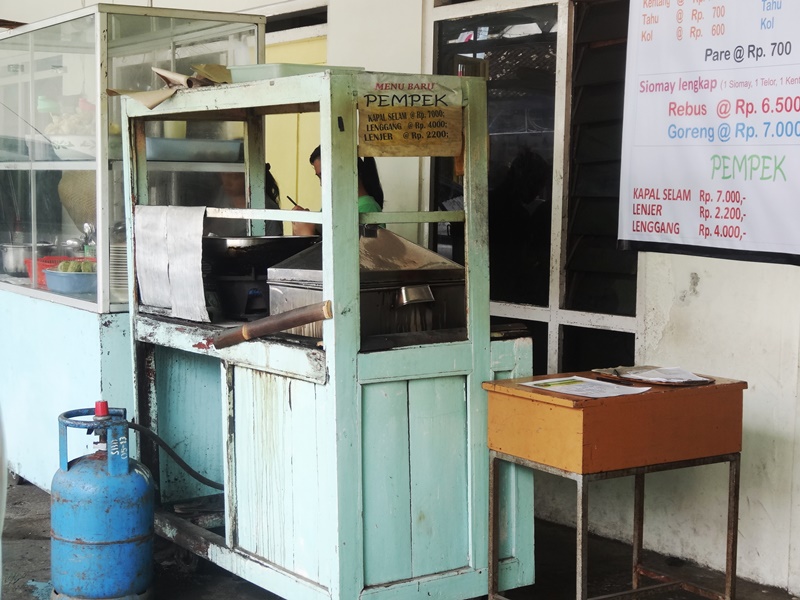 Angkringan Lek Man (Kopi Joss Tugu)
Jl. Wongsodirjan | Yogyakarta 55271 - also reviewed by Yogyes, ioflife, Jenzcorner.
Famous for its highlighted menu: coffee served with charcoal, which turns out to be safe to drink :p People say that the charcoal almost has the same effect as Norit, which is good to cure indigestion or gastrointestinal problems.
Jejamuran
Niron, Pandowoharjo, Sleman, Yogyakarta. 4sq location.
This restaurant is A MUST VISIT if you're in Jogja with family or friends. They have a super spacious venue which can hold up to hundreds of people, and it's always packed at lunch time. They serve wide variety of mushroom dishes, from mushroom satay, rendang, tongseng, soup; shitake omelet, deep fried oyster mushroom, etc etc etc. They even serve mushroom-based beveraged! Not only that, but they also showcased mushroom plantation in a special cultivation area, in which you can ask more to the mushroom expert. You just can't skip this one!
-----------------------------------------------------------------------------------------------------------------------------
I know this list is far from complete, but for now let's stop at this. I still have tons of recommendation to share, some of them: Morolejar, Bebek Goreng Cak Koting, Jadah Tempe Mbah Carik, Monggo Chocolate Factory in Kotagede, Sate Klathak, Mangut Lele Mbah Marto Bantul, SGPC Bu Wiryo, Pempek Bu Kamto, Nasi Goreng Kambing Kotabaru, Pecel Baywatch, Oseng-oseng Mercon Bu Hadi (near PKU Muhammadiyah), to the youngsters' choice to hang out: House of Raminten, Momento Cafe (they have the BEST choco-melt ever!), etc.
Please help to complete the list & do tell me if I'm missing out something major. I might need to add them later :) Have a nice visit to Jogja!
**Special thanks to my friends' blog whom I looked up to, hehe. Thanks Jen, Feb, Chil! I hope you guys don't mind me borrowing some links :)