Meet "Dapuraya" - probably the hippest foodcourt right now since its opening in mid December 2012, and now becoming one of my favorite just because they're showcasing the BEST of our culinary dishes varying from West to East Indonesia. From Aceh, Minang, Makassar cuisine; various soto, sate, sambal; to all kinds of snacks that we typically meet only on street food stalls: Kembang Tahu, Es Selendang Mayang, etc. They even have Papua's Papeda & fish served in yellow soup! Extraordinary.
-----------------------------------------------------------------------------------------------------------------------
Festival Makan Enak-enak 23-31 Jan 2013
During the last week of January, they had this special event called 'Festival Makan Enak-enak', which brings out 10 best culinary roundups from 6 cities in Indonesia: Bogor, Bandung, Semarang, Jogja, Solo, Surabaya. You can find Ronde Jahe Gardu Jati Bandung, Kupat Tahu Gempol Bandung, Loenpia Mataram Semarang, Lontong Balap Bioskop Ria, Rujak Cingur Bu Hadi Surabaya, and all of these, of course:
Burung Dara Goreng SBTB (Sebelah Barat Terang Bulan) Jogjakarta
Brings back memories! I love love love everything about this dish. Succulent meat, tasty sambal (although I wish for the sambal to kick more heat, as in Sambal Ndeso :p I'll get to that later.)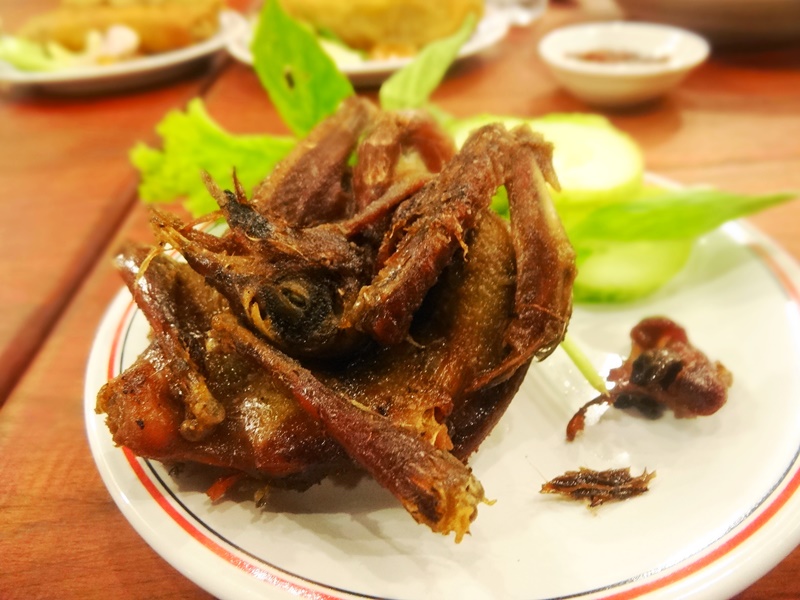 Tengkleng Kambing Bu Ediyem Pasar Klewer Solo
Mutton and innard spicy soup with a light coconut milk broth. Super tasty! Except that I don't eat innards at all so one bowl seems very crowded to me, with less things edible :p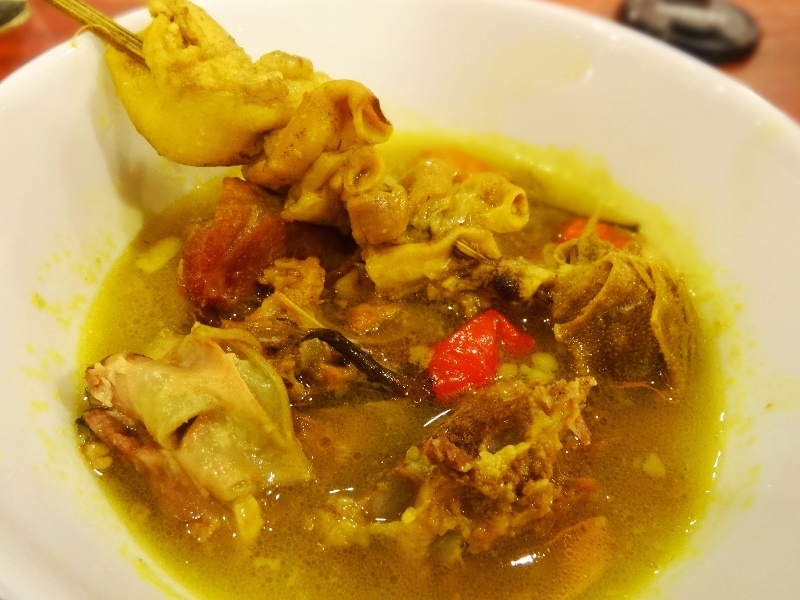 Laksa Bogor Kampung Cingcaw
Different from Singaporean Laksa with huge prawns, this type of Laksa isn't spicy at all (in fact it's a bit sweet), with thick broth made of dense coconut milk with turmeric and chicken cubes in it. I could settle for this on a rainy day.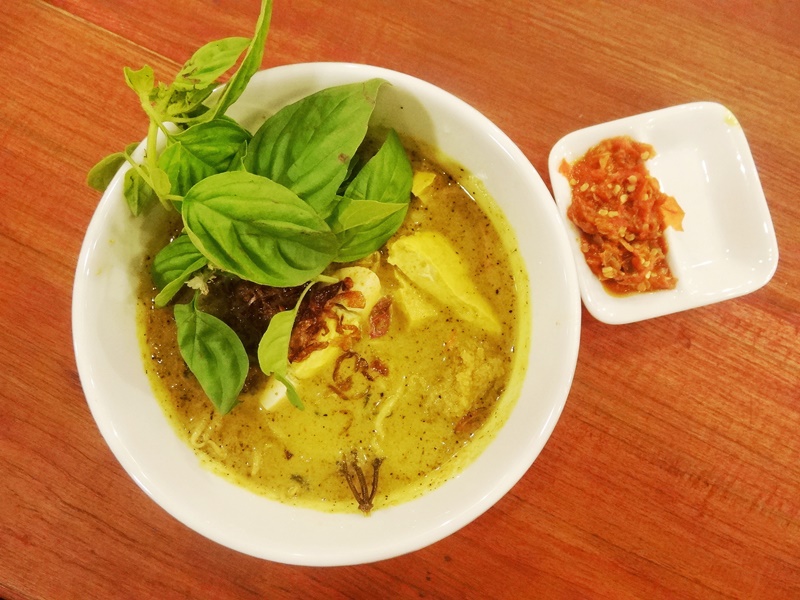 Es Mangga & Es Pala Aming Bogor
Sliced mango and sliced nutmeg soaked in simple syrup with ice. It's actually my first time eating whole nutmeg, lol. It tasted so.....herbal :p Guess it's not my favorite.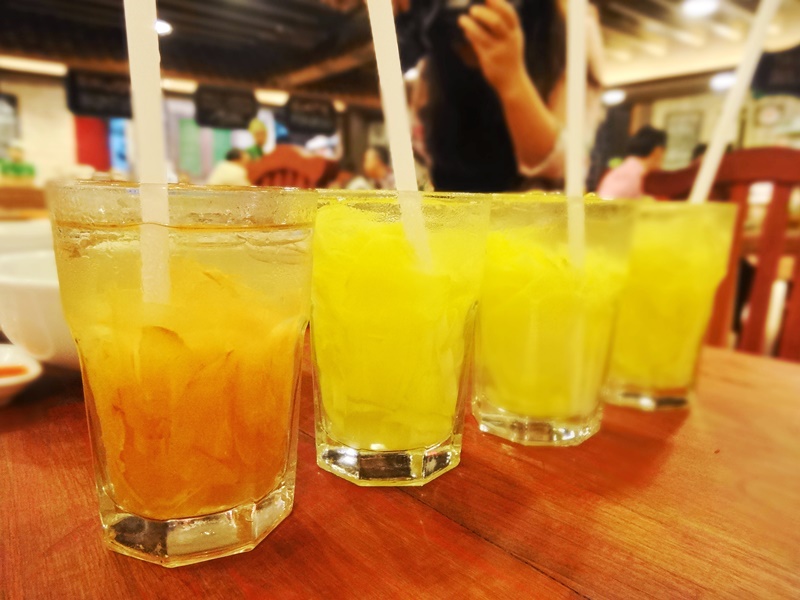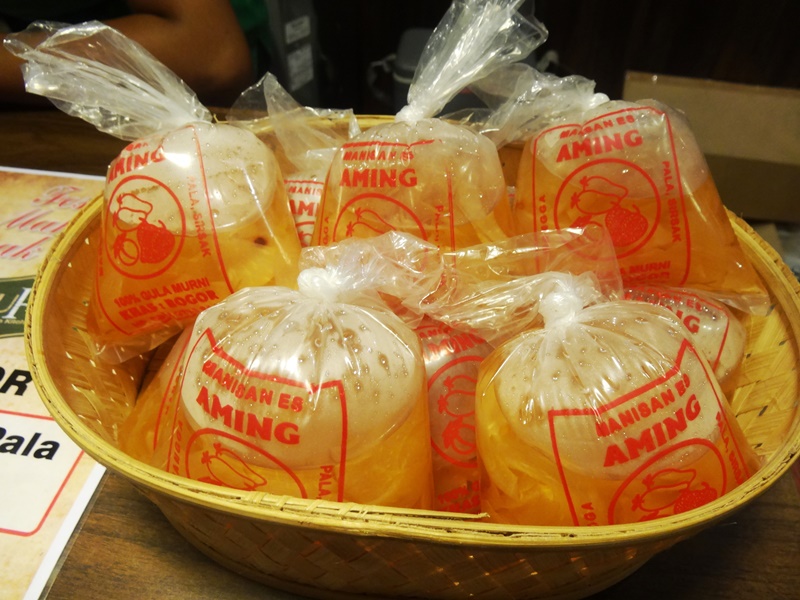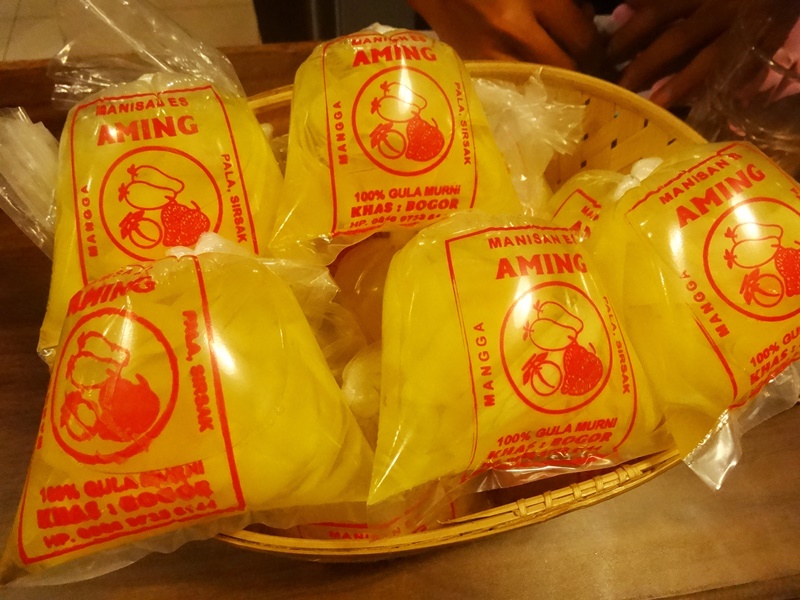 Tahu Petis Prasojo Semarang
I've always loved tofu with 'petis' spread like this, but too bad the prawn paste (the black thingy between tofu) tasted too mild, needs a stronger flavor there.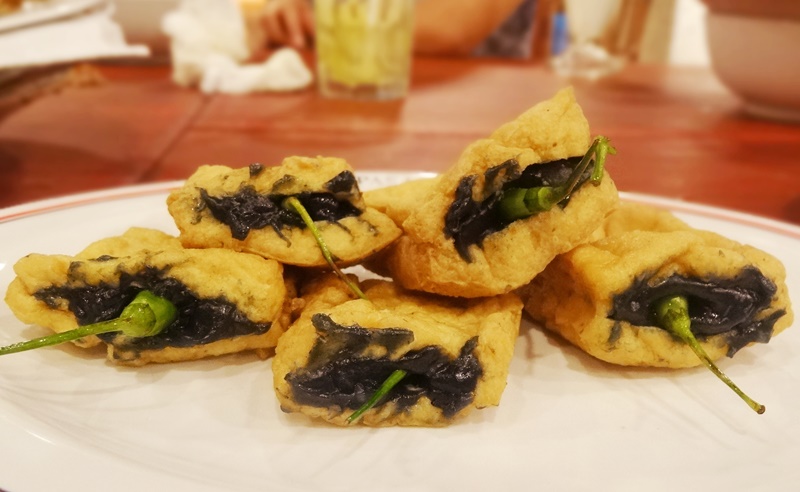 -----------------------------------------------------------------------------------------------------------------------
Other than the listed above which only available during the festival period, here's what you should really try when visiting Dapuraya (sorted randomly):
1. Bebek/Ayam Penyet "Sambel Ndeso" + Nasi Pecel
If you're into spicy food, then "Sambel Ndeso" is for you. It's the WINNER here! This super spicy sambal has the perfect mixture that could make you go "huh hah" in one light dip. Even imagining steamed rice + this sambal would make my mouth watering in an instant! MUST TRY.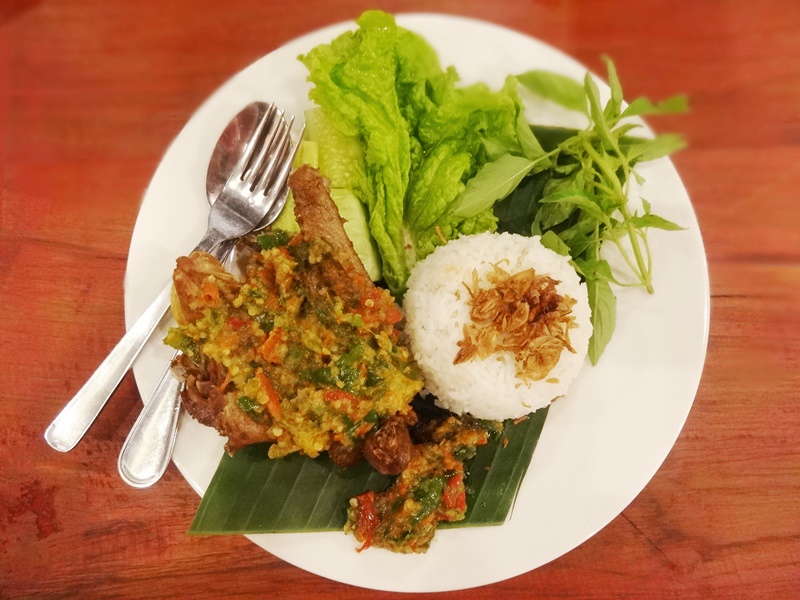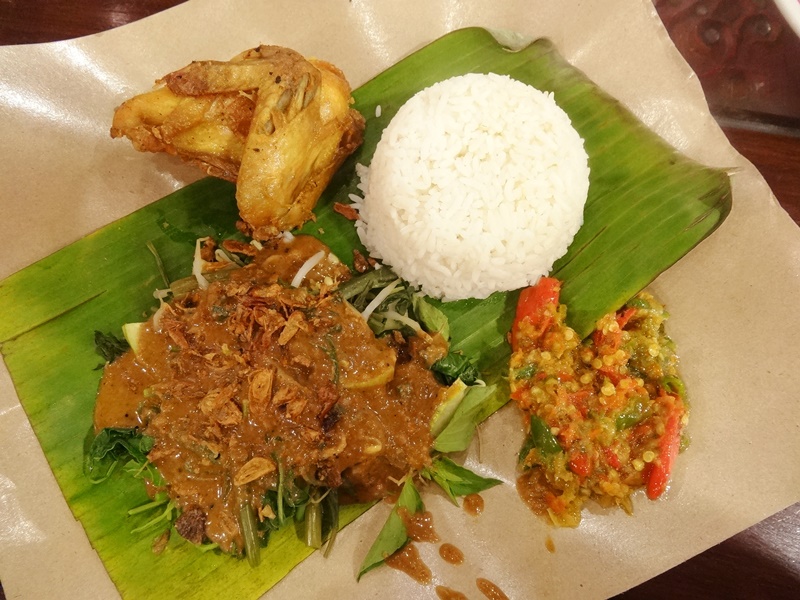 2. Sate Kambing Hadorie Bandung
One tip for eating lamb satay: skip the peanut sauce and go for the sweet soy sauce + chunks of chili + shallots instead. Tastier!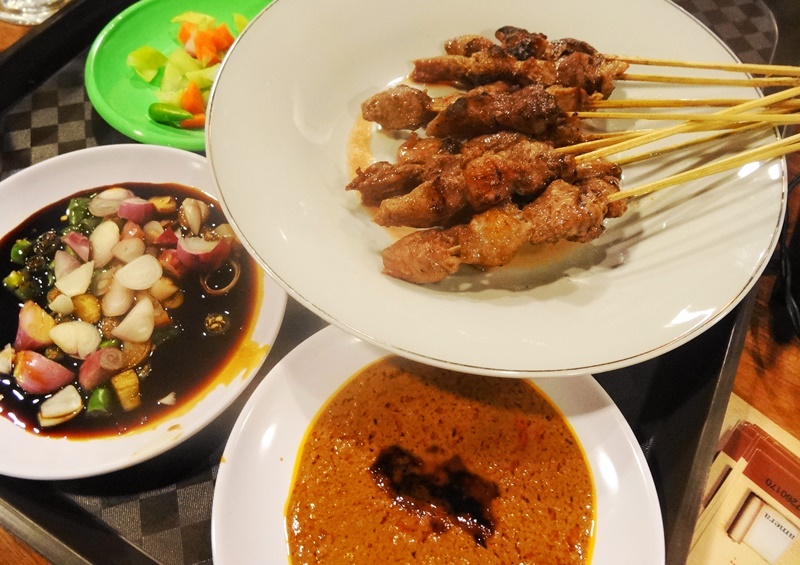 3. Tongseng Kambing Hadorie
Other menu from Hadorie stall which is also a must try. Lovely broth!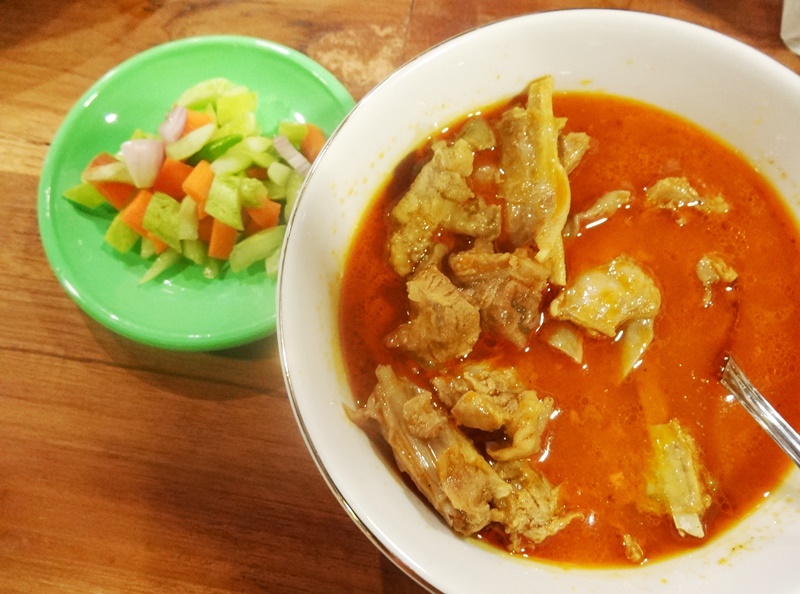 4. Rawon Buntut
I've always been a sucker for Rawon or black beef soup :) Now they have it available in oxtail, so the dish just got better! I recommend this one.
5. Sate Padang Ajo Ramon
Sate padang is a different kind of satay, in which it uses yellow sauce made from rice flour mixed with spicy offal broth instead of regular peanut sauce. Always loving it!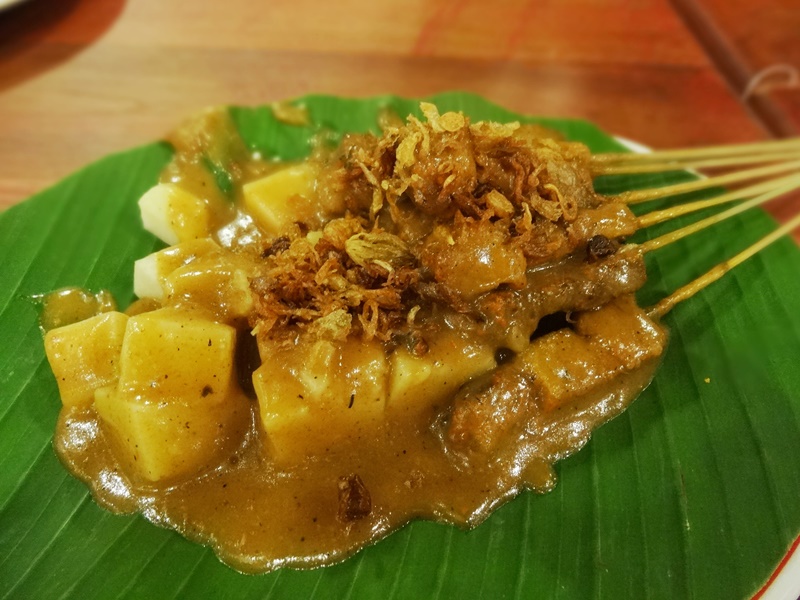 7. Nasi Bali Made by Devito Kitchen
Balinese mixed rice served with ayam betutu, some greens (I don't know what's what, lol), spicy sambal matah, toasted ground peanuts and raw cucumber + tomato.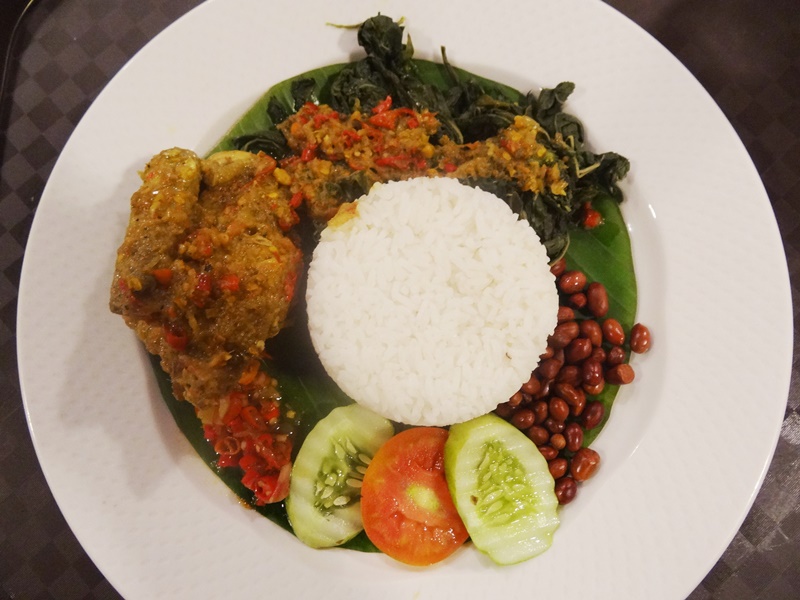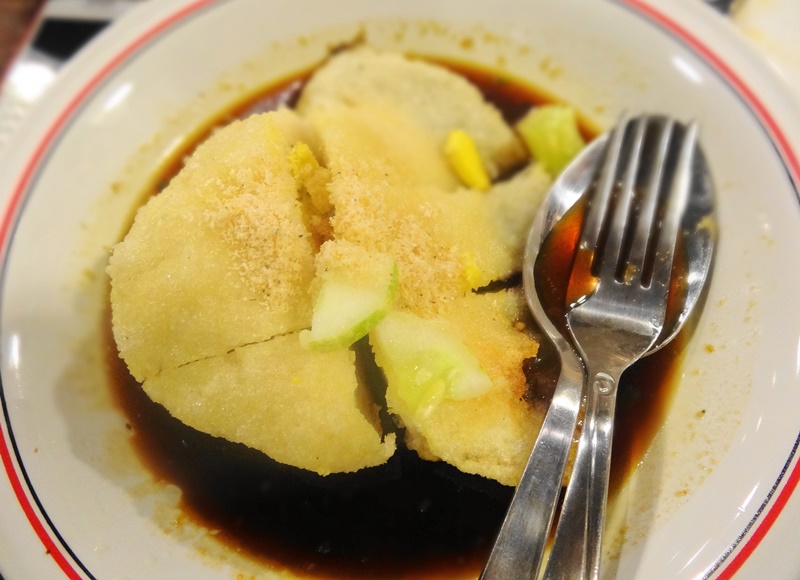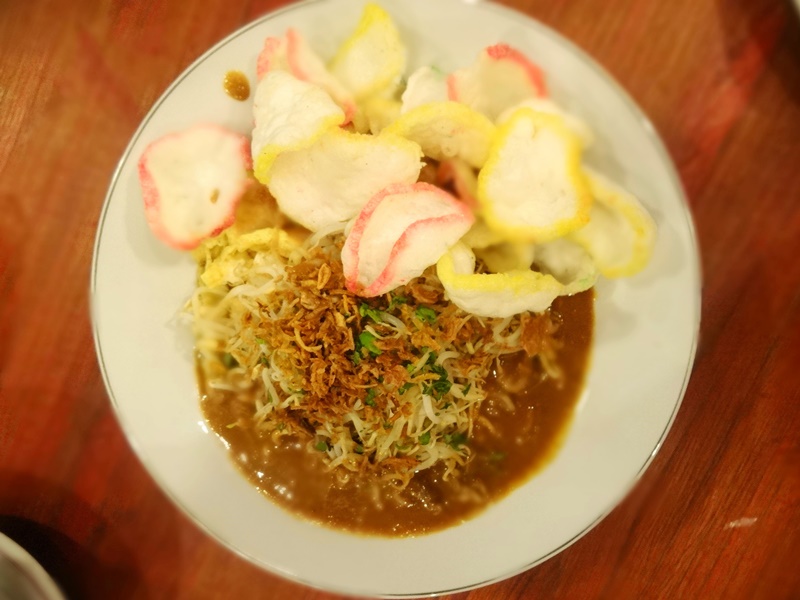 10. Gado-gado Cemara
This is one of the stall who has the most in demand, alongside with its adjacent neighbour "Ketupat Sayur Padang" which also become people's favorite. I reckon because of its cheap price (around IDR 18k) and nice fulfilling portion. Here's what its Ketoprak looks like: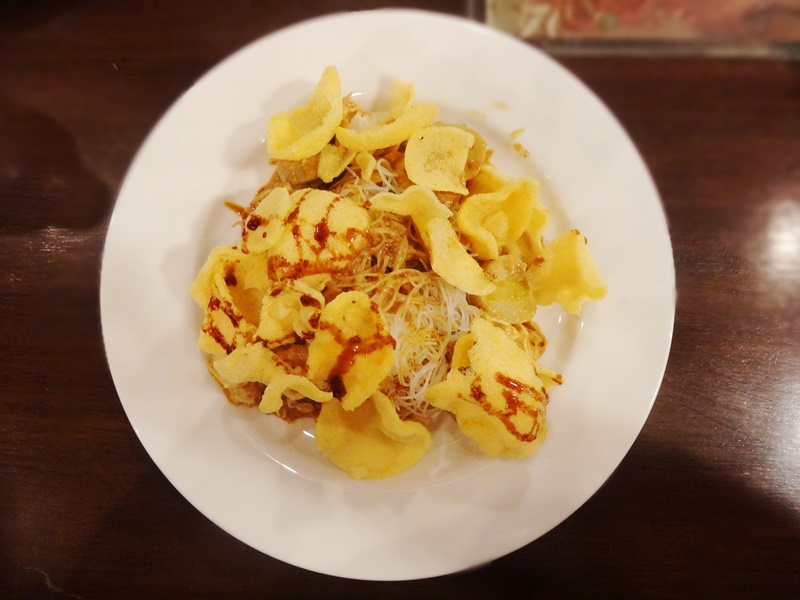 11. Soto Mie
Honestly, everytime we visited Dapuraya, we never peeked a glance at this stall which is located adjacent to Soto Betawi Haji Dudung Roxy. Haha, because Soto Mie is a very common street-food here in Jakarta! But turns out this version is tasty enough, and we like it :) Nice fulfilling portion, just one tip: eat it while it's hot.
Other than Indonesia's cuisine, Dapuraya also showcase international cuisine, from Korean, Philippines, German, Italian, Japanese, and Singapore.
12. Sausage, Rosti & Sauerkraut from German Food (Lecker Imbiss)
I have to say that this dish is a bit disappointing. The sausage feels like it's made of instant frozen wiener/wurst, and the rösti is quite thin that just breaks when you tuck in with fork - doesn't have that post pan-frying crust effect. The sauerkraut also not tasty enough.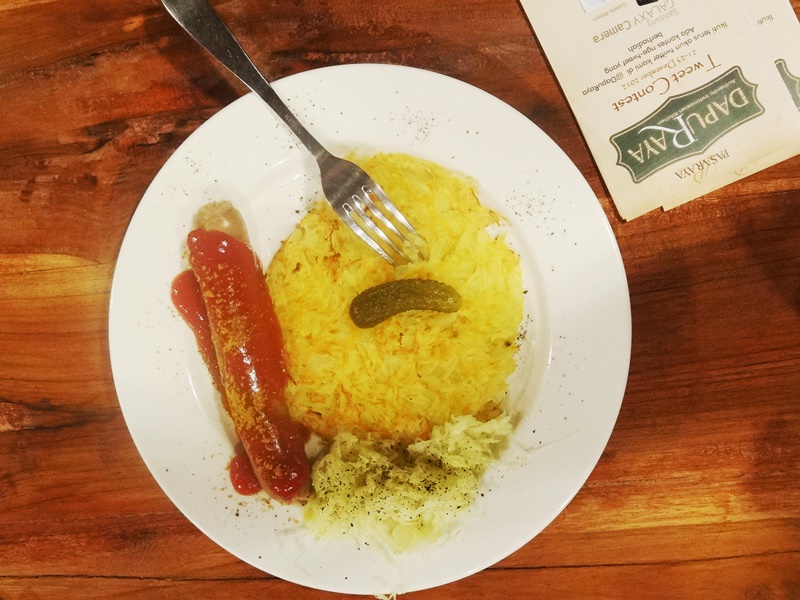 -----------------------------------------------------------------------------------------------------------------------
[UPDATE - 10 FEBRUARY 2013]
Yesterday I went there again and met @ioflife. Haha, just couldn't resist Dapuraya's February Promo: 50% Discount on 6 Food Counters, which most of them I have never tried before. Promo includes Taste of Philippines, Lecker Imbiss, Ani Pang Pang BBQ & Salad, Ayam Bakar Panglima, Tehe Vegetarian, Pasta & Grill Partito.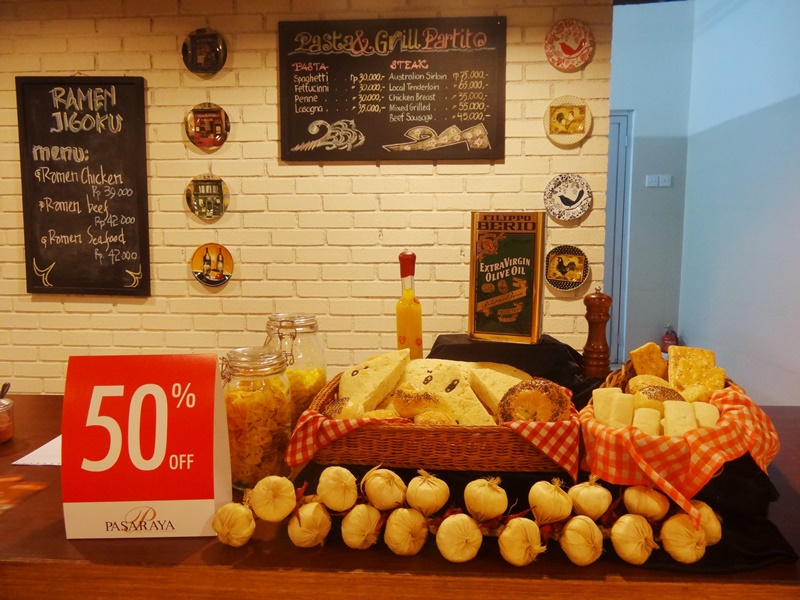 13. Aglio Olio Peperoncino - Pasta & Grill Partito
Everytime I try out an Italian/pasta restaurant, I've always tried their simplest dish: Aglio Olio. To me simple dish like this determines a lot, if a chef couldn't knock down pasta as simple as garlic + olive oil, then maybe I'd lower my expectations on other dishes as well. In this case, Pasta & Grill Partito's Aglio Olio Peperoncino has everything well balanced - not overcooked spaghetti, generous pepperoni, right amount of chili heat - EXCEPT for the excessive oil logged at the bottom of the plate. Kinda ruins everything. For IDR 15.000 (after 50% disc), they sure are generous enough to pour olive oil :p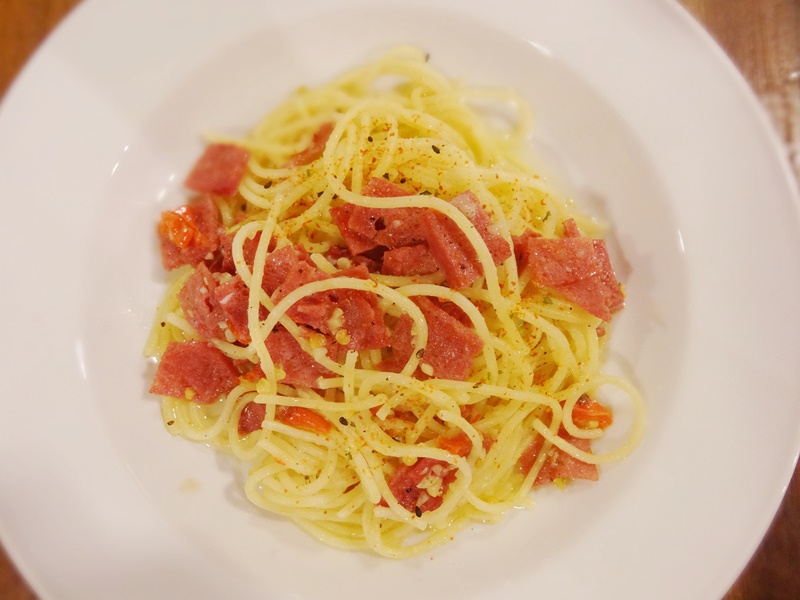 14. Beef Pares - Taste of Philippines
Beef pares is an inexpensive street food that is wildly popular in the Philippines. Pares, which means "pair," speaks to the traditional way of serving beef pares: alongside garlic fried rice, or sinangag, and a bowl of beef soup. There are many variations of beef pares, but all versions include beef, braised in soy sauce, herbs and spices.

-- Definition from eHow --
In summary it looks life Rawon (black beef soup) to me, with garlic rice. The first bowl contains all chunks of cubed beef briskets + spring onions, drenched in black, thick beef stock which seems very greasy. The second bowl, the smaller bowl is the soup, which also has a thick layer of oily fat. Haha, this sure doesn't seem like the healthiest menu at all. And turns out the flavor gives hint of sweetness, it's as if the black color comes from sweet soy sauce. I'd prefer Rawon than this dish, but if you like beef in sweet soy sauce + lardy beef stock, you might like this one better. I just wished they strained the oily fat layer first..
-----------------------------------------------------------------------------------------------------------------------
Now time for some beverages and some snacks:
15. Teh Poci
Served in a unique teapot made from terracotta, and also uses lump sugar (gula batu) which gives a different sensation and makes a perfect afternoon companion. Reminds me of being in Jogja :)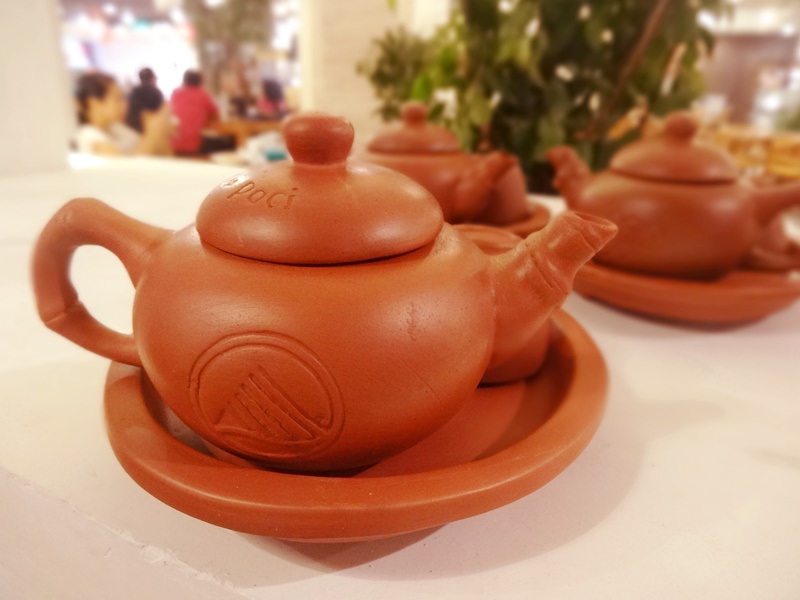 16. Es Cendol
Who doesn't know Cendol? This traditional dessert made from shaved ice, coconut milk, palm sugar, and green starched worm-like jelly with pandan flavouring - we found it almost anywhere in especially in Java, so this just has to be in Dapuraya, with no doubt. Refreshing!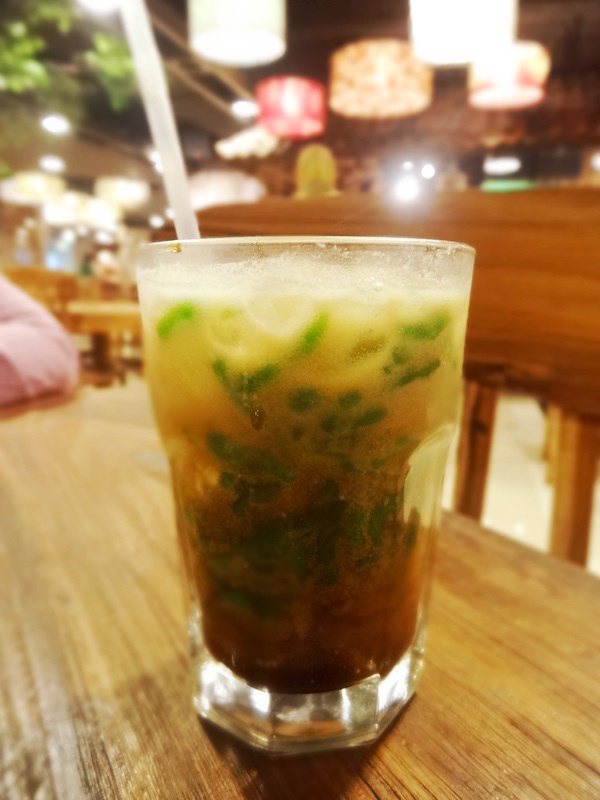 17. Es Doger Granita
Es doger is an authentic Indonesian coconut-milk based shaved ice with pinkish color, that is often served with lots and lots of filling. In here, they have the original version, or you can choose your own - from avocado, cassava tapai, black glutinous rice, jackfruit, etc. Refreshing!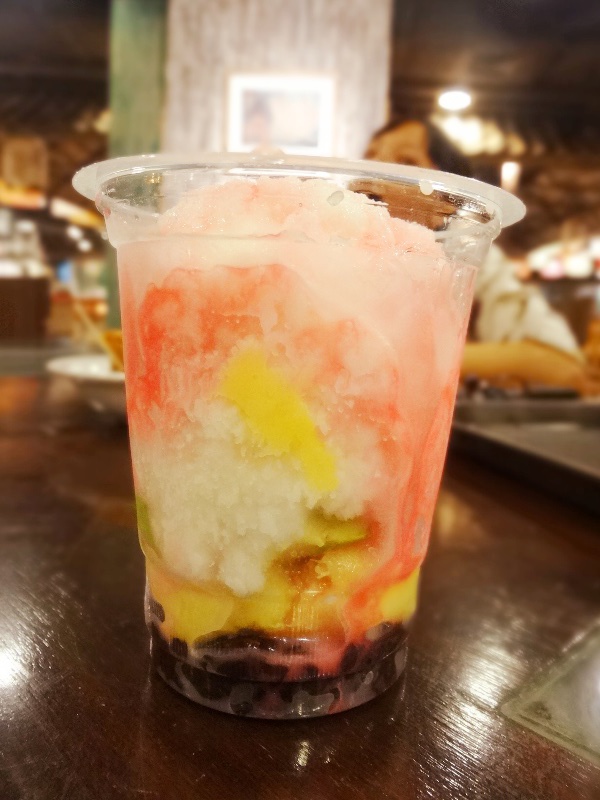 18. Es Selendang Mayang
This is an authentic Betawi cold beverages made of sago combined with rice flour (sometimes modified using Hunkwe/mung bean flour) and some red coloring to make the 'Selendang' (shawl) in the mold, then cut into rectangular shaped, then mixed with coconut milk sauce and choice of palm sugar or red syrup.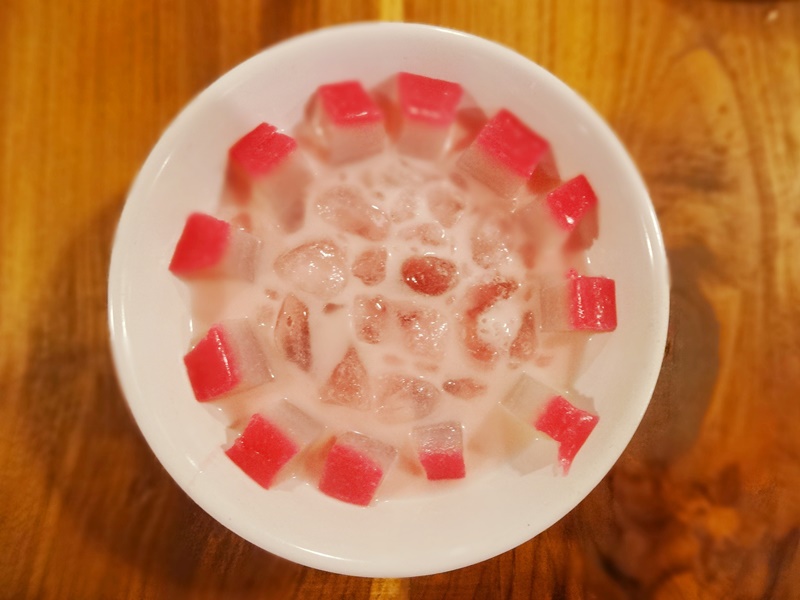 19. Kolak Durian
This makes perfect dessert (if you haven't had spike of LDL cholesterol already, lol). Yummy whole durian with sticky rice and iced & palm sugary coconut milk.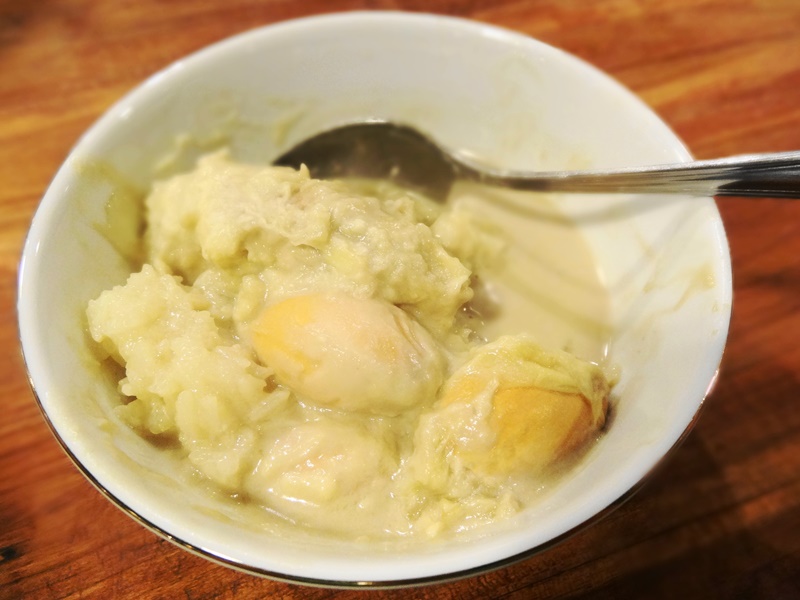 20. Kembang Tahu
My all time favorite snack! It's kinda rare to see street-food vendor selling this one, but I assure you, this is GOOD stuff. I don't know what they call it in English, or Chinese, but I also grew up with this type of food so I only know the Indonesian name :p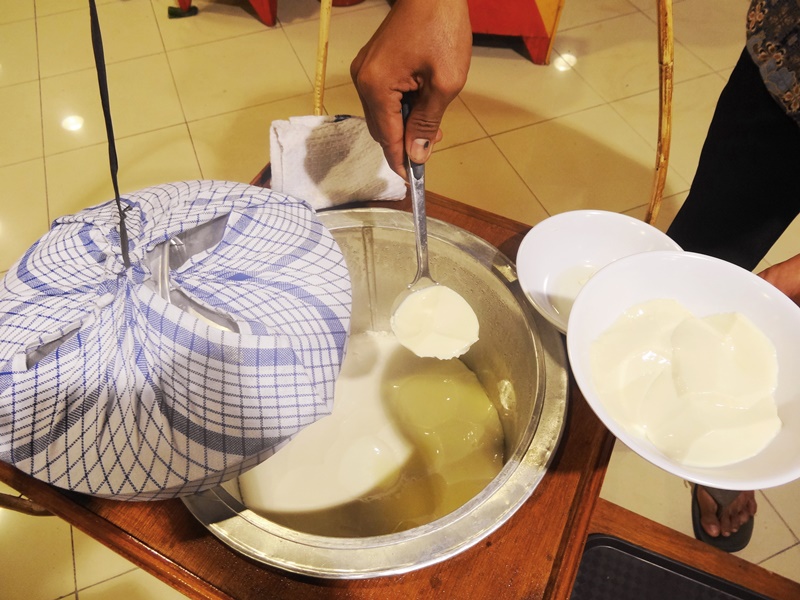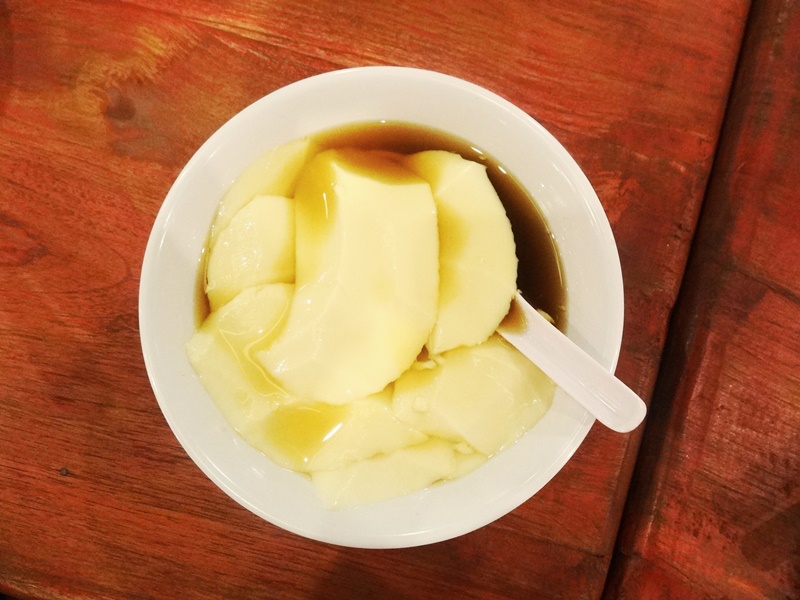 21. Serabi Solo Niki Mawon
Serabi, or also known as Indonesian pancake is a typical snack made from rice flour mixed with coconut milk and some other spices. Serabi has several style in different regions across Indonesia, one of the most famous style is from Solo, which is differentiated by its crisp thin edges while the core/center part has a fluffy texture and has a savory hint from the coconut milk in its batter. Serabi can also be added variety types of topping, from jackfruit, chocolate, and pandan leaves extract (which colors them green).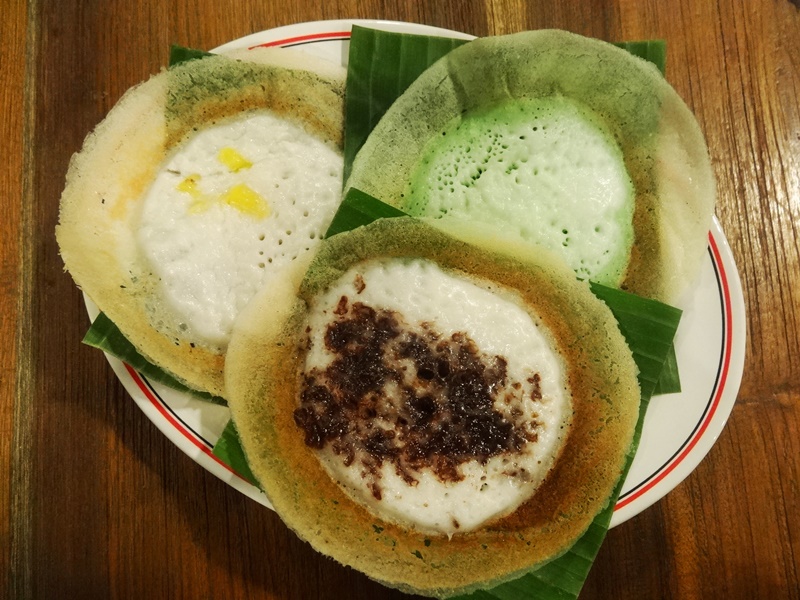 22. Tempe Mendoan Babeh
If you haven't realized by now, anything deep fried makes a great afternoon snack in Indonesia :p Fried tempeh, plus bird-eye chili, definitely a perfect companion to Teh Poci!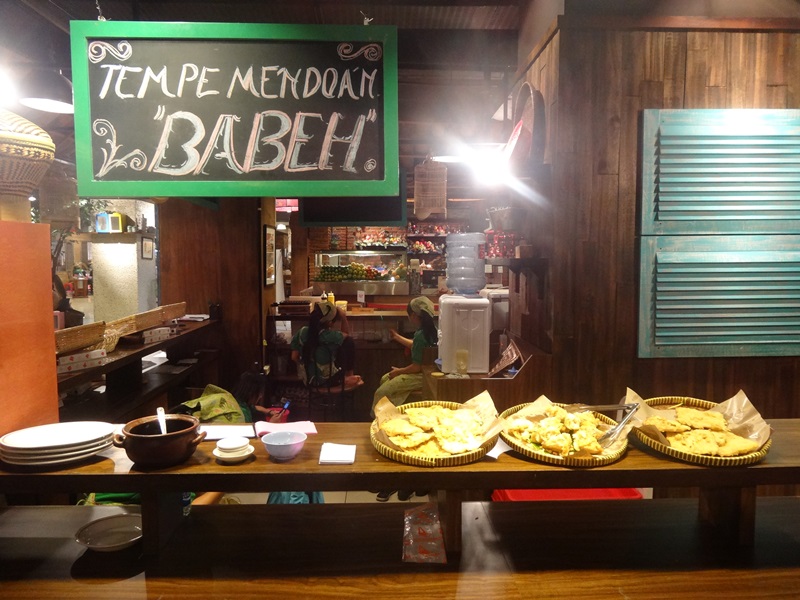 23. Bungeoppang/Korean Taiyaki
Fish-shaped pancake or waffle-like, filled with sweet red bean paste. Great snack!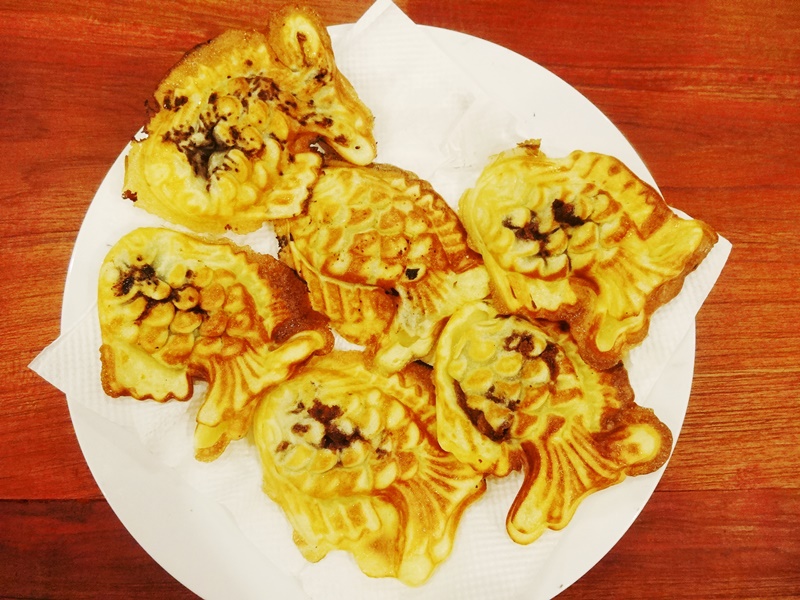 24. Rujak Jali
Not your ordinary rujak. This type of Rujak Aceh uses ground peanut sauce, which in my opinion, gives more kick in terms of flavor. Love it!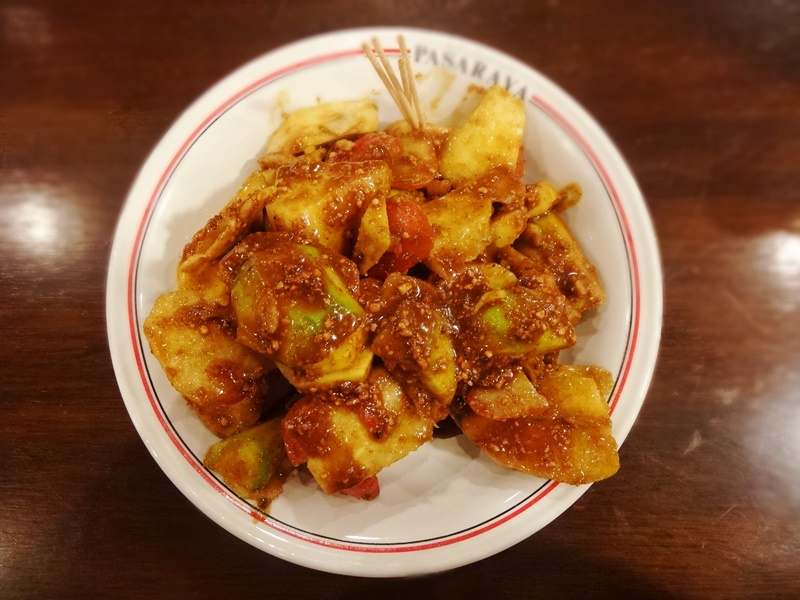 -----------------------------------------------------------------------------------------------------------------------
Well... that was one hell of a gigantic food list, huh? :) Make your choice, and give Dapuraya a try. The ambience, the food, the price. It's worth every visit.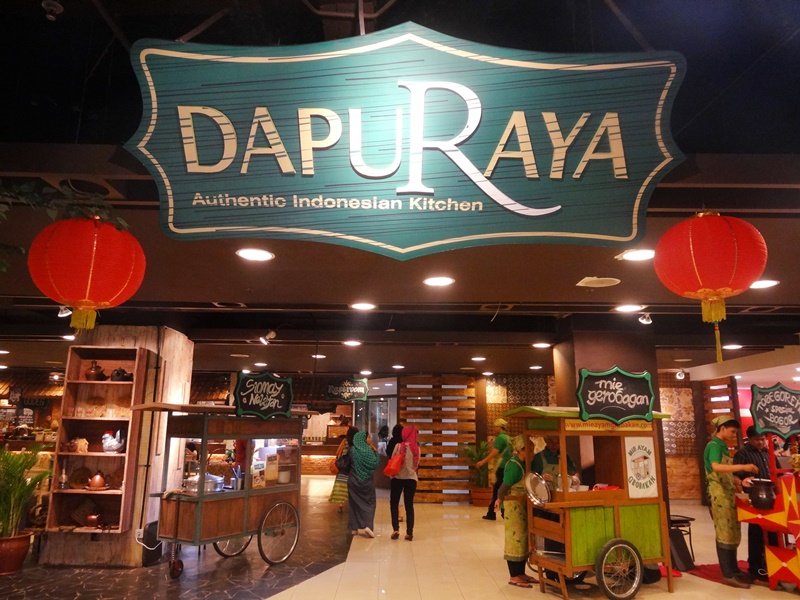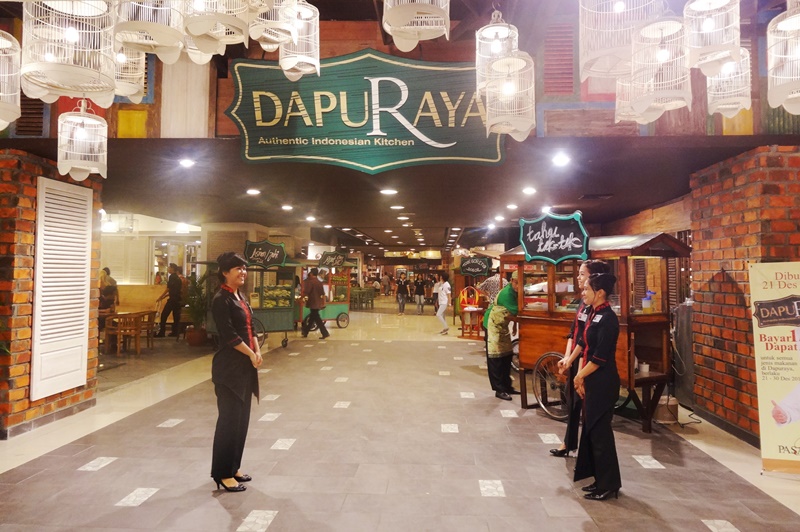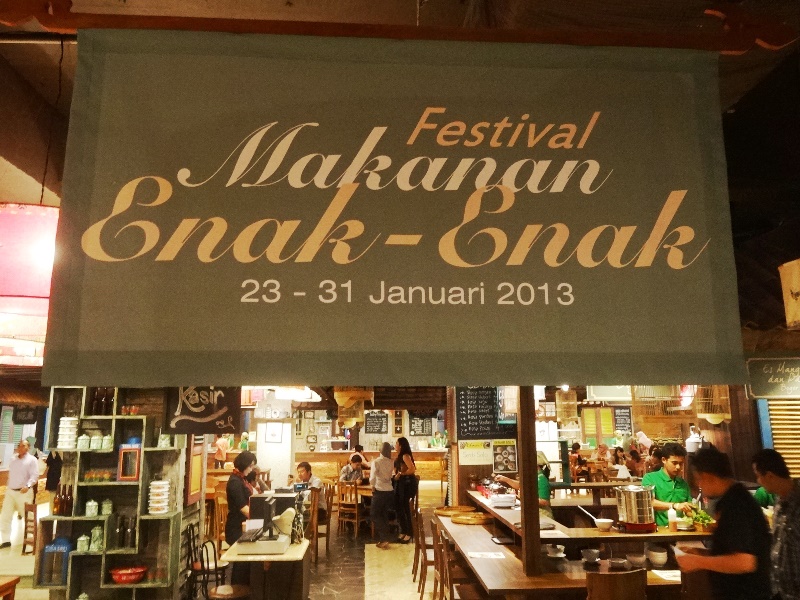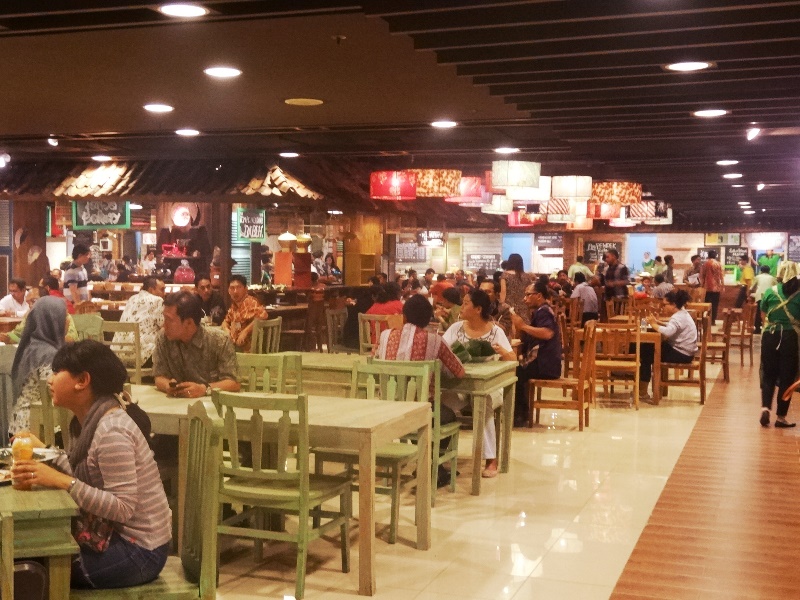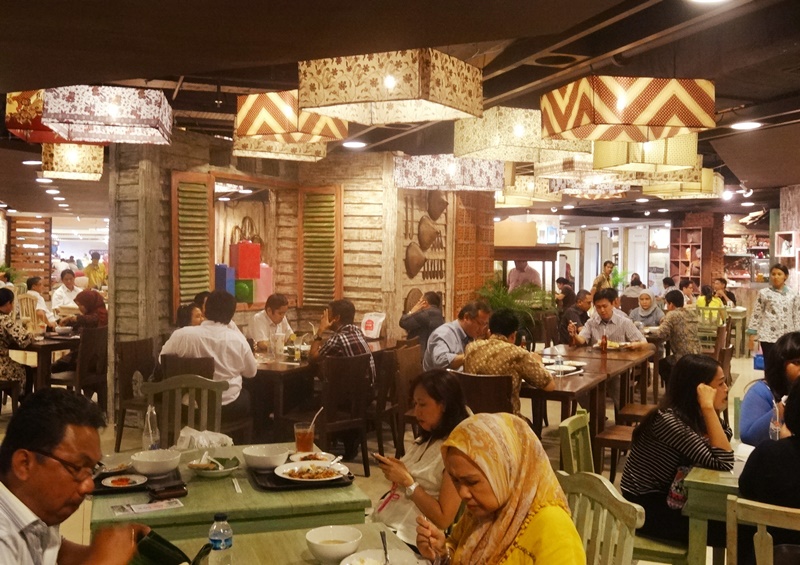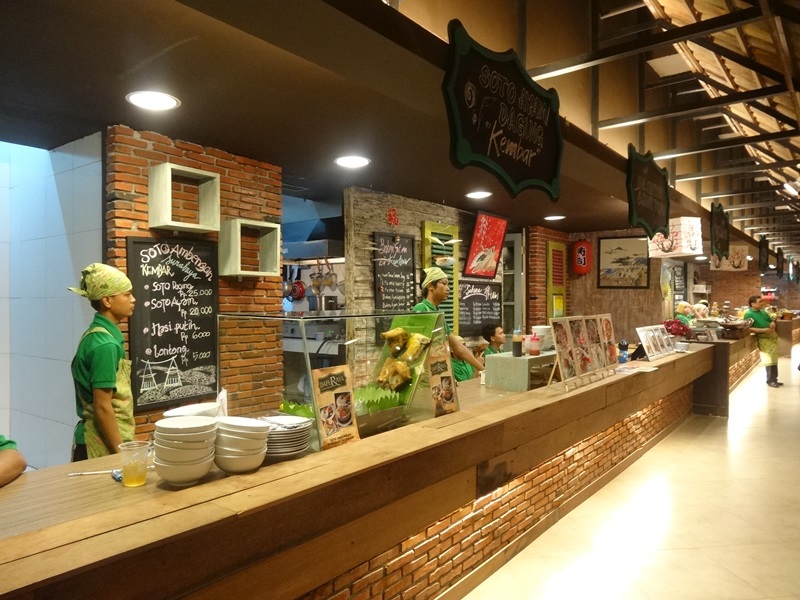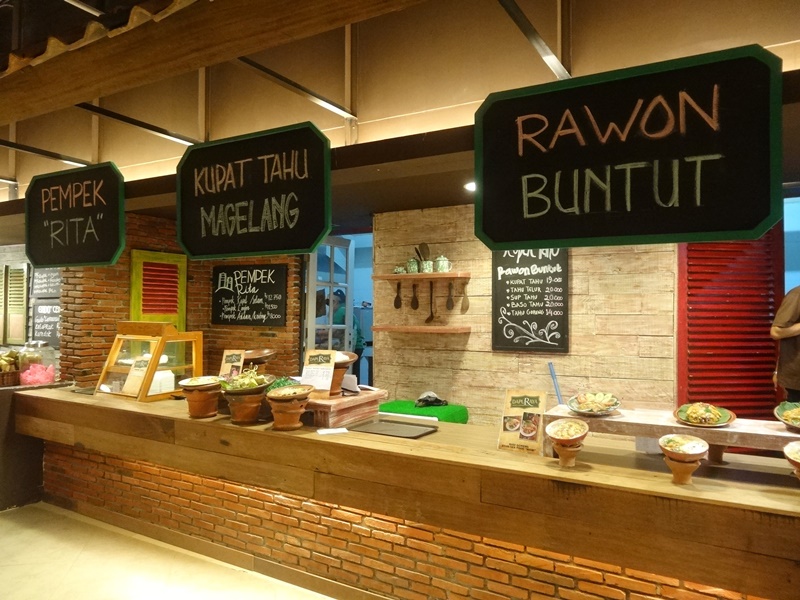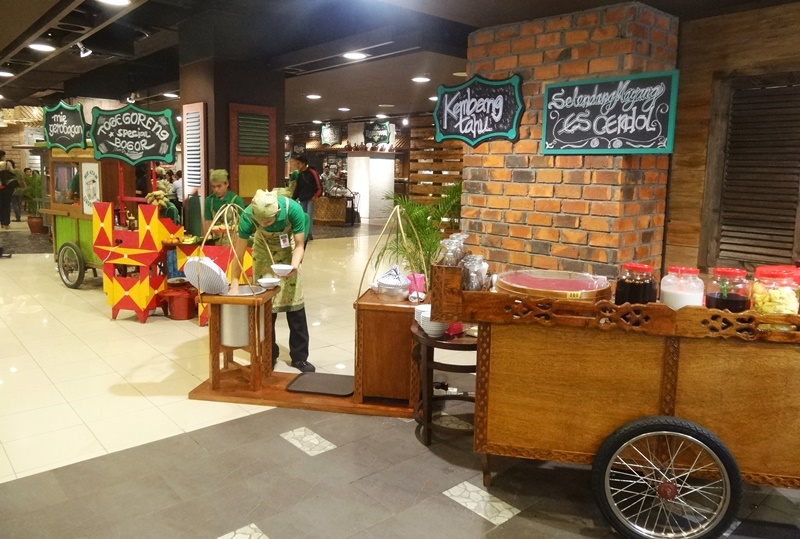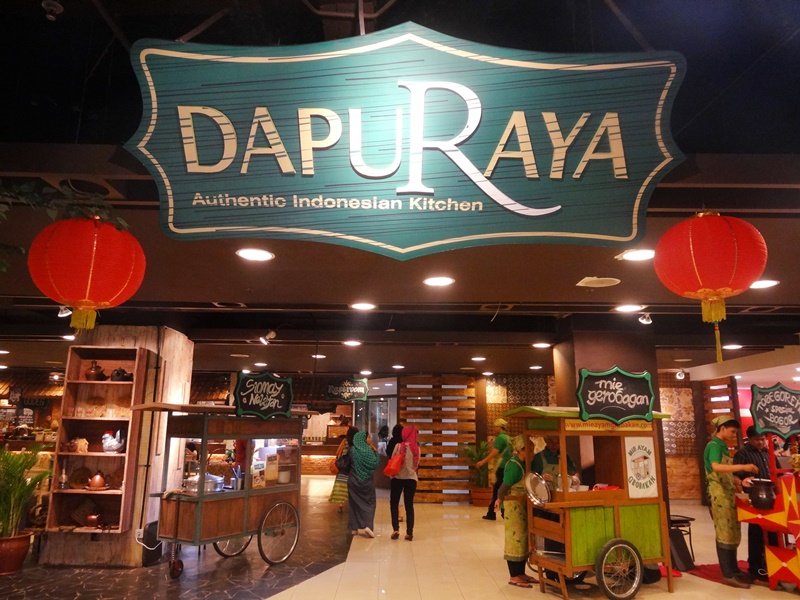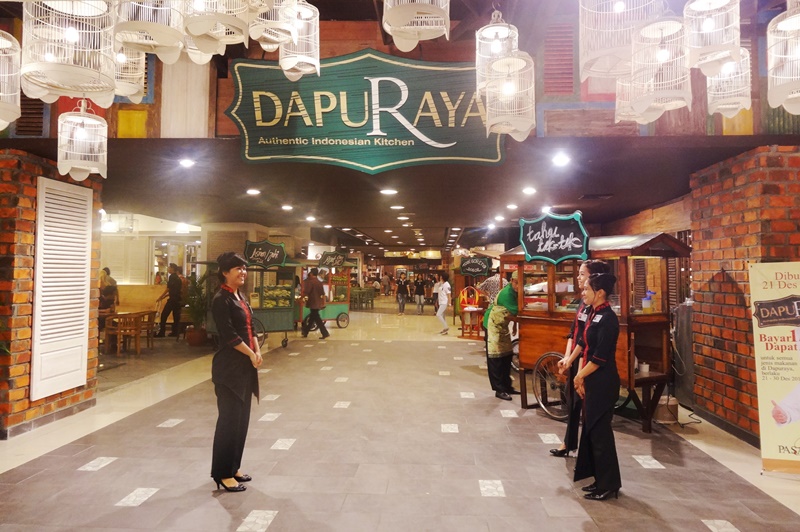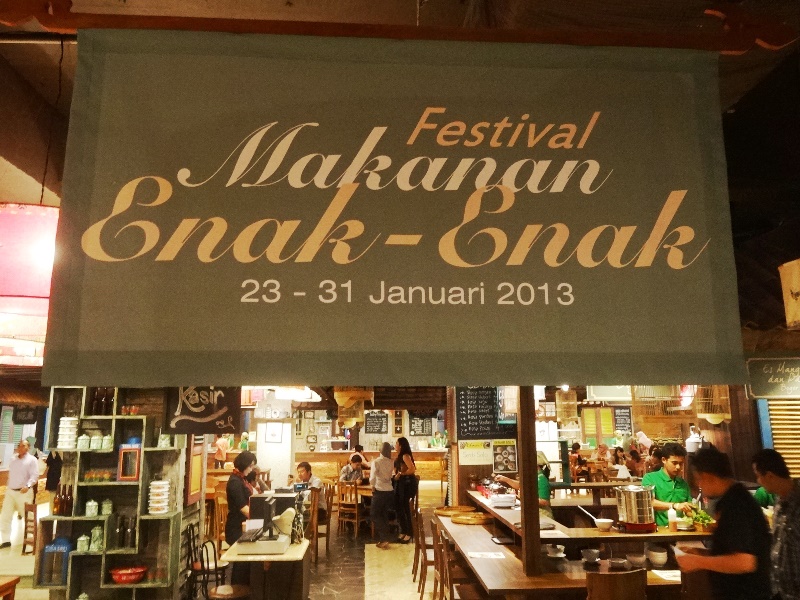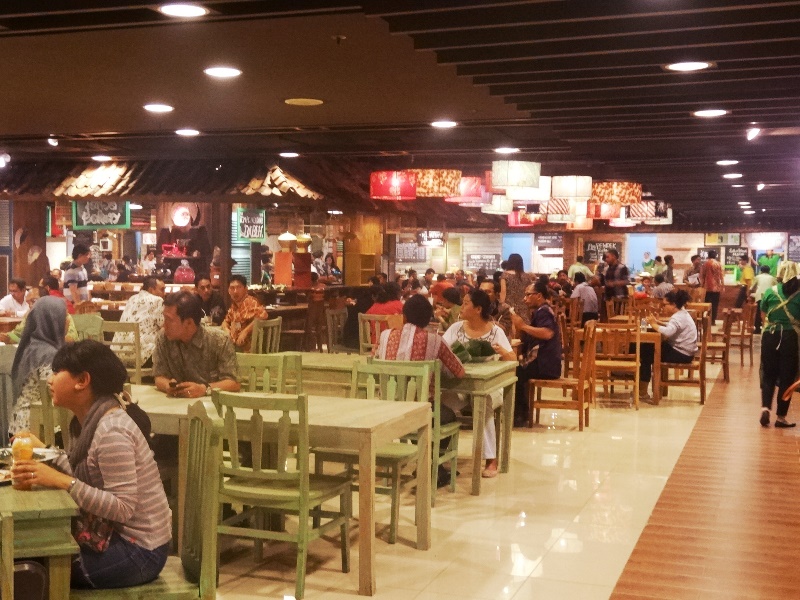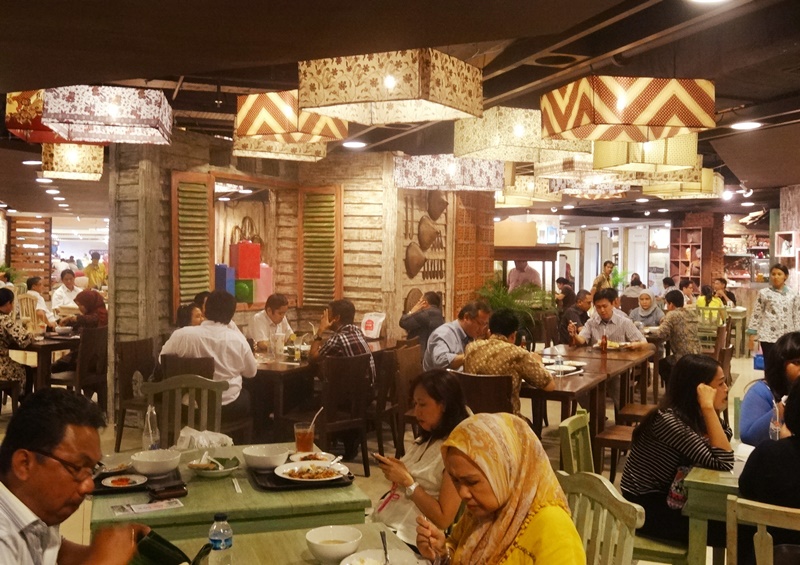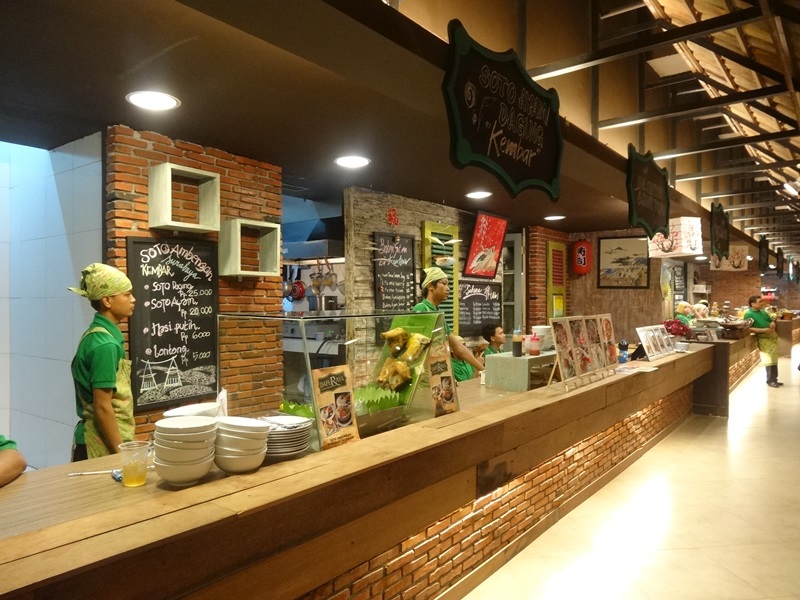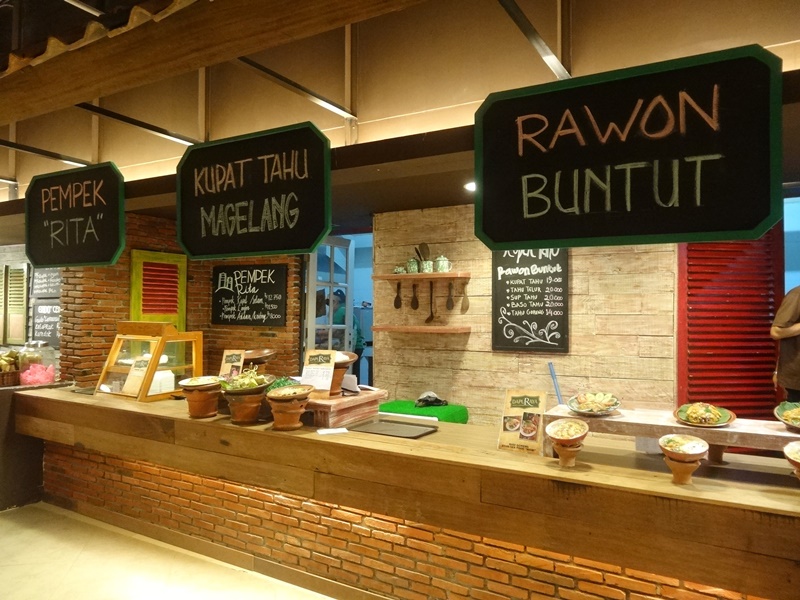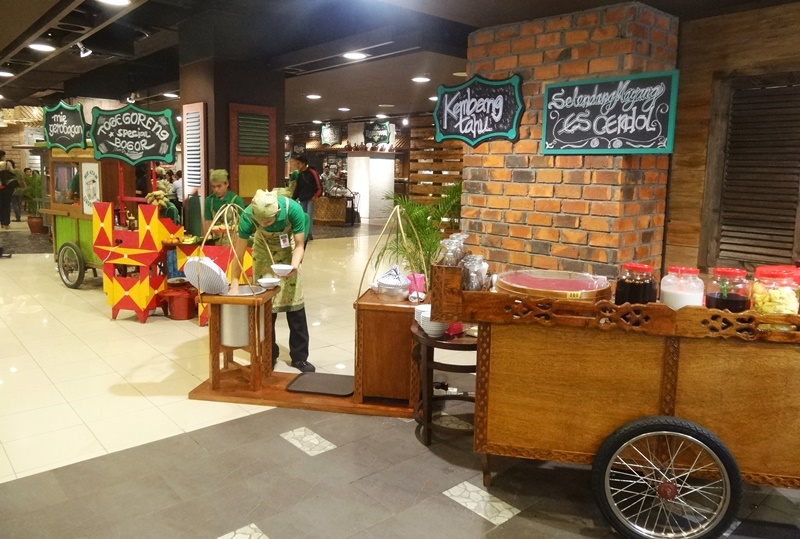 Full list of tenant can be seen here: