You know how much I love street-food. It's pretty self-explanatory I guess, they're quick, cheap, and the last time I wrote an honest review about them I got sent to the World Street Food Congress back in June, LOL (a bonus!). That's why if you ask me, I'm always more of a street-food foodie thriving to look for hidden gems inside and out; than being an up-scale restaurateur / café hunter hopping from one new, hip places to another.
This time, my addiction goes to Bakmi Jogja Apjay Pak Ivan, Panglima Polim. Even though it's popular for their Bakmi Jawa, I got totally hooked by their "Nasi Goreng Kambing Bumbu Kebuli" and "Bihun Godhog" instead. The original vendor is located at Cipete Raya No.3 but since their branch at Panglima Polim is closer for me to reach, I'd go there every time I'm craving for them.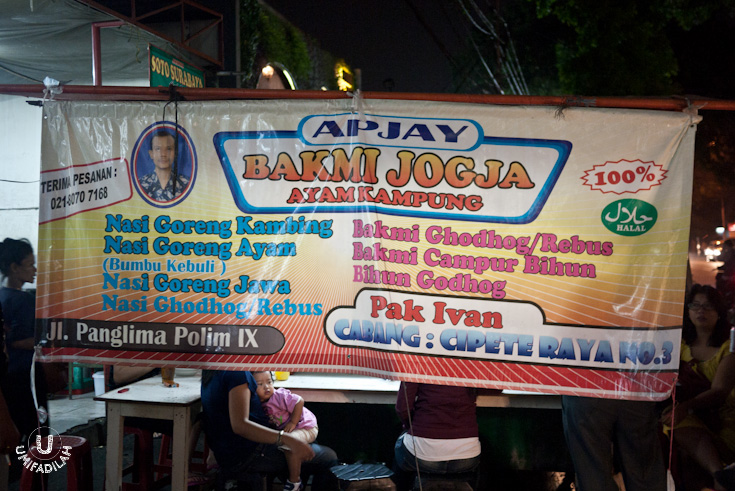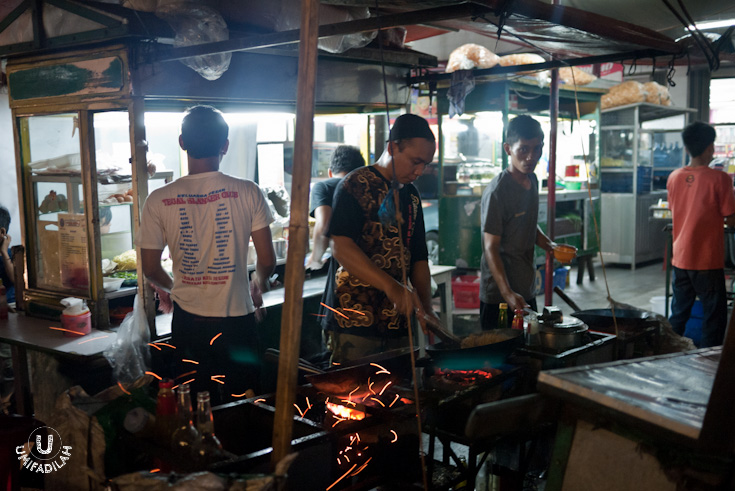 LET'S TALK ABOUT THEIR NOODLES FIRST.
The main menu being sold here is actually a typical Jogjakarta noodle dish called "Bakmi Godhog" (boiled noodle in thick chicken & egg broth with lots of veggies). Other version is of course, "Bakmi Goreng" (Fried Noodle). You can also substitute the noodle with Bihun (bee-hoon, vermicelli) or even combine both type in a single bowl.
At IDR 22.000, this Lamb Kebuli Fried Rice is everything I'd wish for whenever I get really hungry and feel like eating a meal that'd give a complete satisfaction. For that price, the amount of lamb chunks is surprisingly generous. The meat is twice-cooked, the latter cooking process ensures that the marinating Kebuli spices blend well enough to cover every grains of rice. You can taste the strong wok-hei aroma coming out of the dish – the slightly burnt aroma post tossing ingredients in high-heated wok. The complex Kebuli spices are not overpowering, everything's just lovely. If you love fried rice, then you just gotta give this a try!
You can also order additional Fried Egg (IDR 3.000) to go along on top of your Lamb Kebuli Fried Rice. I intentionally ordered mine to keep its oozing yolk effect, it was just… heavenly. THIS IS EXACTLY WHERE MY ADDICTION BEGAN.
To close off the night, for maximum street-food experience I'd recommend you to try their "Wedang Uwuh" (IDR 5.000 only!).
This piping hot beverage, literally means "trash drink", comes in a bright red color as a result from spices called "secang"; along with whatever ingredients stuffed at the entire glass. I see cloves, cinnamon, lemon grass, nutmeg, ginger, cardamom etc. Very recommended.
WOULD I COME BACK HERE AGAIN?
Absolutely. Already did, several times. Tried almost everything on their menu except for Nasi Godhog (boiled rice in chicken & egg broth) – should taste awesome too, I suppose. I'd like to think of this place as a great option to have cheap & satisfying meal. Great findings, really.
---

Bakmi Jogja Pak Ivan – APJAY (near Apotik Jaya, Panglima Polim)
Jl. Panglima Polim IX, right in front of Alfa Midi minimarket. Next to Mama Goose restaurant.

Opens every day starting 5pm onwards until they ran out of stock.
---