Yes, I am that bunch of people who also got the hype for the new American-style bistro "Jackrabbit" located in Cyber 2 building, Kuningan. It's Chef Juna Rorimpandey who intrigued me at first, the fact that he's one of the Masterchef Indonesia judges – and after reading this interesting piece of Juna's life story at JakartaPost. Come on, bad-boys styled chef who rides a Harley Davidson with tattoo all over his hands? I just have to admit, I'm a die-hard Masterchef fan :)
So when I got invited by Goorme to attend this food tasting at Jackrabbit, I was super excited! And that they will present Chef Juna himself in a sharing session + Q&A – who turned out to be false alarm :|The food tasting itself was specifically designed for us to experience their brand new "Brunch Club" program, so we didn't get to order from the daily lunch/dinner menu (moreover Chef Juna's signature dish :p maybe I'll try it next time)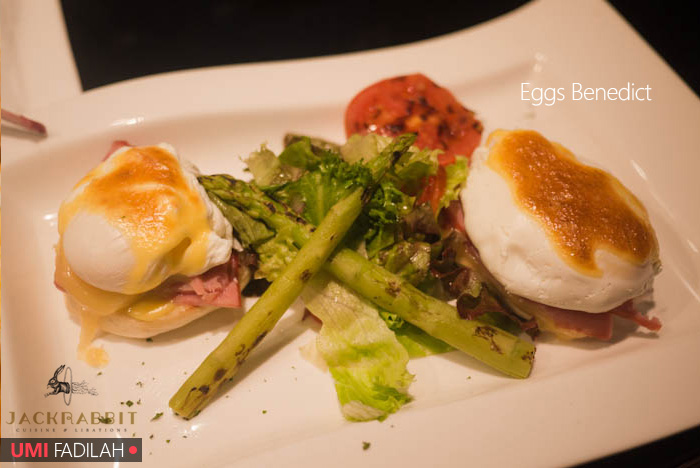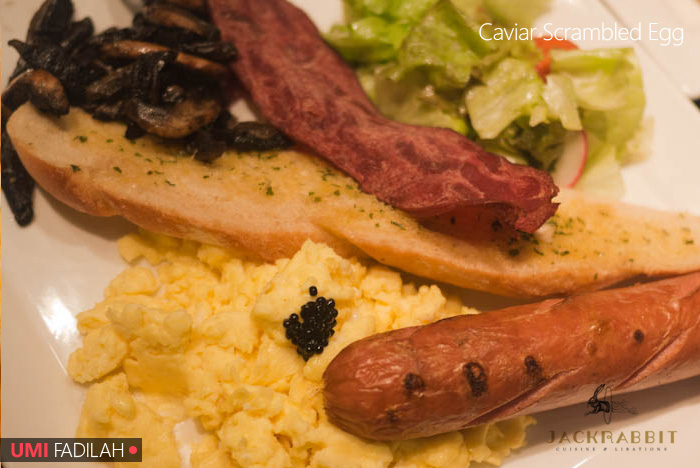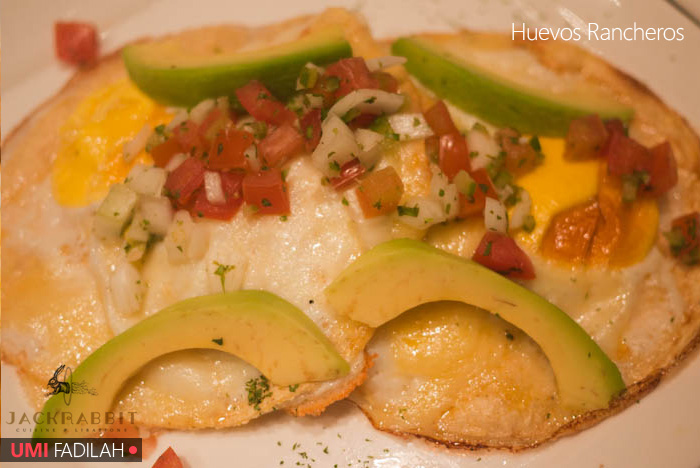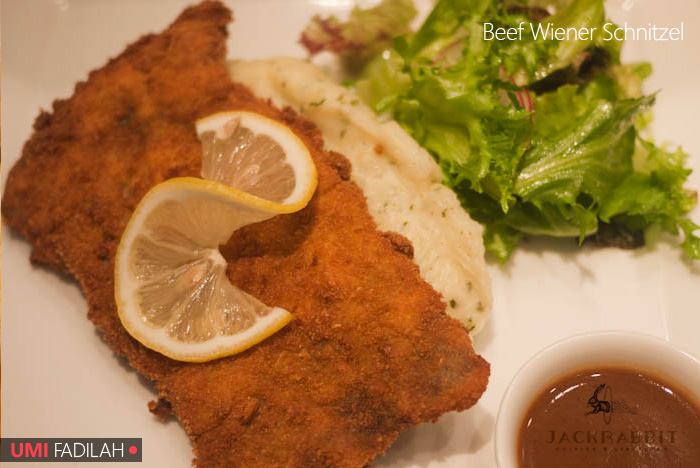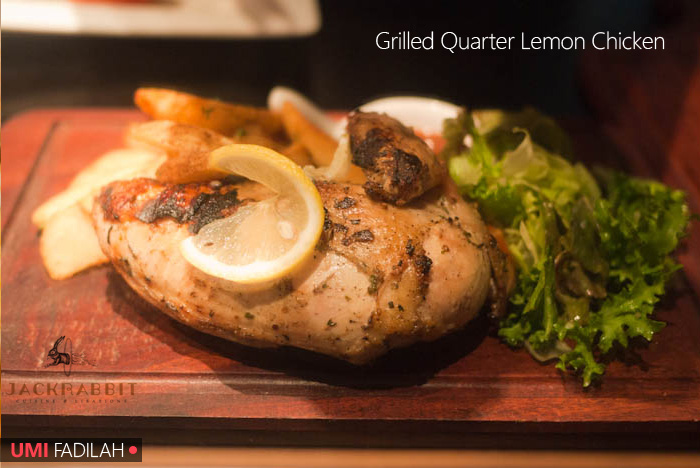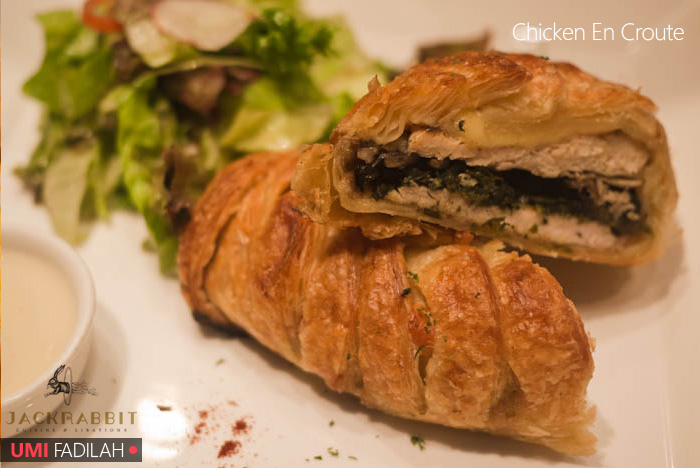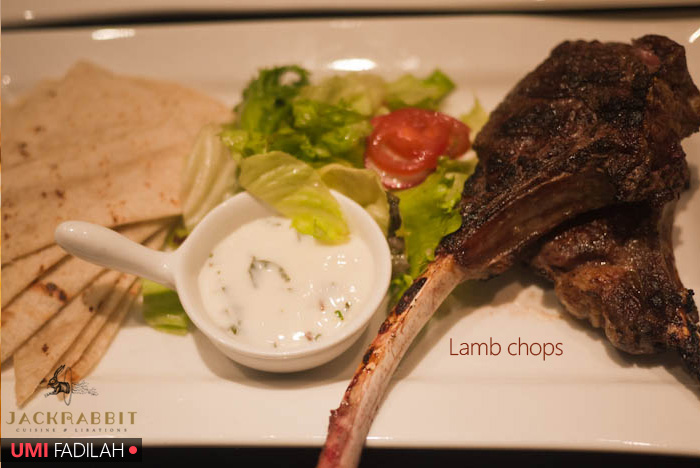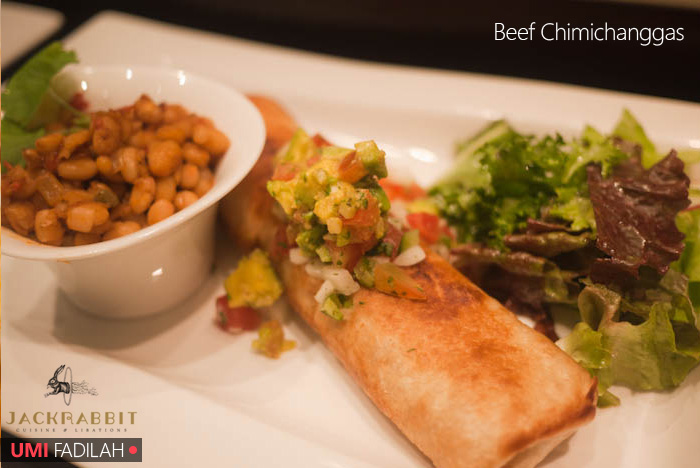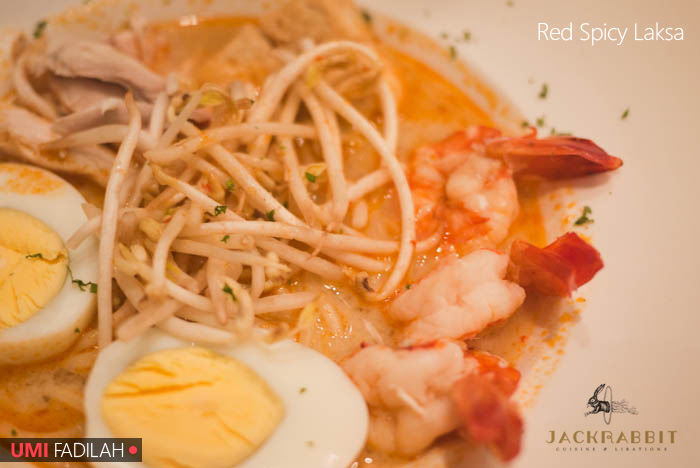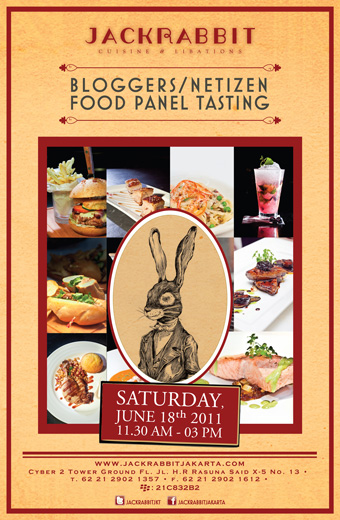 And as for its review for each dishes :
Eggs Benedict – served with English muffin, gruyere cheese, smoked ham/spinach, poached eggs, grilled tomato & asparagus, side salad, Hollandaise sauce. The egg itself was poached perfectly, except that in my opinion it's a little bit under-seasoned. But I guess the melted cheese covered it all :)
Caviar Scrambled Egg – served with rustique garlic bread, grilled tomato, sauted mushroom, beef bacon, side salad, beef sausage. I have to say…. this was disappointing. Chewy bacon (too crispy & a little burnt, seriously), bland taste on the scrambled egg itself, too little amount of caviar, cold garlic bread, a bit bitter mushroom. The finest part of the dish is probably the beef sausage. I guess I just had too high of a hope regarding this caviar dish.
Huevos Rancheros – served with pico de gallo (Mexican condiment on top, made from chopped tomato, white onion, and chili), avocado slices, laid on top of a bed of Texas baked bean. This wasn't my favorite, but if there's anything they could improve is the chewy part of the egg. Well I don't even know how fried eggs could be so chewy & made us a big effort to slice'em.
Beef Wiener Schnitzel – breaded beef schnitzel served with mashed potato, salad, lemon twist, and real sauce (which is not that generous. Because it goes perfect with the schnitzel! just can't get enough of the sauce, hehe..) Overall a good dish, but it could be more 'hot' because when they served it to us it was already a bit cold.
Grilled Quarter Lemon Chicken – with barbeque sauce, side salad & potato wedges. The chicken was sooooo tender it actually melts in your mouth in every bite. I really like this dish, they should gave us more of its BBQ sauce because it really worked with the tender & juicy chicken.
Lamb chops – two rack of lambs grilled to medium well, served with flour tortillas, mint yoghurt sauce and side salad. Lamb was delicious, I got them perfectly cooked & it was the right preference. Flour tortillas, I thought they'd be crunchy, but it's okay. Mint yoghurt sauce – I can't taste any mints at all, haha.
Chicken En Croute – chicken breast + spinach wrapped in a crunchy pastry, served with side salad & supreme sauce. This was my favorite! I love anything wrapped in a crunchy pastry, hehe...
Beef Chimichangga – served with pico de gallo & guacamole on top, texas baked bean and side salad. The wrapped beef inside was seasoned beautifully, it was just the right amount of 'heat'. I really enjoyed this dish.
Red Spicy Laksa – laksa with hard boil egg, prawn, and "yellow noodle" (written on the menu). But I really think that was spaghetti, angel hair type of spaghetti maybe. And the soup itself wasn't really kicking in – I mean, a good laksa should have that 'punch' of taste, you should be able to taste the creamy coconut milk + all the herb & spices blending into one kick-ass flavor, but I just don't feel that in this dish. Quite a standard one.
Besides all of the above, there are also some dishes that I forgot to take pics of :
American Hearty Pancakes – served with grilled tomato, sauted mushroom, beef sausages, side salad, beef bacon. More or less same review as the other egg dishes served with bacon & sausages. It's just too similar except that they had pancake in it. And the bacon was also overcooked.
Steak & Eggs – US sirloin beef served with grilled tomato, potato o'brien and bordelaise sauce. It's actually quite nice & satisfying.
Overall, our brunch experience has its ups & downs. Good thing is, we get to try new menu first before everybody else, and some dishes are quite a spot on. Plus we get a 300K voucher! :) Bad thing: it's mostly eggs, eggs, eggs (I get it, it was named Brunch for a reason) and.. most of the dishes were served cold. I think Jackrabbit still needs improvement especially for their brunch menu in the future. Looking forward to visit again, next time for dinner (probably the best time of the day to visit. I heard their oxtail soup & mocktails are goodddh!)
Jackrabbit Jakarta
Cyber 2 Tower. Jl.H.R.Rasuna Said Blok X-5 no.13
Facebook: http://www.facebook.com/jackrabbitjakarta Twitter: @JackRabbitJKT
Web: http://www.jackrabbitjakarta.com and Goorme: http://goorme.com/jackrabbit