Last week of November, I got special invitation for 2 from Goorme to try Shabuya's new menu of All You Can Eat (AYCE) Premium Angus Beef SUKIYAKI. Shabuya Indonesia, located at Central Park Mall 1st Floor is a mixed Korean & Japanese Shabu-shabu family oriented restaurant, says the friendly manager. That's probably why you'll find many banchan (Korean side dish) as appetizer, e.g Kimchi (fermented spicy cabbage) and Namul Pokchoy with sesame oil (seasoned veggie dish). I'm not really a fan of these banchan so I forgot to take pictures of it, hehe. However, other side dishes that I found very interesting was, "Hamburg pan-fried minced premium angus beef with Tonkatsu sauce" and "Gogumba Bokum" (caramelized sweet potato) – simply mind blowing, and mouth-watering! If only the hamburg beef weren't served that cold.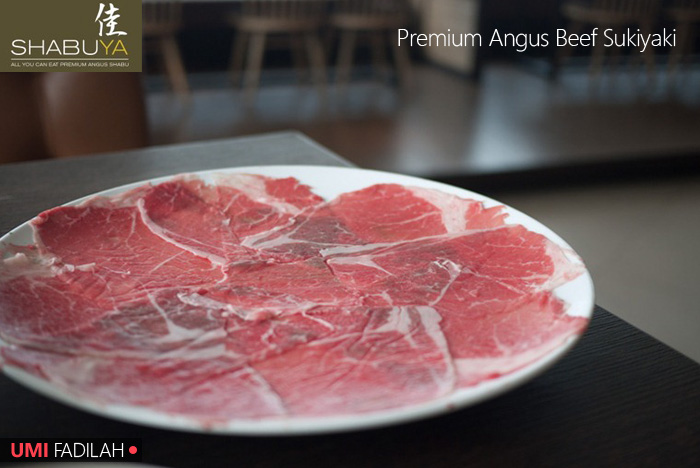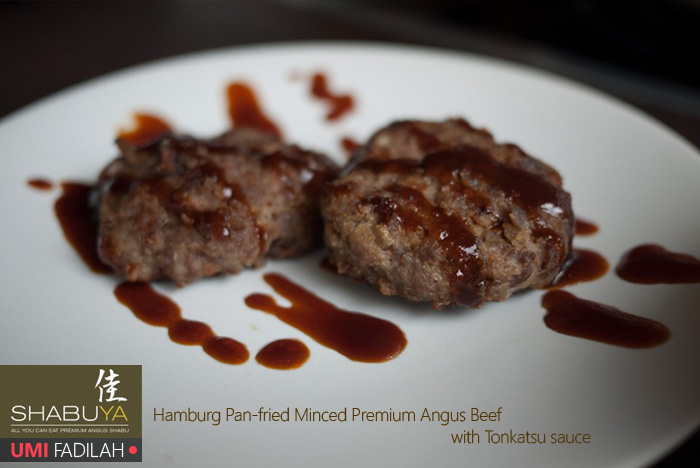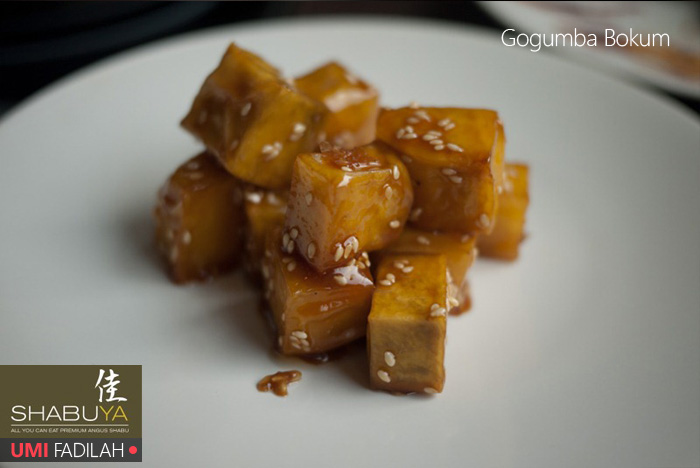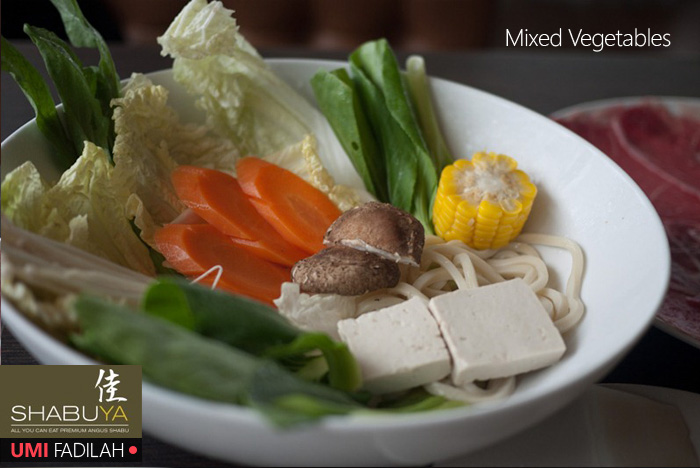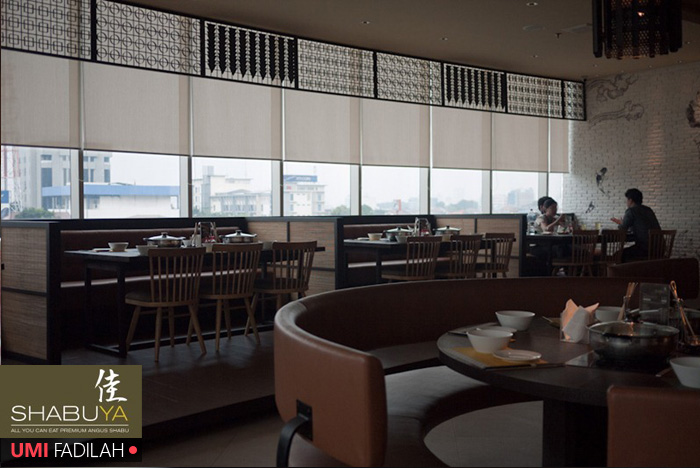 Food
So apparently we were given choices between Shabu & Sukiyaki, so we asked what's the difference? Turns out it's only a matter of the soup base. They said Sukiyaki is much sweeter (and also their newest menu), while Shabu has clearer soup & a dipping sauce (ponzu). I rate them 5 stars for their thorough explanation and responsive + quick service! Here's what an AYCE meal package consisted of: A big bowl of vegetables – cabbage, carrot, corn, pakchoy, tofu, udon, enoki mushroom, shiitake mushroom. One seafood plate – dory fish, prawns, and squids (dory is the ultimate winner! freshly served & so tender it melted perfectly in my mouth), and obviously one big plate of thinly sliced premium Angus beef. But in the end, somehow all of the plates above were duplicated and… multipled by the number of 3, haha. I liked the taste of the dipping sauce, it wasn't too sweet nor salty even though it looked almost as dark as sushi soy sauce. Perfect companion for the Angus beef!
Decoration & Interior
Shabuya is decorated minimalistic & large window panes surrounding it (even though not really much to look at outside, hehe), plus a clean & cozy atmosphere. It's a perfect arrangement for an AYCE meal, they do know how to spoil visitors that would make them last for hours :) For more detailed interior pics please take a look at their official Facebook photos.
Pricing & Promo Package
For a 108.000 IDR (adult) and 78.000 IDR (children) AYCE meal, I think it's very worth it! Even we had 3 additional plate for the Angus beef, seafood, and vegetables, haha.. And if I'm not mistaken they still got this promotion Buy 3 Get 4 until end of year. So act fast and go there with the whole family/friends! You can make reservation here : (021) 56985585. Cheers….!