I love chicken wings. All type of style - buffalo wings, BBQ, spicy honey mustard, simple garlic & chili, Korean style wings, from baked to grilled or even deep-fried, you name it! And yesterday i did a cooking experiment to make an Asian-style wings.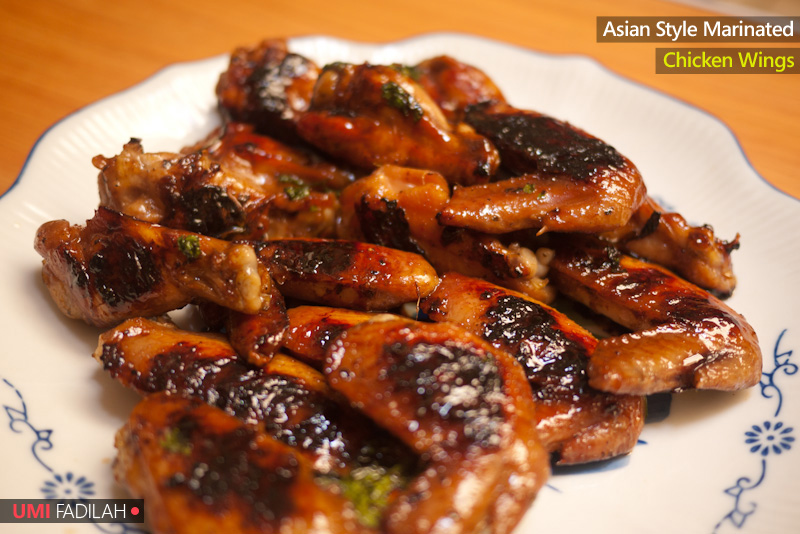 Asian Style Marinated Chicken Wings
What you need: 12pcs of chicken wings, 4tbsp soy sauce (i use Lee Kum Kee's), 1tbsp sesame oil, 2tbsp teriyaki sauce, 1tbsp oyster sauce, 1/4 cup of chopped corriander leafs, 4tbsp honey, a little bit squeeze of lime, a hint of garlic & chili powder.
How:
Put your wings on a tray & seasoned first with garlic powder & chili powder (just not too much).

Make a mixture of soy sauce, sesame oil, chopped coriander, honey, lime, teriyaki & oyster sauce and then use them to marinate your wings for about 8hrs/overnight in fridge.

Once refrigerated, take out & then put the marinated chicken wings in a baking tray and bake in a preheated 180C degrees oven for 30 minutes.

I like my wings to be crispy & have that grill-marks, so after 30mins of baking i put them on a home-grill & basting them off with honey frequently :)
There you go, perfect for movie night!