Found out about this newly opened Italian restaurant called Signora Pasta from fellow foodies. So we decided to try it out for lunch on Christmas Day (late post, i know, sorry about that..). By the way, just a warning, this restaurant is located in Cirendeu, not sure that you guys ever heard of this area before, but yes, it's not exactly the area people usually looking for when they're craving some authentic Italian cuisine.
I hate to be the one who came late for about half an hour, that's why i missed several food pics and all I get to photo is just some leftovers, haha. My friends had Bruschetta (11.5k) and Insalata Mista (17.5k) which is mixed vegetable salad, also Frittura di Verdure (fried mixed vegetables) for appetizers.
For pizzas selection, we chose Signora Pizza (65.5k) and the Quattro Formaggi (59.5k). The pizza crust is perfectly thin, and the toppings are quite generous, love it! Prefer the quattro formaggi because I have always been a sucker for multilayered cheese :p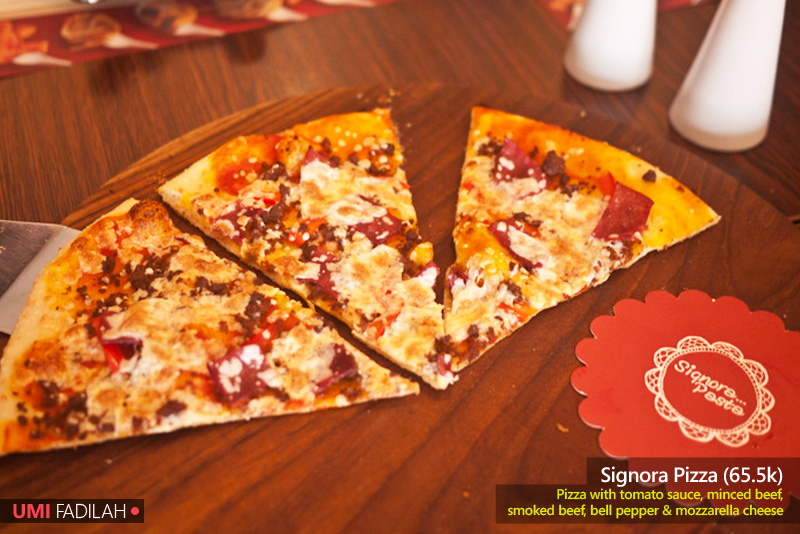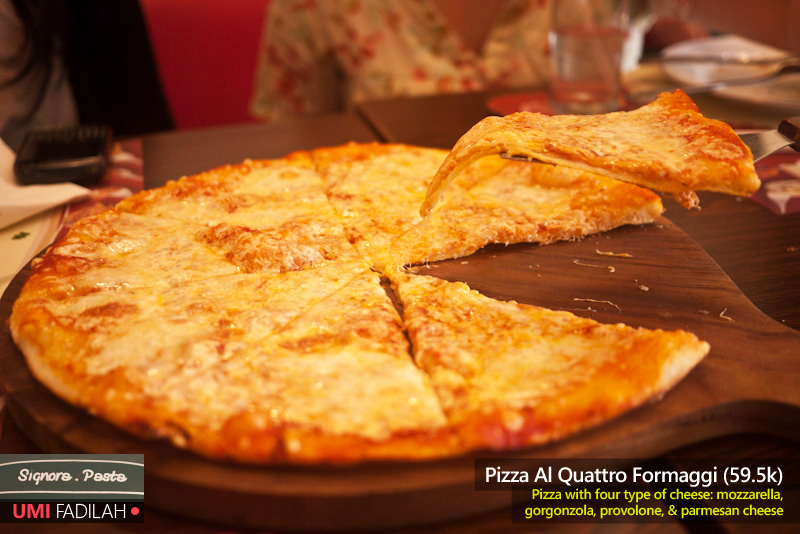 And as for pastas, we ordered Spaghetti Aglio e olio (27k), Spaghetti al Pesto (27.5k), Ravioli (35.5k), Spaghetti Carbonara (31.5k), Gnocchi Al Pomodoro (27.5k). Since i don't get to sample their aglio e olio (too bad, my friends said it's super tasty!), for me the winning dish is.... Gnocchi :) In fact, i think that was the best gnocchi in town! Gnocchi is a type of pasta that is also known as potato dumpling. Their gnocchi is cooked perfectly, not too mushy, and it's mixed well with the traditional pomodoro sauce. Love it, next time i will try the gnocchi with gorgonzola cheese sauce.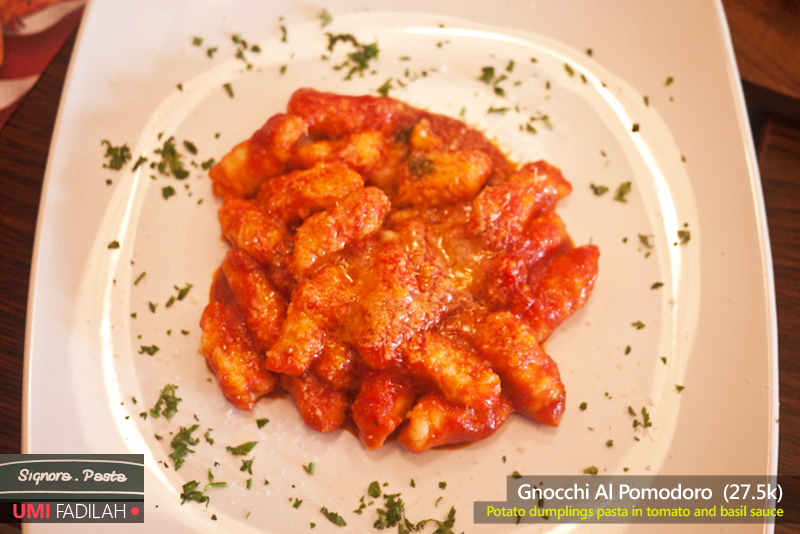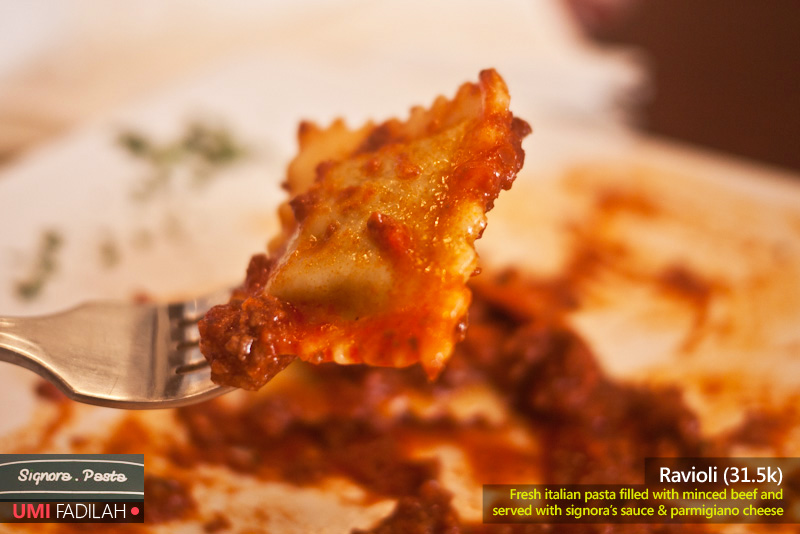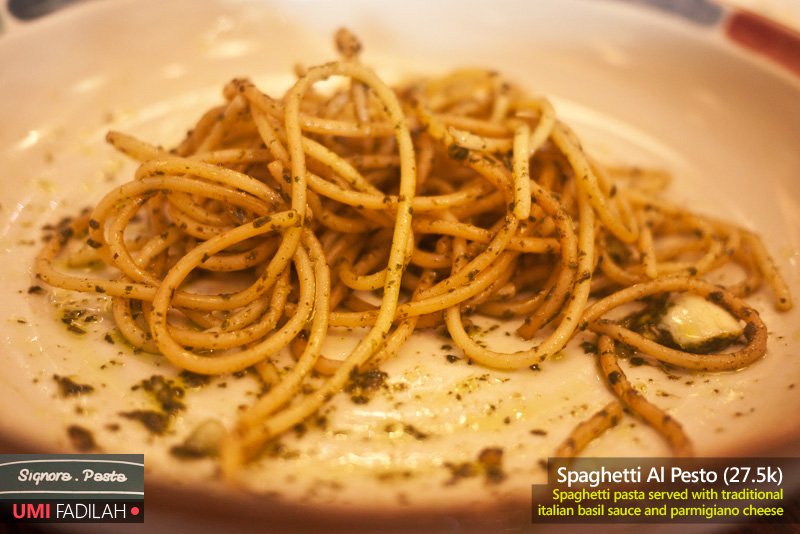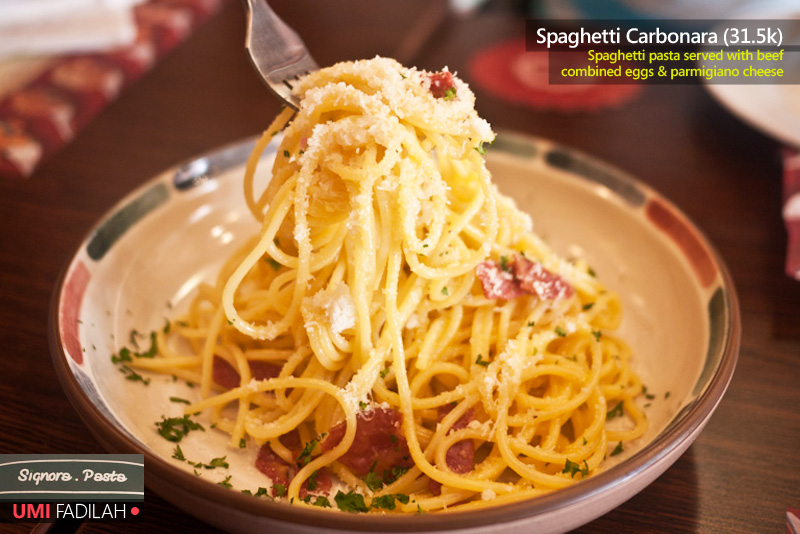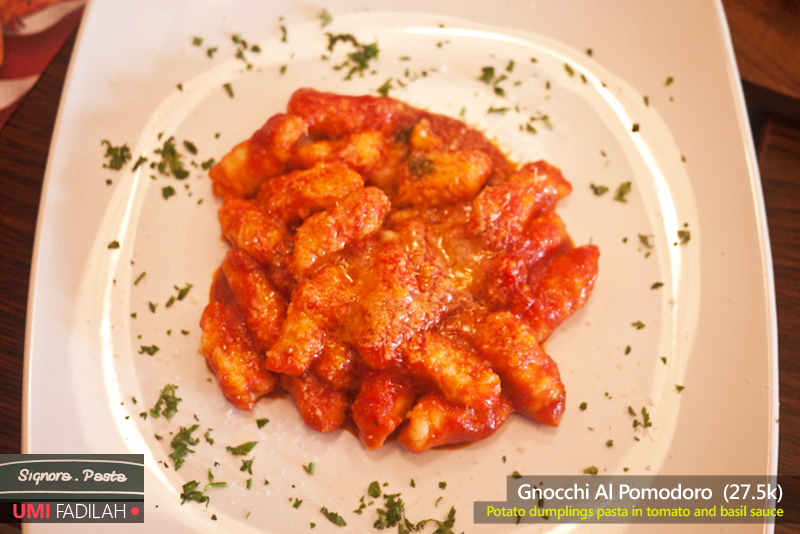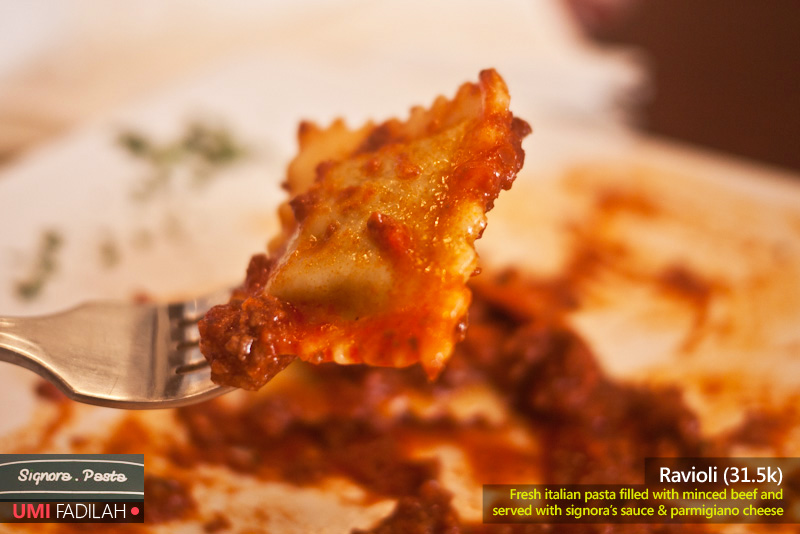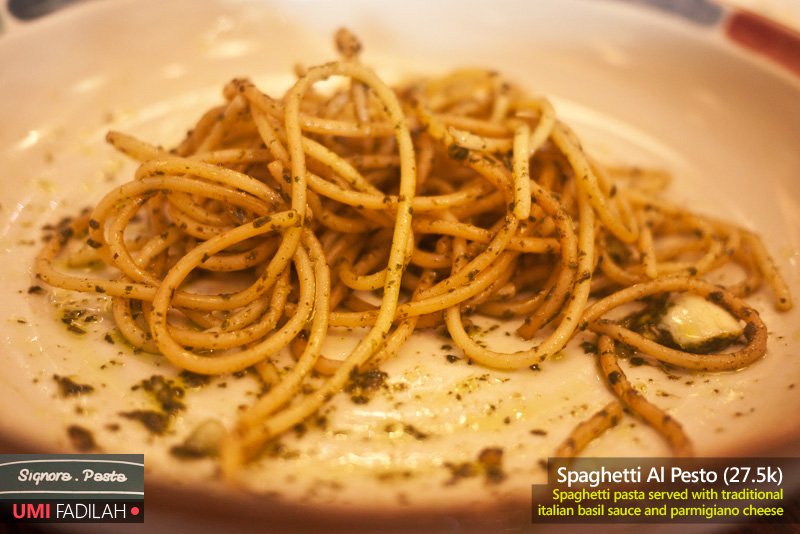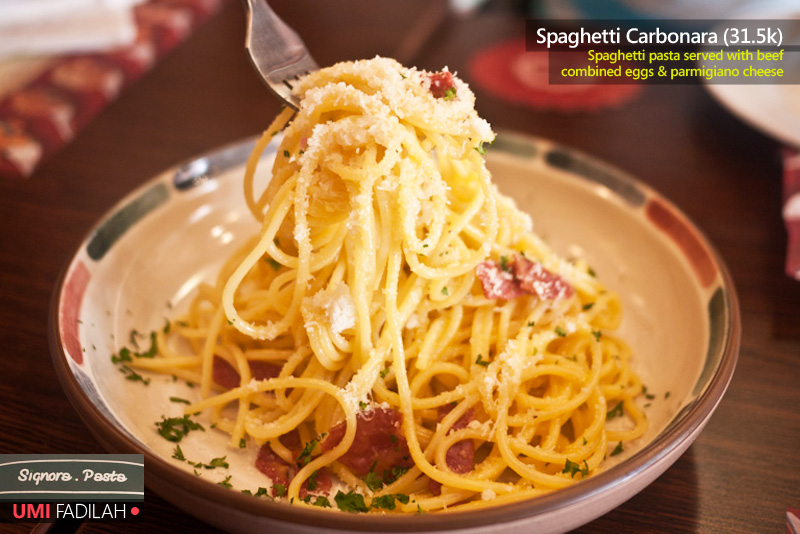 As for other pasta, Ravioli tasted very good too, Pesto..hmm I think I've had better, but their Carbonara is truly authentic italian. Typically Carbonara here in Indonesia is widely known for using heavy cream, but the authentic Roman carbonara does not use cream at all. Instead it's very simple, it only uses egg, parmigiano cheese and slices of beef. But I actually prefer it this way though, tasted light on the calories too.
Aside from pizzas & pastas, we also have another highlighted dish of the day: Scallopine Al'acetto Balsamico (37.5k) or simply fillet of beef served with mushroom and balsamic vinegar. Seriously, it tasted so heavenly that we feel the urge of ordering it twice! It's a must-order menu if you come to visit Signora.
Finally we ended our Italian journey that day with a classic Italian dessert, Tiramisu (21.5k). For that price, we thought it'd only be a small slice (that's why we ordered 3 portions). But look what we've got! Turns out it's HUGE :) :)
And super yummy too. A very great value!
Overall: this is my new favorite Italian joint :) The place itself is not too big, but it's quite cozy and they made it look spacious. The owner is Italian too, that justifies the hype that has been buzzing around food lovers here in Jakarta. Looking forward to come back, Signora.
Signora Pasta
(at the Plaza Cirendeu complex)
Jl Cirendeu Raya No. 20
South Tangerang
ph. +62 21 912 64389
signora.pasta@gmail.com | Twitter | Facebook