Usually me and my foodie friends only mingle if there's a foodtasting/foodblogger gathering somewhere. But last week we did much further, it's our first foodie night ever! (with no sponsor :p) And it's a Spanish Food night! Couldn't get any better than that.
So we went to Tapas Movida, a Spanish restaurant in Cipete. Too bad i came late so I didn't get a pic of the some of the initial food (especially Paellas), but thanks to my friends at "Ingredients of Life" for lending me some :p
Now let's dig in. For the main course, we ordered "Paella Mixta" (200k) which is suitable for 4-6 people. Paella is a rice dish from Spain that is oftenly characterized with the usage of 'Saffron' as its key ingredients, one of the most expensive spice that also turns the rice a wonderful golden color. Paella can be mixed with almost anything, chicken, seafood, rabbit, vegetables, etc. This is perfect for sharing!
Another highlight of the night, we ordered so many pintxos/pinchos/tapas alongside with the infamous Paella dish. Each pinchos regularly cost only about 15k-40k. Me and my friends agree that the most recommended pinchos of the menu is their Albundigos (spanish meatballs). It tastes so good & the soft meatballs just melt in your mouth. Second best, is the Guacamole Bruschetta with Garlic Shrimps!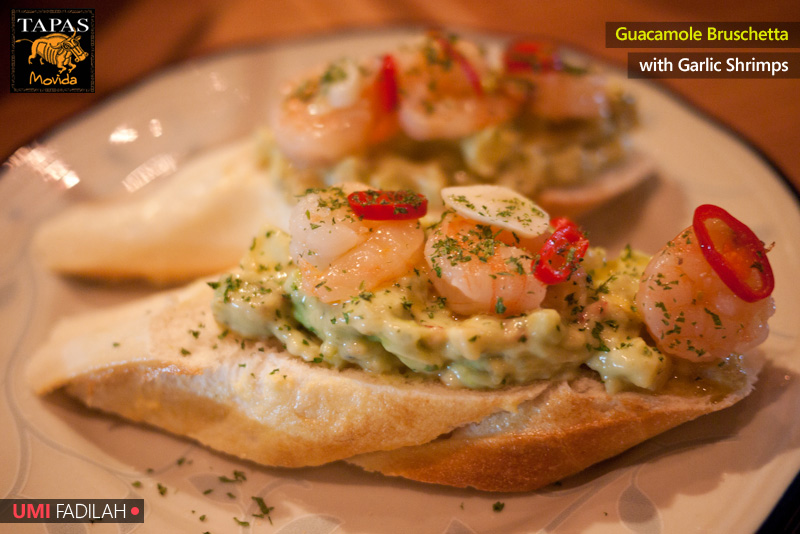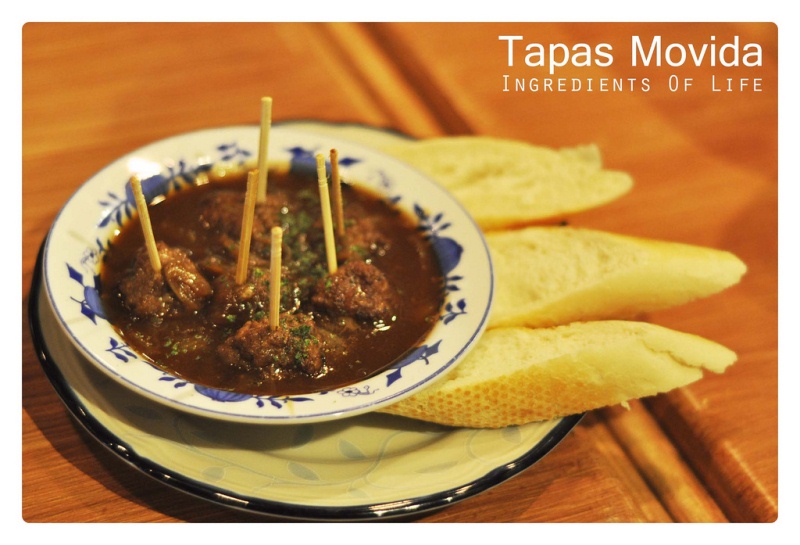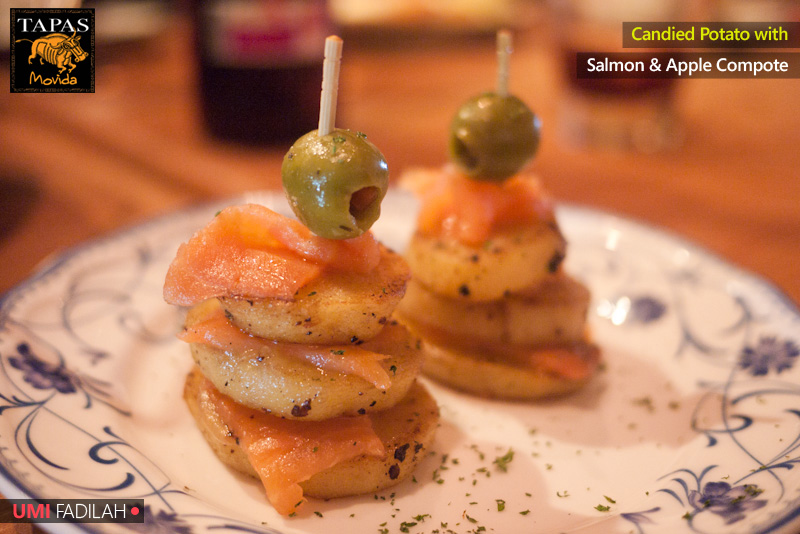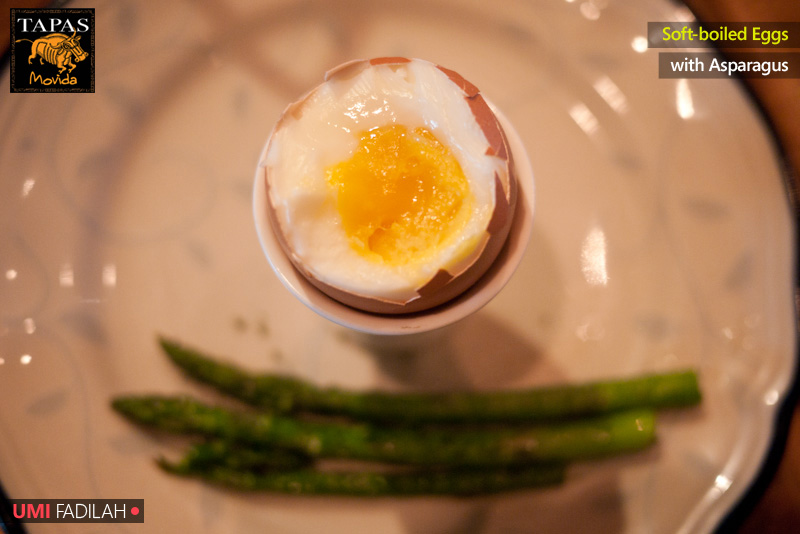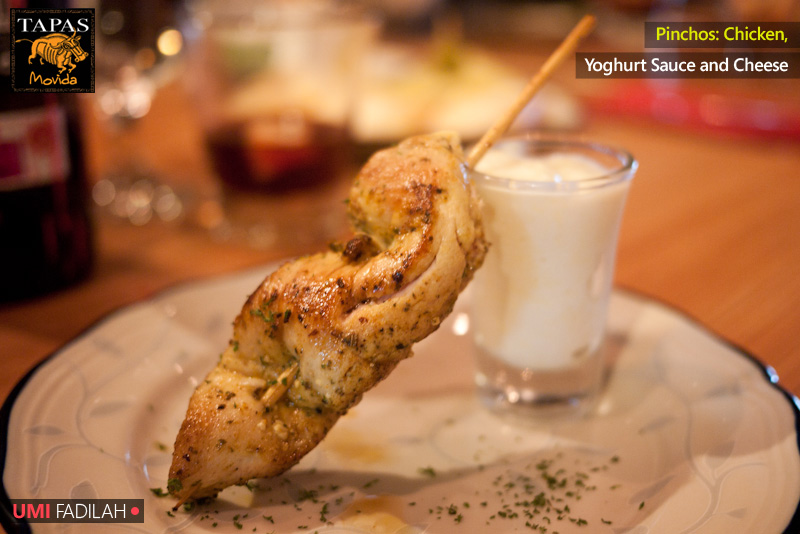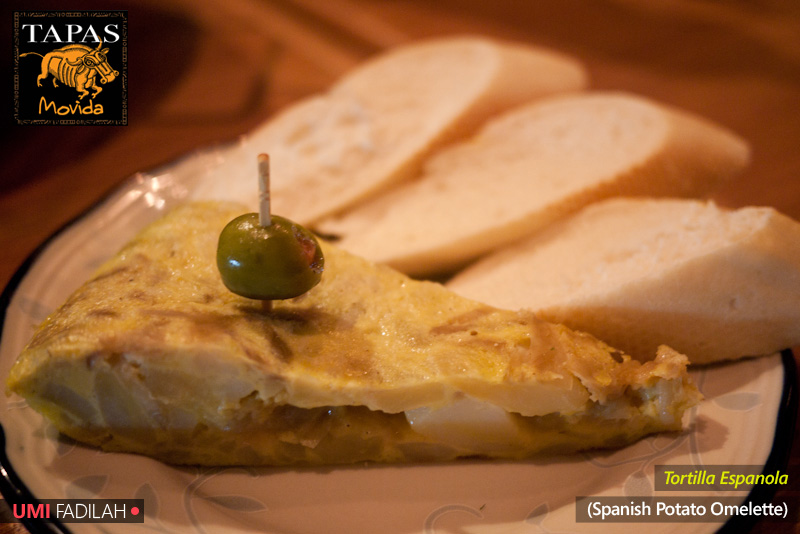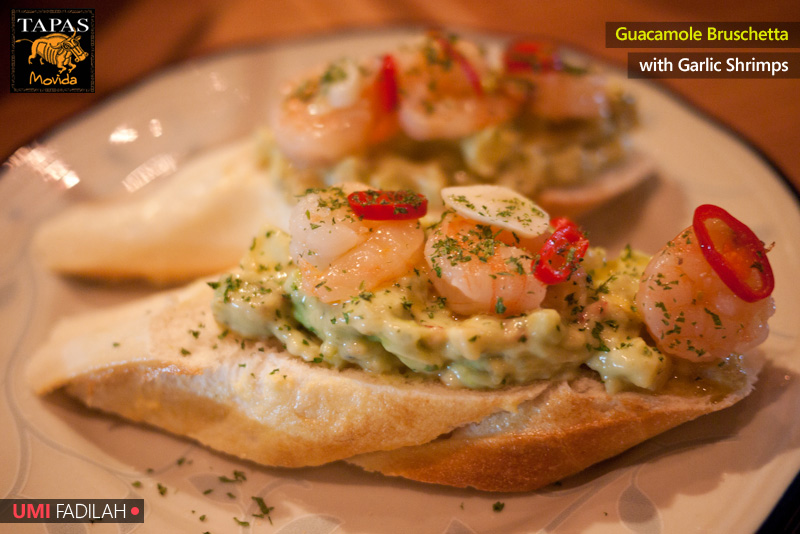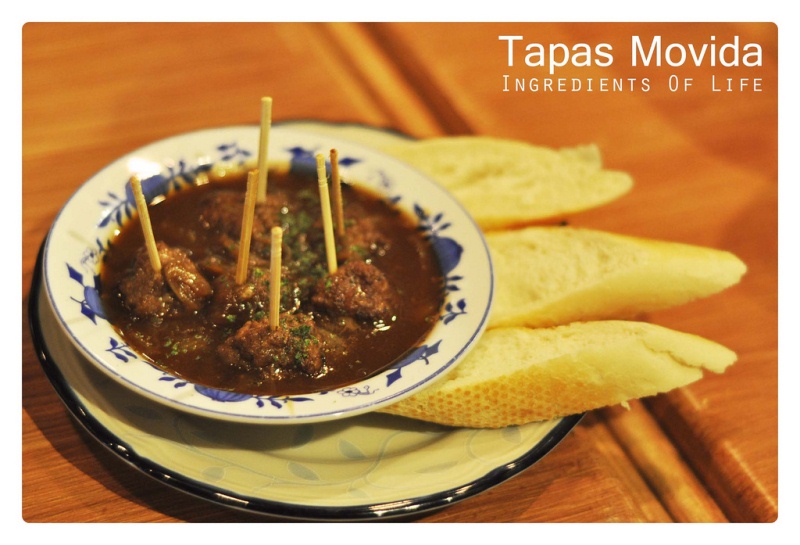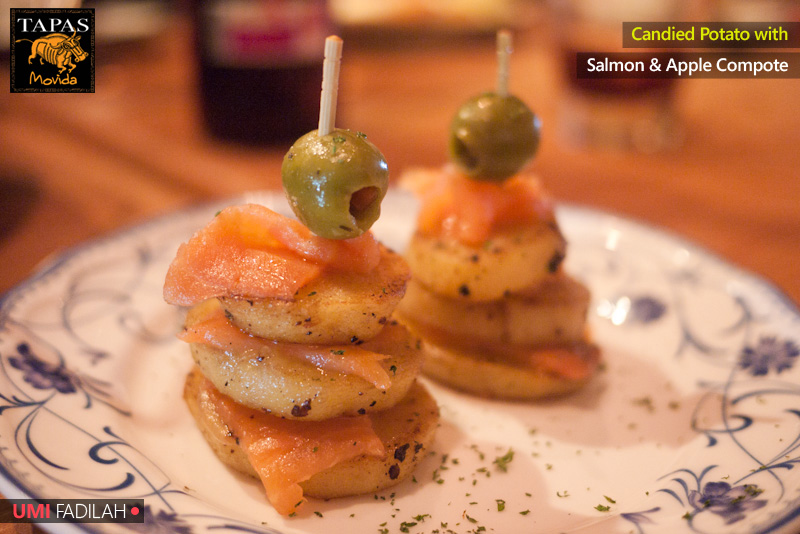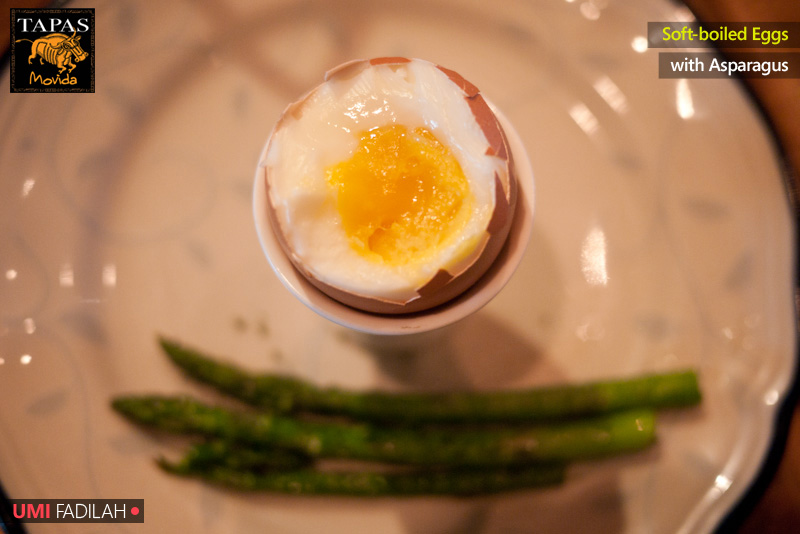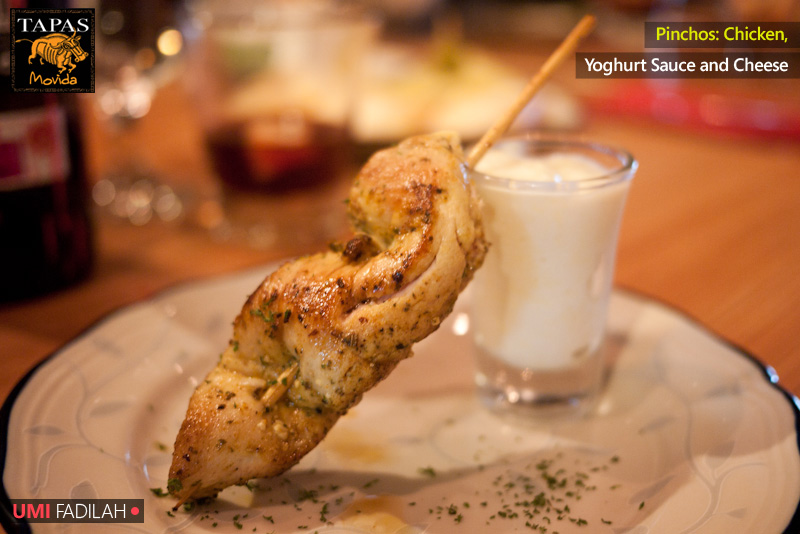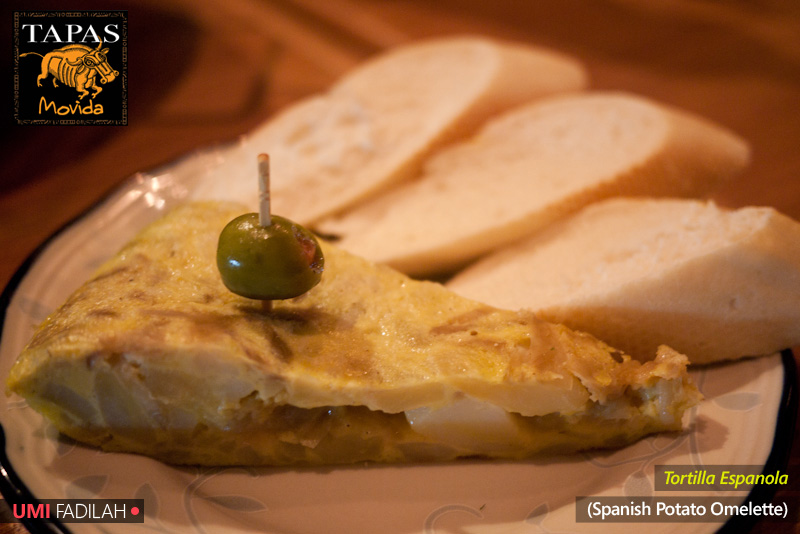 Trivia: Here's a difference between pintxos, pinchos, and tapas. Basically they're all pretty much the same: snacks. But pintxos/pinchos are 'finger food', much more than tapas are. Invariably they will be served on a slice of bread and are usually cold, which makes them much like canapes.
Now time for desserts. First one is Strawberry Millefeuille with Vanilla Sabayon & Chocolate Sauce (40k), and 2nd, Reinette (35k). Both were orgasmic! Reinette is consisted of layers of nougatine, apple tatin cake, homemade vanilla ice-cream, and topped with vanilla, chocolate sauce and chantilly.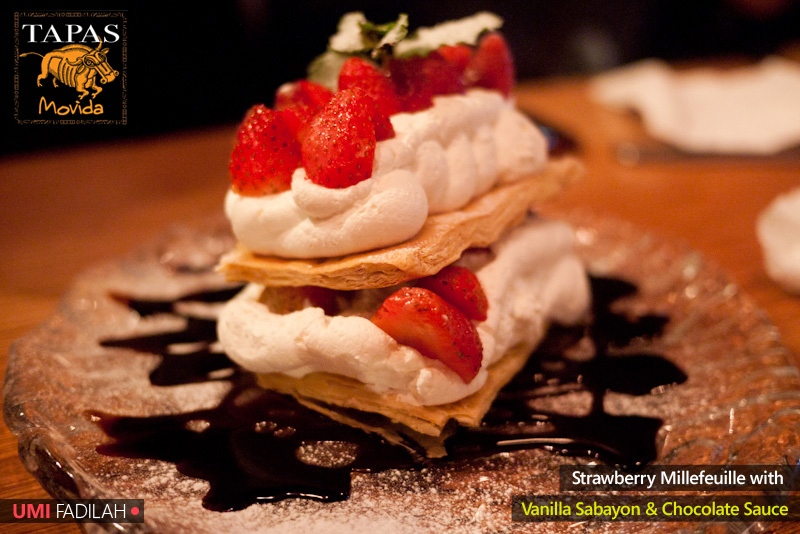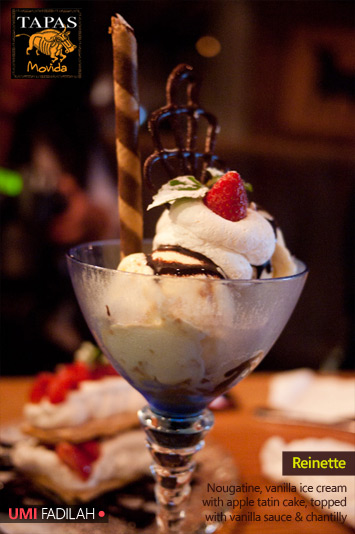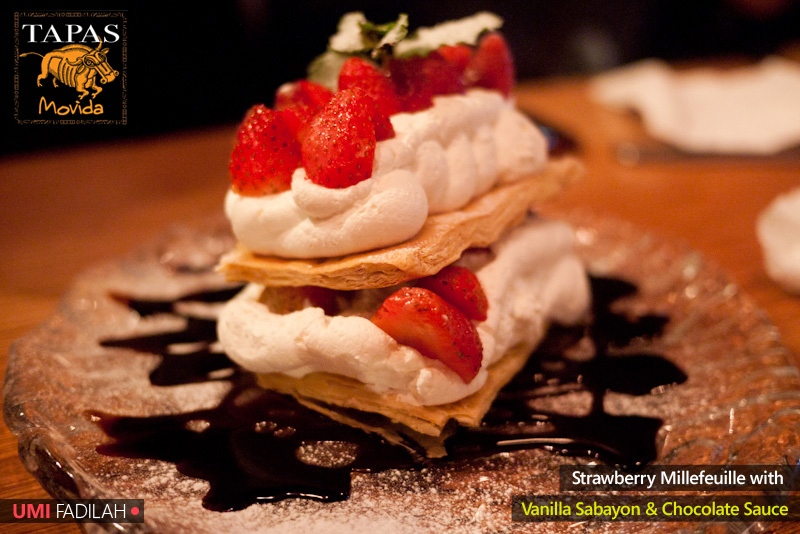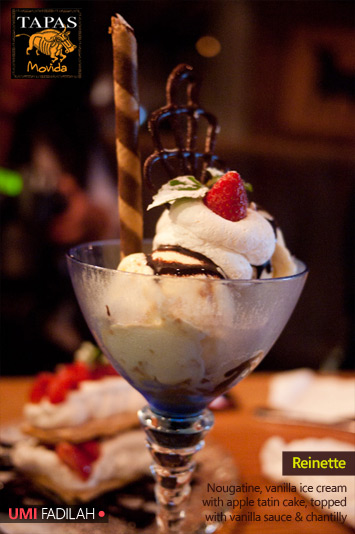 And finally.. the night won't be perfect without completing meal with the companion of Sangria (210k a jug), a traditional Spanish wine-punch which is a mix of red wine, a bit of lemon juice and assorted chopped fruits.
Overall, it was a night to remember. Great friends, great food, great laugh, and great hospitality. Even the owner of Tapas Movida gave us all one whole jug of Sangria for free! Thanks, Manuel, we'll surely be back another day :)