Cronut strikes back! In less than a month after the first ever Cronut made its way to Jakarta through Mandarin Oriental Cakeshop, few cronut creations are starting to bloom. And as a loyal cronut hunter I just couldn't miss reporting my findings as a follow-up to my dear readers (well, if there is such thing ;). As far as this post is written, I had only found 3 places: at Publico, Union, and Goldfrance Bakery at Pasaraya Blok M. Rumor also has it that Vineth Bakery owned by Wongso's family in Panglima Polim is also going to launch their version, but haven't heard any updates.
And who says I won't start with the BEST first?
NOSHBAKER'S VALRHONA MARSBAR CRONUTS
I won't describe much about the flavor. I hope the above photo & description is enough to make you drool especially if you're more of a chocolate than vanilla person. OH COME ON IT'S VALRHONA CREAM FILLING + SALTED CARAMEL GLAZE + VALRHONA CHOC CRUMBLE ON TOP. ON A CRONUT. And the best part was, the sweetness was not overpowering as I originally thought it would be.
I lied. The best part was actually the texture. I was quite surprised that when I cut them in half with a proper serrated knife, it looked not too far as advertised. You know, when you see pictures on the internet and thought "Well.. It must have used some kind of photoshop magic or the best food stylist out there to reproduce that kind of super-good-looking food" – then no, it was closely similar and I was super happy and didn't feel cheated at all.
I repeat, the texture. At first glance, Noshbakers' cronut looks taller and more 'sturdy' than Mandarin Oriental's (MO) Kronut (oh and it's heavier too). And when you cut them open, the pastry layers are very clearly separated with each other and the Valrhona Cream filling is quite all over the middle part. When I took my first bite, I even heard a sound of crunch! Yes, it's how croissants should be – flaky, but also delicate. And when paired with other elements, the cream, the salted caramel, and the crumble on top..... man, I just had to close my eyes to enjoy them. A nice interplay between the flaky cronut pastry and the abundance of its cream filling, and then we also got salted caramel that tones down the overall sweetness, and another crunch from the chocolate crumble.
No wonder they named them Valrhona Marsbar Cronut. It is in fact, like eating a marsbar on your right hand, and cronuts on your left. Genius interpretation and well-done execution, compared to MO's that tasted more like just-a-fried-doughnut now. I just hope they will always be consistent in the near future because I'm not lying a thing about everything I experienced back then. Keep it up, Nosh!
*Noshbakers is the bakery that produces these Cronuts. They're under the same group called 'Ryst' that also owns Publico, hence being sold there. You need to place your order 3-hours before via phone.*
Publico
Jalan Senopati No.65 Kebayoran Baru, Jakarta. Selatan.
Phone: 021 52964960
Twitter: @noshbakers | @PublicoJakarta
BTW, FAIL CRONUTS DO EXIST.
I won't make a separate review about Goldfrance Bakery's cronut in Pasaraya Blok M because it's simply..... NOT a cronut :| With only IDR 7.500 a piece, its texture is nowhere near other cronuts I've tried before. Sorry to say but it's more like a #fakenut, no croissant layers whatsoever! Geee, why even bother to name them 'Classic Cronut' if what they're selling is, a matter of fact, only a flat deep-fried bread dough rolled in cinnamon & sugar?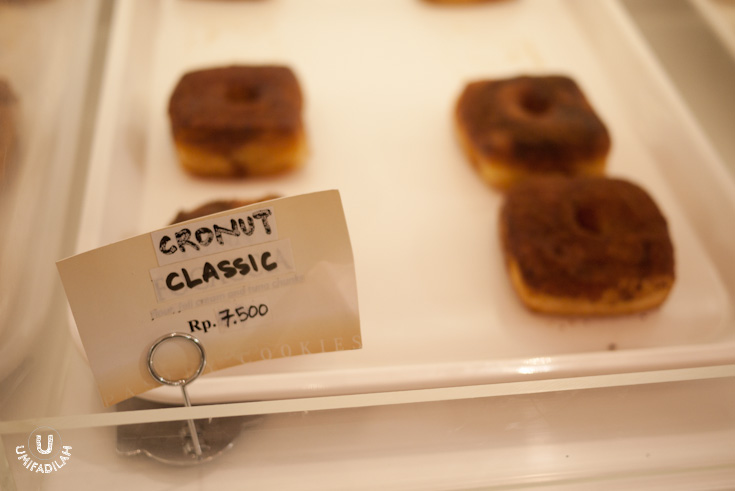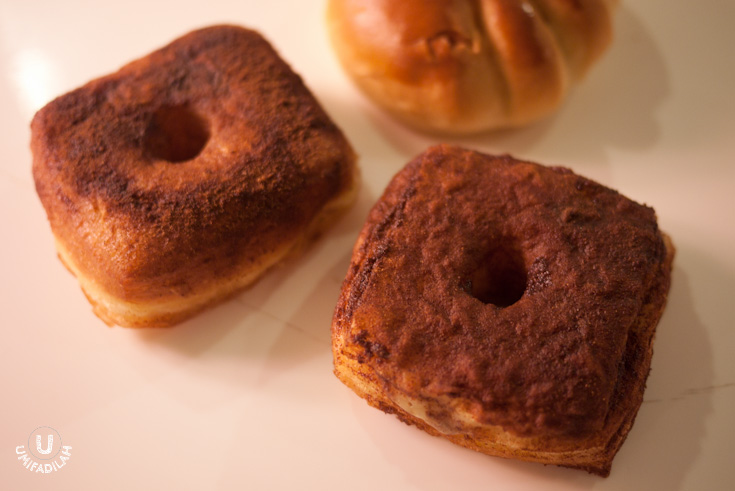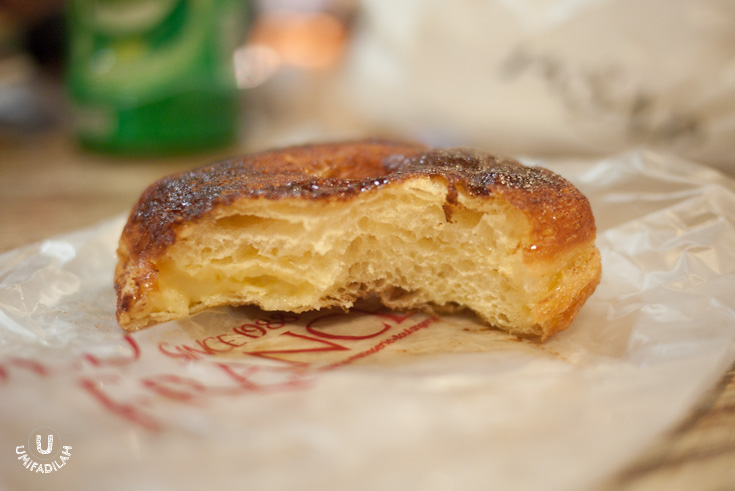 Stick to Noshbakers' Cronut in Publico for a safer option, people. Just making sure you don't get fooled with #fakenut.
Stay tuned for my review on Cronuts Hunt Part 2: Union's Flaky Doughnut. (As seen here).