Filling in as replacement for Y&Y restaurant at Pacific Place Mall 4th floor, Bibigo finally opened in Jakarta in early May 2013. I was excited ever since I saw their ads in Pacific Place back in late 2012 (yes, since it's located in front of my office building so I happen to notice it almost every day). Bibigo is Korean food (K-Food) chain owned by CJ Foods, probably the biggest K-Food Company that comprises in food and food service industries for over 60 years. They also started the 'Korean Cuisine To The World' Campaign called "Psy Go Bibigo", named after the world-famous singer Psy which is their brand ambassador. As part of the campaign, Bibigo has recruited chefs from all over the world via YouTube since April 2013 to go on world tour with Psy for a month to promote Korean cuisine. Love the idea! Every news of Bibigo just led me to the peak of curiosity so when it finally opened in Jakarta I immediately paid a visit.
Bibigo has two restaurant types: Fast Casual and Casual Dining. I'm not really sure whether it affects the food in terms of prices, but here in Jakarta the concept is Casual Dining. Right when you enter Bibigo, you'll notice how this restaurant is so packed with native Korean executives and even ahjumma(s) (old lady) with family. The waiters are mostly Indonesian but the maître d' or Headwaiters and the store manager, as far as I could see, were all Korean. The restaurant has a great ambiance with enough warm lighting and two types of seating: dining area and bar-like seating.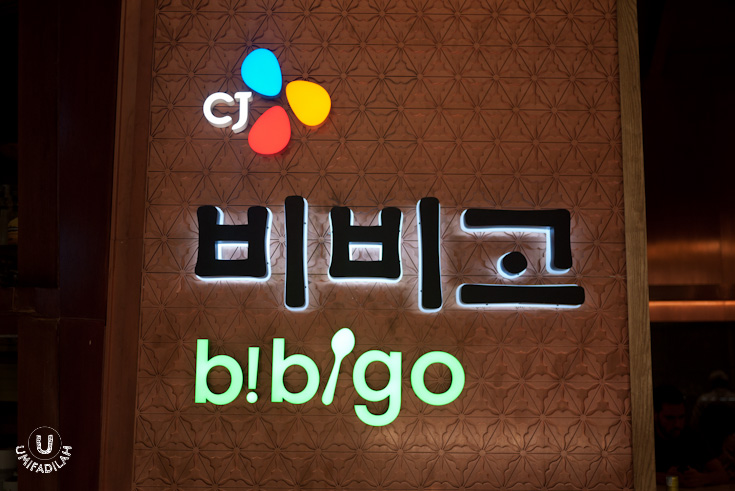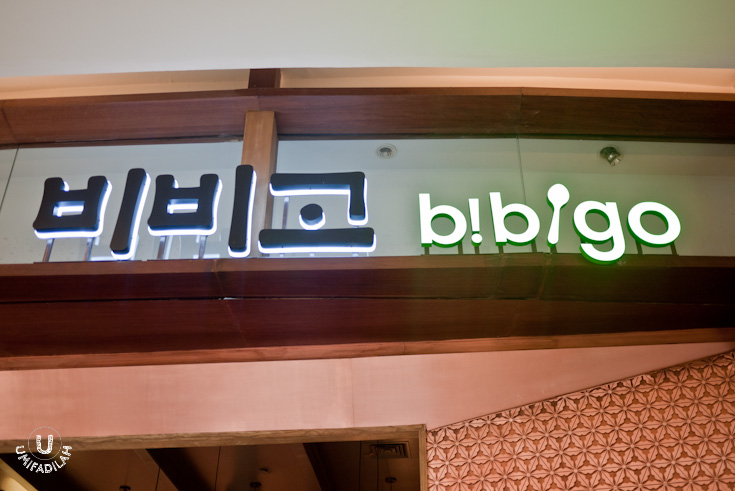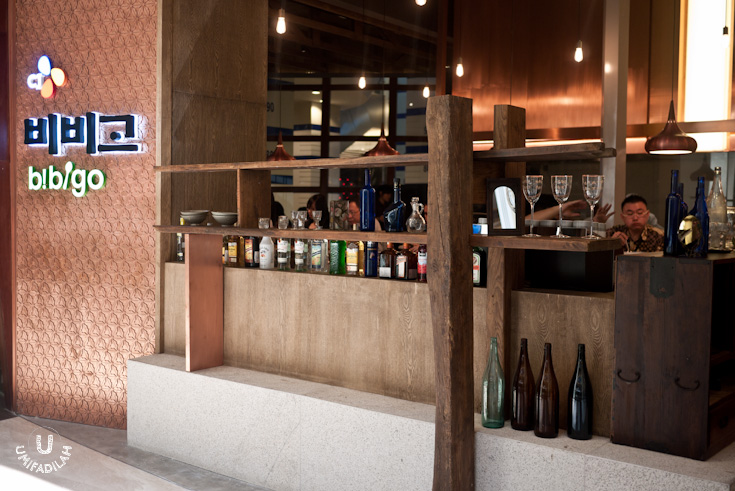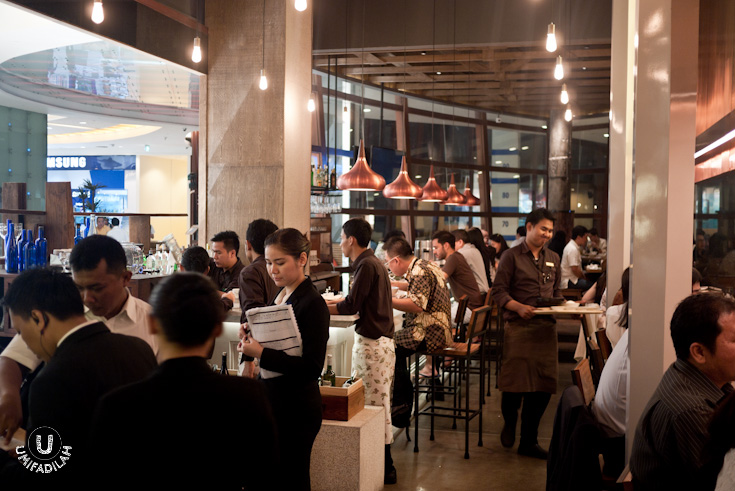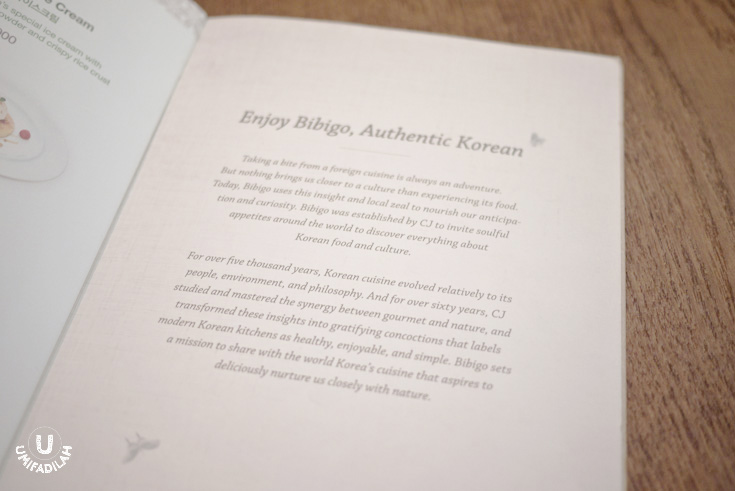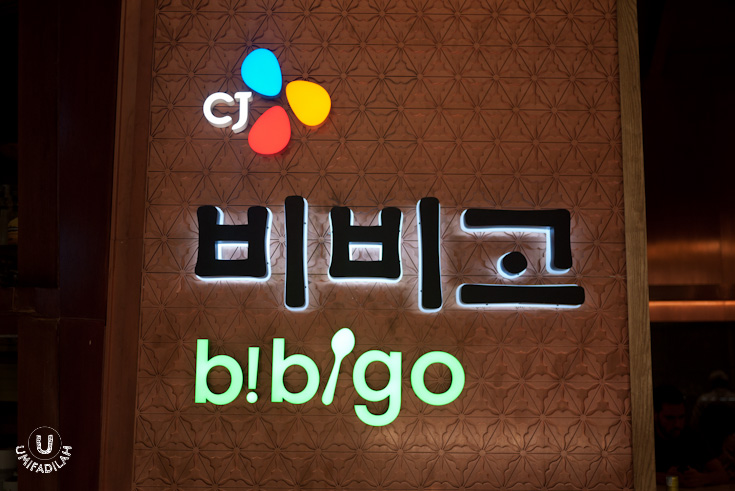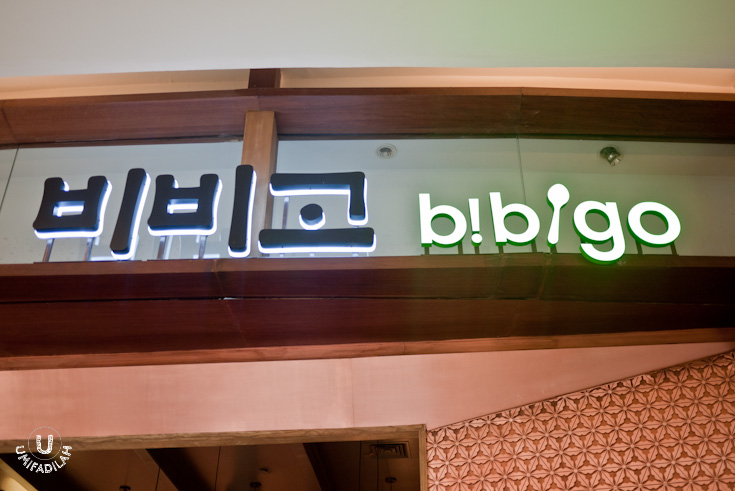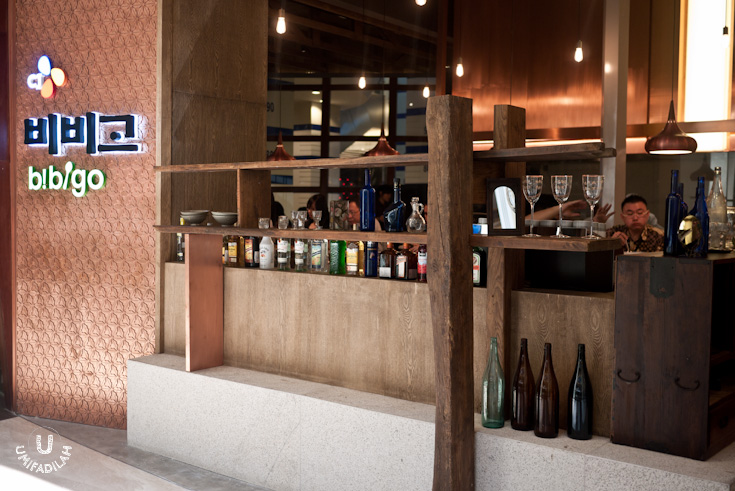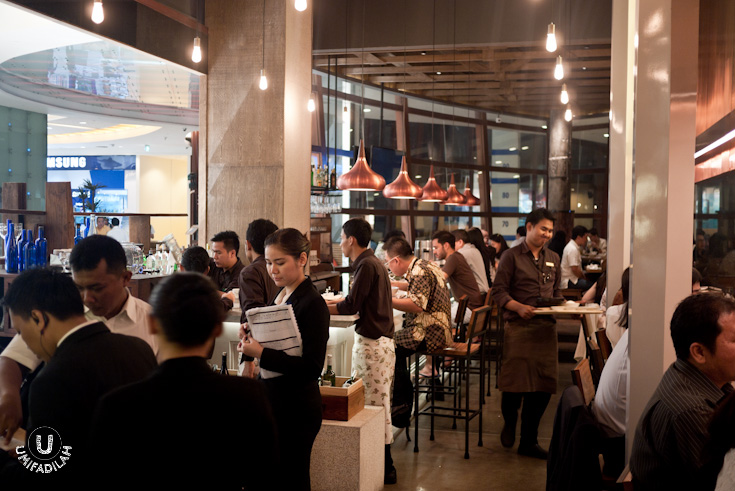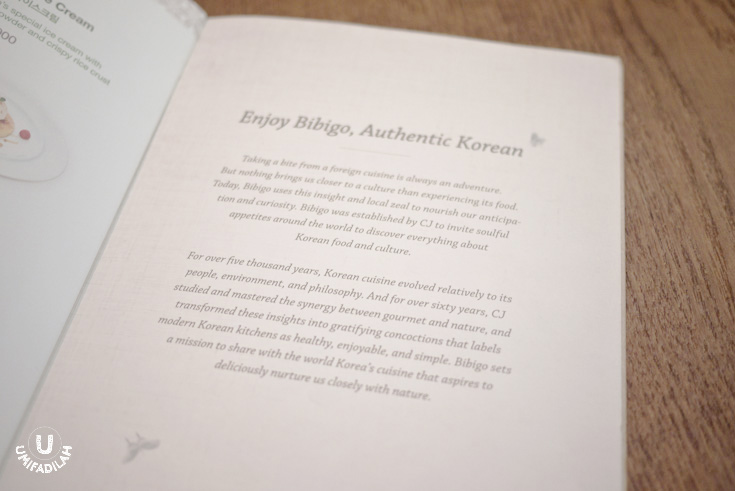 THE FOOD: APPETIZERS.
Like any other great meal we started off with appetizers. Other than what is listed below, my must-try list for next visit is already determined by the time I looked upon their menu. Next time it will be Bibigo Salad (IDR 49k), Pajeon/Seafood Pancake (IDR 55k), and of course: Tteokbokki/Rice cakes (IDR 45k). I'll save them for another round of visit. As of my previous visit, we had a chance to taste:

THE FAMILY OF BIBIMBAP.
Meet the classic dish of Bibigo. Scratch that. Not only Bibigo's, it's the staple of Korean food culture; probably the MOST well-known Korean dish that is celebrated through generations. Bibimbap expresses the Korean tradition of sharing and embracing, it combines every diverse element of proteins, carbs and fibers, as well as maintaining the perfect nutritional balance all in one hearty bowl.
The true attraction of bibimbap is the fact that each ingredient maintains its own flavor while also forming a harmonious new taste with the added soy sauce or red pepper paste. At Bibigo restaurants we have retained the essence of bibimbap while offering choices of grains, vegetables, toppings and sauces to suit the nutritional needs and taste preferences of each person. http://bibigo.com/story/story
Yes. Bibigo encourages you to customize your own Bibimbap. First, choose among 4 types of rice: Long Grain White Rice, Korean White Rice, Brown Rice, and Black Rice. Second, toppings: Char-grilled Bulgogi, Chicken Breast, Chicken Teriyaki, and Tofu. Last thing to do to blend all the flavors together: Pick between 4 sauces. Kohot (red pepper paste/gochujang), Citron Soy, Sesame, and Ssam (a spicy paste generally used for eating food wrapped in leaf, Korean style. Basically a mix of fermented soybean & chili pepper paste).
I've only visited Bibigo twice. Too bad I didn't bring my camera on my first visit but at the time we tried Red Chicken for appetizers, Bibigo Rice with black rice + char-grilled bulgogi and also Bibimbap with brown rice + chicken teriyaki. We also tried all 4 sauces. The Kohot sauce made of red pepper paste/gochujang was great but again, more tendency to the sweet-side. But surprisingly what I like best was Sesame & Ssam sauce. It has that elevated 'zing' that goes really well with sweet toppings such as Bulgogi/Chicken Teriyaki. Overall, from my experience I needed a bigger sauce-jar because it just wasn't enough!
Strange enough that on my first visit, they actually let me to order 2 different sauce in each Bibimbap order, but on my second visit, the waiter said that I couldn't. That they would charge another additional IDR 10k for every additional sauce. Oh well, inconsistencies do happen on newly opened restaurants.
DRINKS.
No fancy drinks at both of our visit. Oh, but if you're into alcohol they have 3 selections of Korean Soju Cocktail, that is basically soju mixed with fresh fruit: Orange Soju, Lemon Soju, and Berry Soju. All for IDR 95k.
In the end it was quite a pleasant dining experience at Bibigo. But I did get confused mostly because of the tendency of their overall flavors which is slightly sweeter – maybe that's their intention to adopt to local Indonesian's tongue. When I went to Seoul last year I'm sure that, what was said to be 'authentic' Korean flavor tends to be far hotter than this, and I think we could still handle that (hey we eat Nasi Padang & Manadonese cuisine daily so we're used to spicy things, right?!). So the question remains, "Just how authentic is 'authentic'?" It's always different for every personal experience. You'll have to go and experience it yourself.
Next dishes to try on my list: their Samgyetang (Ginseng Chicken Stew - IDR 150k), Chicken Kimchi Fried Rice (IDR 70k), Jjimdak (Soy Sauce Chicken Stew - IDR 120k), Braised Oxtail (IDR 150k) and of course their Galbi (IDR 180k) .....Oh God I just wished that every day is a payday. How can we ever survive in Jakarta without street-foods to balance all of these fancy eat-outs spending? Lol.
Cheers!
Bibigo
Pacific Place Lv.4, Jl. Jenderal Sudirman Kav. 52-53
Sudirman Central Business District (SCBD), Jakarta 12190, Indonesia
Phone: 021-5797-3011
*Still can't find their official Twitter account for Bibigo Jakarta. If you happen to know, please do leave in comment below! Thanks.*