I have not been devoted to my blog lately. Last post was older than a month ago, and despite the excuse of being overly busy and in my defense I was still in the mourning period (hint: when one of your favorite friend left the world too soon, apparently it hurts real bad) – and the fact that I had developed a new hobby (amazingly, Squash) pretty much explain why blogging was probably the last thing on my priority list.
But I do miss writing. I miss looking at mouthwatering photos and get excited to share them on blog. I guess I was waiting for that particular euphoria that would bring back all my appetite to eat and write. The kind that offers sophistication, naturally good-looking food, and new ambiance for the sake of self-recuperation. And for me, that's when PAUL comes to the rescue.
Paul Maison de Qualité
In case you've never heard of the name, Paul is a French chain of bakery/restaurant founded since 1889 in the Northern France. As of now, Paul has a network of over 450 bakery-patisserie across the world, undoubtedly one of the largest French bakery brand that is globally recognized to date.
Just opened few weeks ago, Paul finally made their way to the heart of Jakartans through this spacious outlet located near the South Lobby of Pacific Place, facing the entrance to Galeries Lafayette. Looking elegant in an all black and white décor, the outdoor building stands up proud and tall, screaming only one thing: Sophistication. Just wait until you pull the door open, the delicious smell of their freshly baked bread is bursting out your way seeking for attention. Such a welcoming greeting.
#1. THE BAKERY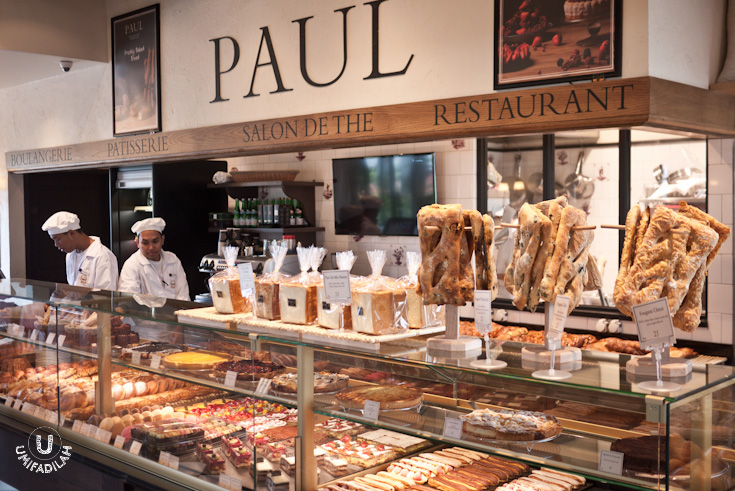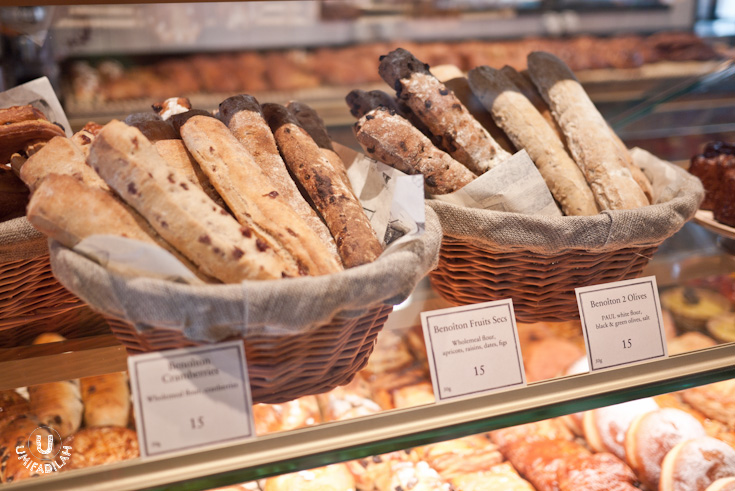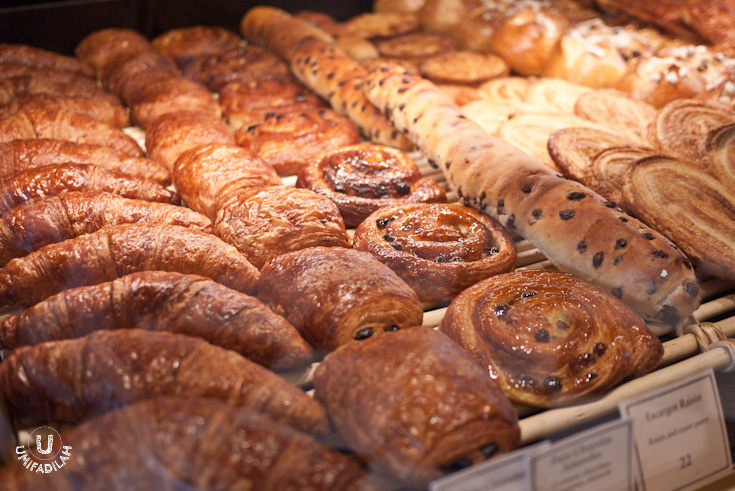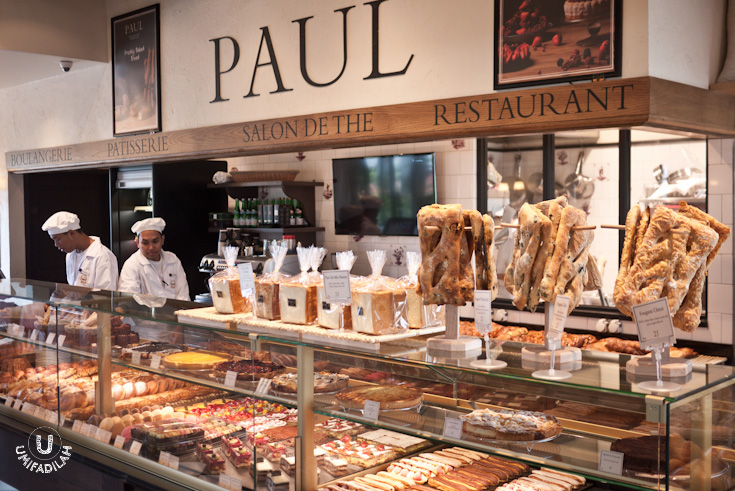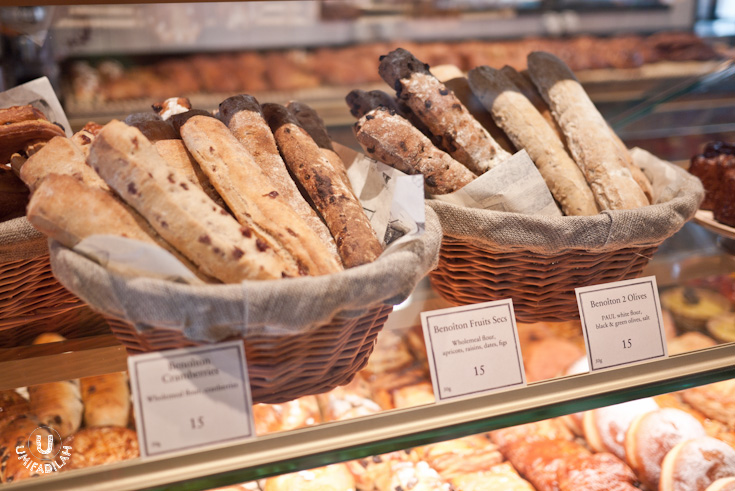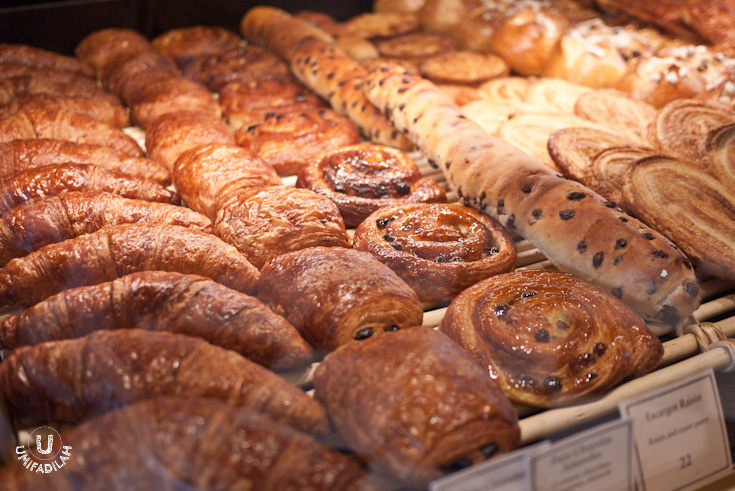 It's overwhelming to acknowledge that Paul has hundreds (140, to be exact) of different bread & cake selections, all said to be without artificial additives or preservatives. And being established for over 124 years itself is a fact that they worth more than just a momentarily hype. From plain and fancy bread, Viennese pastries, to the dessert world of cakes and flans, trust me, one visit will never be enough.
I find myself keep checking out their bakery almost 3 times a week now, and there's just something new for me to try. Now, we can't start evaluating without tasting the basic, right? Here's to Plain Croissant (IDR 18k):
Slightly a bit pricey compared to other bakeries indeed, but as soon as you have your first bite you'll know that what you're eating is GOOD STUFF. Flaky, perfectly golden brown crust with delicate insides composed of laminating layers of buttery dough, it was delicious. Let's zoom in for a bit:
Can you tell based on its appearance above? Yes. And the best part is actually something that you can't see here. THE BUTTER. I don't know what type of butter they use here at Paul but in the name of Pastry God I swear it's delicately fragrant and it just adds up to the whole croissant-eating experience.
But my most favorite item has got to be their Fougasse 2 Olives (IDR 25k). A simple French bread made of Camp Rémy flour, Atlantic sea salt, black & green olives and the finest grade extra virgin olive oil. Simplicity at its best, but it gets me hooked in an instant! (Note: might be biased since I am a die-hard fans of olives.)
Yes, you can buy bread in the Bakery section and eat them in-house. BUT, if you're sitting in the restaurant area, please note that you can still order those pastries/bread/cakes WITH additional service charged.
Paul's menu is basically divided into brunch and an all day menu. Technically their brunch menu is always available at any time of the day, such as croque monsieur, pancakes etc. However, their all day dining menu has 3 main sections:
Appetizer – Savory Range (Nos plats boulangers): Sandwich, open sandwich with Tartine, buttery puff pastry known as Tourte, soup, all kinds of croque-monsieur, French crepe, potato pancakes or Paillason, and salad.
Main Courses (Nos plats du Chef):

not much selection here, only 6 menu consisted of meat and fish.

Desserts and Teatime (Nos pâtisseries et desserts):

from tartlets, eclairs, millefeuilles, smooth cakes, tarts and creamy flan, teatime package with tea/coffee
And here are the things I've sampled so far:
WRAP-UP
Will I pay more visit in the future? Most likely YES. First, location wise – it's right in front of my office building. Second – they accept MAP Vouchers, LOL (it definitely brings radical changes because before Paul existed, the outlets eligible for these vouchers were so limited I frankly got bored with basically all of them). Third – fine bread, pastry and cake selection with cozy place, come on, WHAT'S NOT TO LOVE?
I'll tell you what's not to love.
Uh, the price. I bet it makes more sense if you were paying in dollars/euros; but we are in Jakarta and most of us aren't paid with bucks so this bakery definitely sets itself apart as a luxury brand of its own. So yes, it is undoubtedly nice to experience every once and a while but maybe not for your 7-days-straight type of meal. (You know, unless money's not a problem for ya)
In the end, I am more than pleased that they're here. You should've seen my face whenever I'm eating those Fougasse Olives, LOL.
Cheers!
PAUL Bakery and Patisserie Jakarta
Outdoor Area of Galeries Lafayette, Pacific Place
Jl. Jendral Sudirman Kav. 52-53 South Jakarta 12190
021 - 5799 3455
Opening Hrs: 10 AM - 10 PM (Monday - Sunday)
Facebook | Twitter: @PAULINDONESIA