As promised, I'm currently on my Central Jakarta series of posts so let's just get to the chase. The title you've just read on top, is one of the reason why I will never, ever, become a vegetarian. Even if I do in the future (small chances, Me. Small chances :p), that'd probably because I suffer from a long-term memory lost or my palate has gone numb – because that's just how good this stuff is. You know how I usually mark my Featured Post on umifadilah.com with a yellow background? For this post I'd highlighted with red background and a capital 72px font if possible, you know.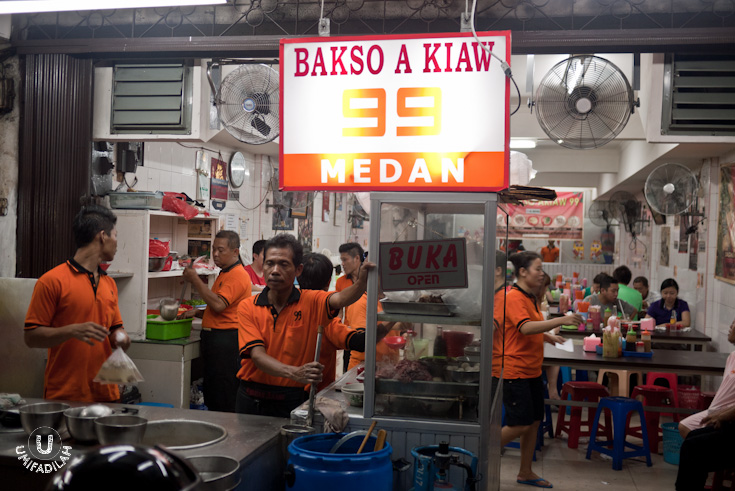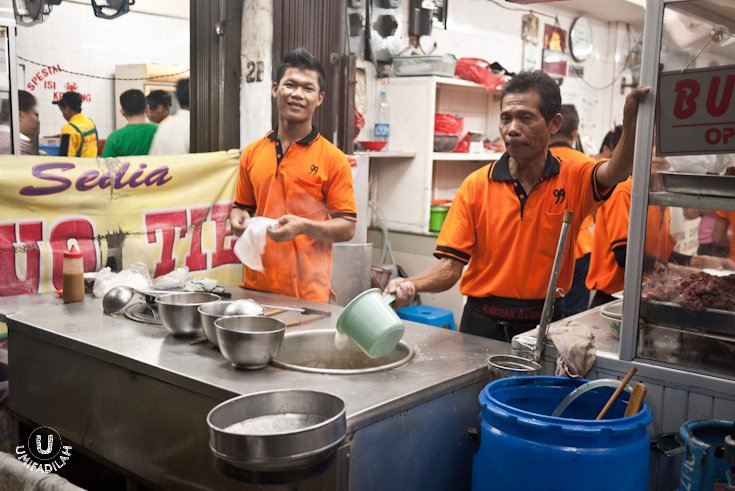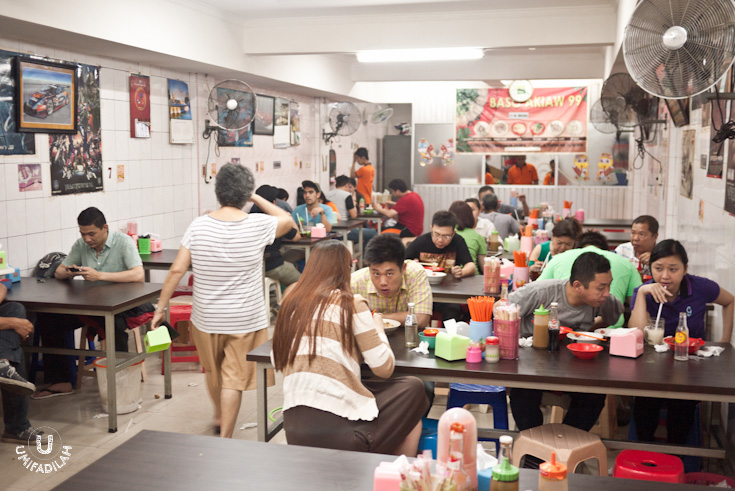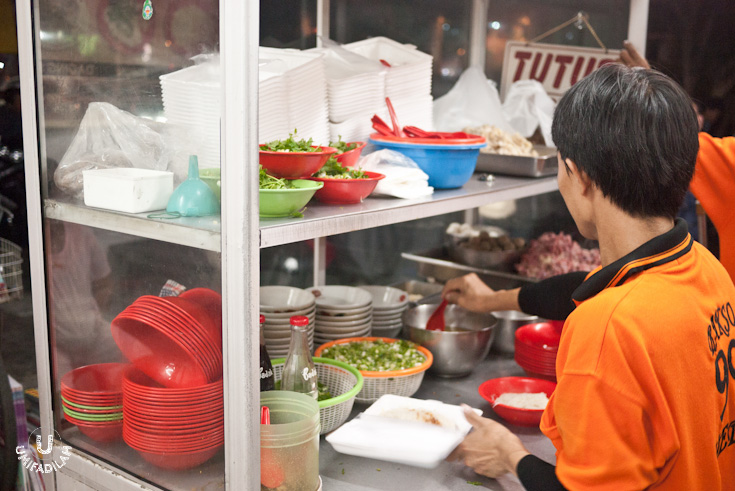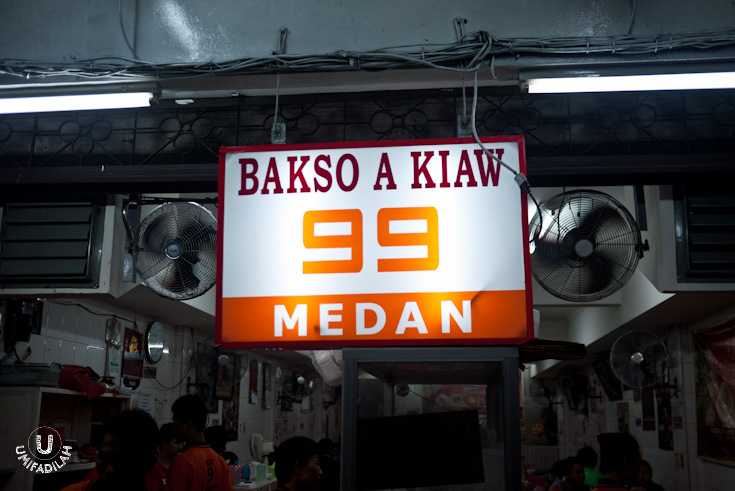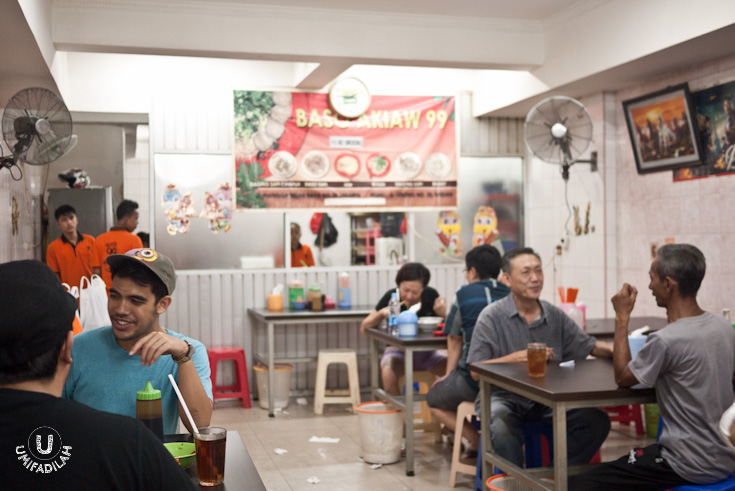 Bakso Akiaw 99 Medan, as the name says, is originally from Medan but now they already have 5 branches in Jakarta, with its primary (bigger) outlet located at Jl. Mangga Besar Raya. Other than that, they also have one in Muara Karang, Gading Serpong Tangerang, and 2 outlets in Kelapa Gading – but as far as this post is written I've never been to any other outlet so I can't really compare each of them. They only open since 3 PM until midnight, with hectic crowd in and out the restaurant busily. Space-wise, the one at Mangga Besar could accommodate up to 60 guests at once and the turn-over rate is going strong, means that you eat, you pay, and then you give your seat to others in need.
Price-wise, I have to admit it's not that cheap especially compared to the typical Bakso streetfood vendors. Well I think this one's categorized as restaurant anyway, so please do expect paying ~IDR 50k per meal per person (drinks inclusive), as one complete portion at Bakso Akiaw may cost you IDR 37k-ish. Here's what you also should know: IT'S WORTH EVERY RUPIAHs BEING SPENT.
#FANBOYALERT: WHAT'S SO GREAT ABOUT AKIAW?
The tasty noodles. The simple-yet-complex flavorful broth. The tender meat. The three kinds of meatballs. The fresh cilantro leaves & chopped greens. The addictive sambal or chili condiment. Everything. Every element is executed very well and together they add certain depth into the overall eating experience.
Here's how you're supposed to eat in Bakso Akiaw:
Choose your noodle. There are 3 types of noodles to choose from: thin vermicelli/beehoon, kway teow, and hokkien noodle. My favorite? The thick yellow Hokkien noodle of course; because I love the chewy texture and it's already packed with so much flavor when served.
Choose your meatball. Again, 3 types of 'bakso' to choose from: bakso daging (beef meatballs), bakso urat (tendon meatballs), and bakso ikan (fish meatballs).
Choose your topping. One special thing about Bakso Medan: It's never just about the meatballs. Most of the time it's also about the tender meat slices, floating in real abundance that you could actually call it 'beef soup' instead. Make a choice between thinly sliced beef, shank, tendon, and offal – OR, pick all of them. Easy.
WRAP-UP
I am still on my 20s and it might be an over-confident statement to say that Bakso Akiaw 99 Medan is the best meatball soup everrrrrr (especially that I've never been to Medan myself, although looking very forward to it!) – But hey, you can't blame someone for getting too smitten over something, can't you? :D No, seriously. In my least defensive thought, a bowl of their rich soupy meatball literally blew my mind and sent a nerving pleasure throughout all of my senses. Ask the friends I went there with. Ask them how happy my expression was. Like 90 percent of the world's problem solved right away in a glance. Haha :)
No more words, you just have to add this to '101 things to eat before you die' list.
Cheers!
Bakso Akiaw 99 Mangga Besar
Jl. Mangga Besar Raya 2B
Mangga Besar – West/Central Jakarta (? i couldn't decide, haha)
Ph: (021) 6291419
Bakso Akiaw 99 Medan Kelapa Gading
Jl. Boulevard Kelapa Gading Blok PA1 No. 3
Kelapa Gading – North Jakarta
Bakso Akiaw 99 Mal Kelapa Gading 5
Mal Kelapa Gading 5 Lt. 3, Eat and Eat Food Market, Section # 26A,
Jl. Boulevard Kelapa Gading Blok M
Kelapa Gading – North Jakarta
Bakso Akiaw 99 Gading Serpong
Jl. Boulevard Gading Serpong Blok AA3 No. 6
Serpong – Tangerang
Bakso Akiaw 99 Muara Karang
Jalan Muara Karang St. Blok D 7 Timur No.93
Muara Karang – North Jakarta